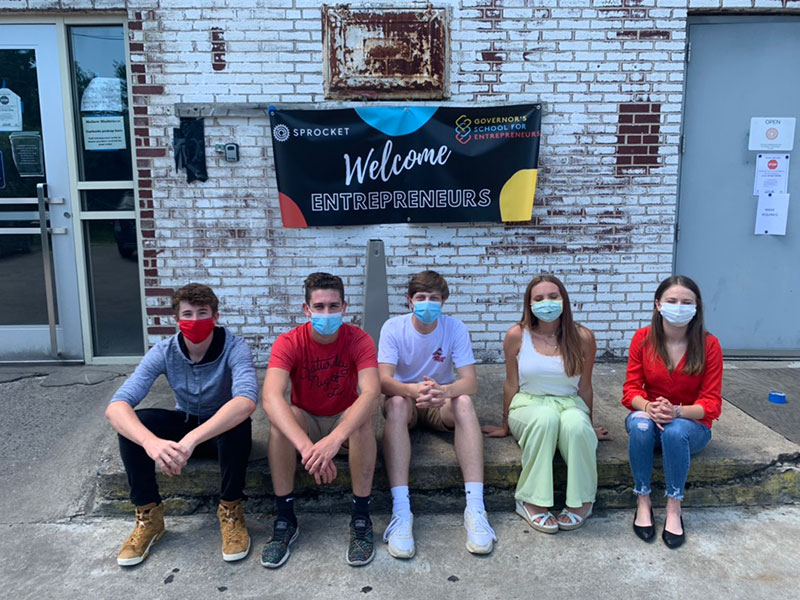 FRANKFORT, Ky. — The Governor's School for Entrepreneurs (GSE), a highly competitive summer program where 72 Kentucky high school students focus on product innovation and business model design, launched on Sunday, July 12 with an innovative "hybrid" approach due to COVID-19.
While the program is not able to be on site at Northern Kentucky University this summer, GSE students from Paducah to Pikeville are attending virtual sessions three days a week and meeting in person at entrepreneurial hubs across the state two days a week, from July 12 – Aug. 1.
"COVID-19 has brought new challenges for all of us but as entrepreneurs, we love challenges. We also know that entrepreneurs are needed now more than ever before," said Natasha Sams, GSE's executive director. "We have been working hard to rethink our approach and push to boundaries to what is possible when it comes to translating GSE into a hybrid experience to keep our students safe. We are so appreciative of our statewide partners who jumped at the idea to help us pivot and allow our entrepreneurs to work in small groups to enhance our online sessions. I think we have developed a really unique experience for all, and this nimble model represents a great example of the power of collaboration."
Host site partners across the commonwealth include Kentucky's leading innovation centers and maker spaces in Louisville, Lexington, Covington, Henderson and Paducah where GSE students and advisors as well as leading entrepreneurs will convene in groups of no more than 12 people on Tuesdays and Thursdays:
Story – Louisville, KY
Awesome Inc – Lexington, KY
Base 110 – Lexington, KY
Aviatra Accelerators – Covington, KY
Blue North – Covington, KY
Center for Great Neighborhoods – Covington, KY
Henderson Entrepreneur & Technology (HEAT) Lab – Henderson, KY
Sprocket – Paducah, KY
Students will be welcomed on-site at these locations on July 16, July 21, July 23, July 28 and July 30 from 10 a.m. – 4 p.m. and will be expected to follow all state COVID-19 guidelines, including wearing masks and social distancing measures.
In addition, GSE's annual Demo Day, the culmination of the program where the student teams pitch their business ideas in front of a large audience and a panel of judges, will be virtual this year on Saturday, Aug. 1 from 10 a.m. – 1 p.m. Registration is free at https://hopin.to/events/the-2020-governor-s-school-for-entrepreneurs-demo-day.
"We're living through highly unusual times, but like any strong, resilient organization we see this as both an opportunity and a welcomed challenge," said Koleman Karleski, GSE board chair. "If there were ever a program designed to adapt to change through innovation, it is the Governor's School for Entrepreneurs."
GSE is a relative newcomer on the list of Kentucky's Governor's Schools, having opened to its first group of students in 2013. Since then, GSE has given over 400 talented teens the entrepreneurial experience of a lifetime. GSE brings students from across the state together for a three-week program and equips them with the tools needed to unleash their innate entrepreneurial spirits for the betterment of Kentucky. During the program, teams of high school students develop a business model, design a prototype and pitch their startup to a panel of judges. GSE teaches the opportunities, benefits and pitfalls of taking a business concept from the idea phase to pitching it to potential investors.
While all participants gain vital entrepreneurial skills through the program to use as they enter the workplace or continue into higher education, 10 new businesses have already been launched by young GSE entrepreneurs. Others have filed for multiple patents and developed new ideas and relationships that sow the seeds for more business formation. Now, more than ever, young entrepreneurs are needed to help sustain and rebuild Kentucky's economy.
GSE provides the support these teens need to go from high schoolers to business owners. Parents, educators, entrepreneurs and teens who believe grit, a growth mindset and creativity in problem solving tell as much about a young person as good grades and test scores, can learn more about the Governor's School of Entrepreneurs at www.KentuckyGSE.com.
Because of strong partnerships with entities like the Kentucky Workforce and Education Development Cabinet, the Cabinet for Economic Development, and numerous public and private supporters, like Toyota (TMMK), The Marksbury Family Foundation and The Parker Family Fund, GSE is completely free for selected entrepreneurs. Alumni of GSE gain access to a host of scholarship opportunities, totaling more than $2.7 million each year, to colleges and universities in Kentucky.