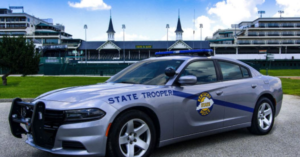 FRANKFORT, Ky — The Kentucky State Police is hosting a Cover the Cruiser fundraising event to raise money for Special Olympics Kentucky (SOKY).
KSP posts across the state will have cruisers parked in various locations for the public to cover them with custom SOKY stickers.
According to the KSP, for a minimum donation of $1, which goes directly to SOKY, Kentuckians can buy those stickers at the designated locations and put them on the trooper's cruiser.