EDUCATION
By Lorie Hailey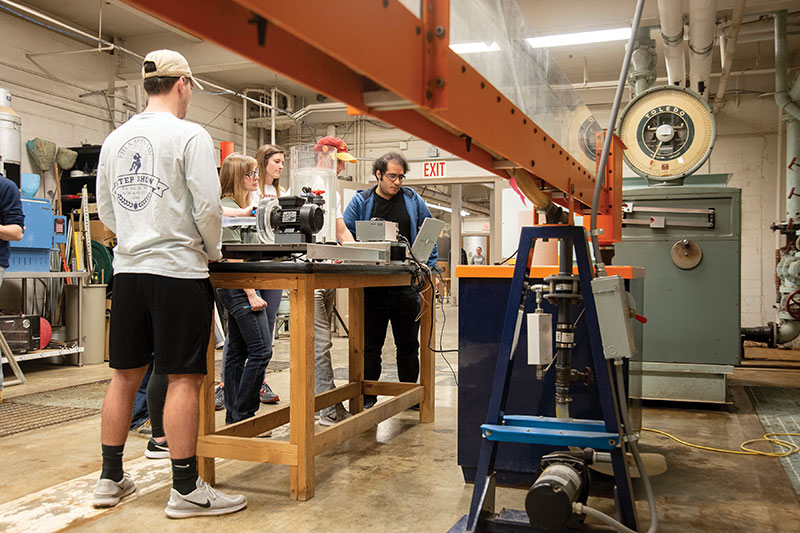 The Greater Louisville region has an abundance of educational institutions committed to training tomorrow's workforce for growing industries like technology, engineering, advanced manufacturing, logistics and health care.
The University of Louisville, the only Tier 1 research university in the region, partners with area business and industry to provide top-notch talent to companies that rely on employees with the latest skills, knowledge and capabilities, said Kevin Gardner, UofL's executive vice president of research and innovation. The university also provides innovations and intellectual properties that can grow businesses, and contributes to the entrepreneurial ecosystem to help drive the economic development of the region.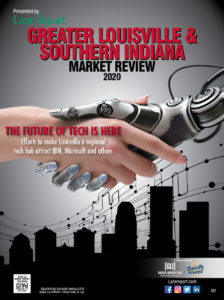 Jefferson Community and Technical College (JCTC), part of the Kentucky Community and Technical College System (KCTCS), offers what it calls "real-world education" to prepare its students to enter the workforce. KCTCS is the primary provider of manufacturing training in Kentucky. Its colleges align their programs with local business needs, which prepares their students to walk out of college and into a high-paying career.
The Kentucky Federation for Advanced Manufacturing Education (KY FAME) at JCTC combines college coursework with 1,800 hours of paid on-the-job training that leads to certification as an advanced manufacturing technician (AMT). Students also have opportunities for full-time employment with a sponsoring employer.
Sullivan University, with campuses in Louisville and Lexington, offers career-focused higher education with instructors who have experience in the field in which they teach. The university is dedicated to supporting the community's workforce needs, said Jay Marr, Sullivan's president and CEO.
Sullivan's programs are centered on a career-first curriculum designed to meet the needs of the region's employers, Marr said. Several deans utilize advisory boards comprised of business and industry representatives who offer insight into the curriculum.
---
IT'S FREE | Sign up for The Lane Report email business newsletter. Receive breaking Kentucky business news and updates daily. Click here to sign up
---
"We are consistently reviewing workforce pipeline projections to develop new programs that will meet future economic development needs within the community," he added.
The mission of Spalding University, a private institution with about 1,600 students in Louisville, is educating a "diverse community of learners dedicated to meeting the needs of the times," said Melissa Chastain, Spalding's dean of enrollment management and strategic initiatives.
"Our graduates are woven into the fabric and leadership of industry, social services, health care and education, serving as compassionate business leaders, nurses, social workers, health care workers, mental health professionals and teachers, to name a few," she said.
Bellarmine University has an MBA program designed for innovation, targeting those who are looking for a broad-based MBA with an eye toward entrepreneurship, said Alisha Harper, chair of Bellarmine's business administration program. Bellarmine also offers a graduate certificate in applied business analytics.
Bellarmine prides itself on preparing students for success through a liberal arts education, combined with training for mastery in a specialized area.
Partnerships between Louisville's educational institutions and the business community are increasingly important to the region's economy. Each of Louisville's schools is working to leverage their unique strengths to train the future leaders in technology, health care and more.
Jefferson County Public Schools, which serves Metro Louisville, developed a workforce training program to prepare its students for life after high school. The Academies of Louisville connects 15 high schools to business and community partners, aligning education and workforce development needs to better prepare students for postsecondary and career success. It also helps students develop essential skills needed to succeed in college, career and life.
Academy students graduate not only with a diploma but also with college credits, industry certifications, real work experience, and a backpack full of success skills. (Learn more about JCPS and The Academies of Louisville in the box on the next page.)
Here's a closer look at the vital role some of these institutions play in the region's economic development.
University of Louisville
What is UofL's role in regional economic development?
"UofL has many unique strengths that assist the community with economic development efforts," Gardner said.
More than 5,000 highly qualified students graduate from UofL each year, he said.
"These students graduate with the knowledge and skills necessary to compete in the modern economy," Gardner said. "They are the engineers, entrepreneurs, scientists, teachers, doctors, nurses, computer scientists and executives who help fuel economic growth for our region."
The university is especially strong in the category of innovation and tech-based entrepreneurship, Gardner said.
UofL partnered with the Kentucky Cabinet for Economic Development, the Louisville Healthcare CEO Council and local entrepreneurial leaders to form the Louisville Entrepreneurship Acceleration Partnership (LEAP), through which it has invested in an Entrepreneurs-in-Residence program to pair seasoned entrepreneurs with university inventors in order to accelerate their path to market. In just over one year, the program has produced two new companies that are working to build high-tech businesses, leveraging UofL inventions. The UofL innovation ecosystem spans the entire university and amplifies the Louisville region's ability to attract and grow high-tech companies by leveraging the region's unique strengths.
How does UofL help attract new tech companies and support those already invested in the region?
In 2019, UofL launched its Center for Digital Transformation to advance technology capabilities and equip students with real-world skills in artificial intelligence, data science, design thinking and other emerging tools and practices. The center is creating a variety of ways to offer technology knowledge throughout the university and the community, Gardner said.
In addition to its traditional degree programs, through the Center for Digital Transformation, UofL provides technology training, resulting in badges, certificates and other types of credentials.
"This effort includes our work with the Louisville Future of Work Initiative, which is a partnership between Microsoft, Louisville Metro Government and the University of Louisville focused on increasing economic opportunity and equity by enabling Louisville to become a regional hub and center for excellence in artificial intelligence, the Internet of Things (IoT) and data science," Gardner said.
Partnering with community and industry leaders
UofL works with industry and community partners to provide educational programs across the talent spectrum that are necessary to attract and grow tech companies. Technology-based companies rely on partnerships with major research universities across the globe, Gardner explained. Those research institutions create knowledge and develop new technologies, and students are an integral part of those research activities, he said.
"UofL is a key partner in helping to attract those companies to the region in collaboration with Louisville Forward and other groups working to bring those companies here," Gardner said.
Sullivan University
How does Sullivan help prepare the region's workforce?
Sullivan consistently reviews its workforce pipeline projects to develop new programs that will meet future economic development needs within the community, Marr said. Its career services department creates relationships with the region's employers to connect graduates with employment opportunities.
Sullivan has developed a partnership program with Kentucky employers to offer tuition discounts to its employees and has agreements with more than 1,900 businesses and organizations.
"For nearly 60 years, Sullivan University has been a pioneer, innovator and leader in education, driven by a keen understanding that not everyone's life fits into an average college schedule. Our programs feed into the careers that are in high demand in hiring today," Marr said.
How does Sullivan help attract new tech companies and support those already invested in the region?
Constant technological changes means information technology teams must become agile, flexible and responsible, she said. Tech employers need individuals with excellent technical skills "but also relationship-building, communication, and strategic-thinking skills. Sullivan's education does just that," Marr said.
"We prepare our students for the 'real-world' with hands-on curricula and faculty with industry experience," he added.
Where has Sullivan seen the most growth in recent years?
The Louisville for-profit institution, which has about 2,300 students and 470 employees, has seen growth in its nursing and allied health programs, which include medical assisting, pharmacy technician, radiologic and surgical technology. It also has high demand for its Master of Science in Physician Assistant program, Marr said.
Sullivan students can earn a career diploma or certificate in a year or less and then accept employment while still being able to complete an associate's, bachelor's, master's or doctoral degree by attending during the day, evenings, weekends or online.
Spalding University
How does Spalding help train the next tech workforce and help attract new tech companies?
"Currently, Spalding's role in the tech workforce is focused on health care. Our Auerbach School of Occupational Therapy supports the Kosair Charities Enabling Technologies of Kentuckiana  (enTECH) assistive technology resource center that offers creative therapy and technology solutions," Chastain said.
The center is equipped with state-of-the-art assistive technology devices and toys that are educational, therapeutic and entertaining and often help clients who are nonverbal communicate. EnTECH has been using interactive robots to assist in learning and therapy for people with autism.
"EnTECH also serves as a training ground for Spalding occupational therapy graduate students to work with clients using assistive technology," Chastain said. "The occupational therapy faculty members have also been leaders in teaching and practicing telehealth – a critically important health care delivery system during the COVID-19 pandemic."
Where has Spalding seen the most growth in recent years?
Several programs have seen growth in recent years, including a criminal justice studies  program with an emphasis on restorative justice, and Spalding's Registered Nurse-to-Bachelor of Science in Nursing program.
Spalding's graduate-level programs also are growing. The university offers master's programs in teaching, teacher leadership, principal preparation and school guidance counseling.
"We also offer a low-residency doctorate of education (EdD) in leadership, which attracts professionals in education, business, health care, social services and the arts who seek to lead ethically, sustainably and creatively in a rapidly evolving global economy," Chastain said.
In March, Spalding announced its Aspiring Leaders Principal Prep program, a partnership with Jefferson County Public Schools designed to prepare JCPS employees to become principals and help bolster the principal pipeline in the school district.
What are some of Spalding's biggest accomplishments over the past year?
"Some of our biggest accomplishments this past year include launching Louisville's first Doctorate in Social Work, which aims to prepare social workers of diverse backgrounds for leadership, advanced clinical practice and university teaching positions, and launching a master's program in Clinical Mental Health Counseling to train compassionate mental health professionals," Chastain said.
Spalding also added men's and women's lacrosse, soccer and softball teams to its athletics program for 2021-2022, and increased its downtown Louisville footprint with the addition of a $7 million, seven-acre athletic field complex. 
The Academies: Real-world training, connection with region's employers
The Academies of Louisville offers a unique high school experience to Louisville's students – small learning communities within JCPS high schools that allow students to connect what they're learning in the classroom to the real world through a subject and career theme that interests them.
The Academies – a collaboration between JCPS, KentuckianaWorks and Greater Louisville Inc. – offer direct career and industry exposure, job shadowing experience, internships, the ability to earn college credits and industry credentials, networking opportunities, success skills and a postsecondary transition plan.
There are career pathways in multiple industry sectors, including agriculture; arts, media and communications; business services, finance, marketing and logistics; culinary and hospitality; education and early childhood; engineering and manufacturing; government, law and public service; information technology; ROTC; and skilled trades. More than 130 business partners participate in the program.
"The Academies of Louisville initiative is successful because it meets various student and community needs," said Deanna Southerling, JCPS spokesperson. "It prepares students for college, career and life through an exploratory Freshman Academy that all students participate in before entering their chosen career pathways. These function as focused learning communities within schools where students cohort together as they participate in hands-on learning, engage with business partners, and pursue industry certifications and college credit opportunities."
The career pathways are based on local workforce development needs, Southerling said. One of the program's goals is to develop talent for local industries at an earlier age and encourage young people to remain in Louisville.
"Having a strong talent development pipeline in growing industries can be attractive to corporations and organizations that are considering relocating to Louisville, thus creating an even stronger local economy," Southerling said.
JCPS hopes to expand the academies to more schools and welcome more business and industry partners of all sizes. Its leaders aim to diversify the workforce. In the spring of 2021, Academies of Louisville schools will graduate its first classes to complete all four years in the academy model.
JCPS: Three things to tout
We asked leaders at Jefferson County Public Schools to tell us about three recent accomplishments that make them proud. Here's what they had to say:
Number 1: Expanding all students' digital learning. Every student has a digital backpack where they collect artifacts showing their best work as evidence that they have learned to apply both content and skills that we know are essential for success. In addition, each student's backpack contains a Student Success Tracker that allows them to set goals and monitor their progress in academics, attendance and behavior. The goal is for students to be digitally agile, meaning they can adapt quickly to a variety of tech tools and resources.
Number 2: Creating a more diverse, educated workforce. JCPS students are trained in skilled trades as part of a program aimed at filling the shortage of workers who can build and repair things in America. Students can earn certifications in a variety of trade programs making them ready for the workplace. This program targets African American students with the goal of creating a pipeline of skilled minority employees.
A new teacher training program is aimed at finding minority teaching candidates interested in teaching at JCPS' most fragile schools. In conjunction with UofL College of Education, 30 candidates will get a generous stipend and most of their tuition covered to get a master's degree in teaching in one year.
"JCPS is one of only a few districts in the country that has a racial equity policy and plan. What we've put in place in recent years will build a stronger school system, stronger workforce and stronger city," said Dr. John Marshall, JCPS chief equity officer.
Number 3: Focus on Career and Technical Education (CTE). In the past three school years, more than 12,000 JCPS graduates have participated in a CTE pathway. JCPS offers instruction and training in a wide range of industries designed to have students ready to step into jobs the minute they graduate from high school.
Work-Based Learning is another opportunity for JCPS students to thrive. Students have earned a total of $6 million and worked more than 400,000 hours with partners in Louisville business and industry who provide mentoring and training along with a paycheck.