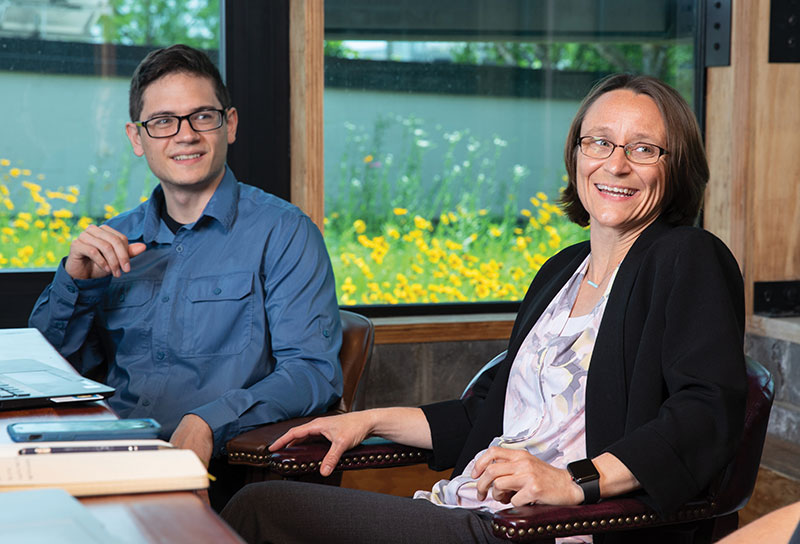 Investment in technology inside the business services sector continued to edge companies forward to more connected productivity in 2019, and with the pandemic hitting in early 2020, those leaps have accelerated in remote work, hyperautomation, cybersecurity, compliance, and managed services, according to Louisville's business leaders.
Remote work for many in business services has become the norm in 2020. However, companies began the process to achieve much of that leap forward prior to the pandemic.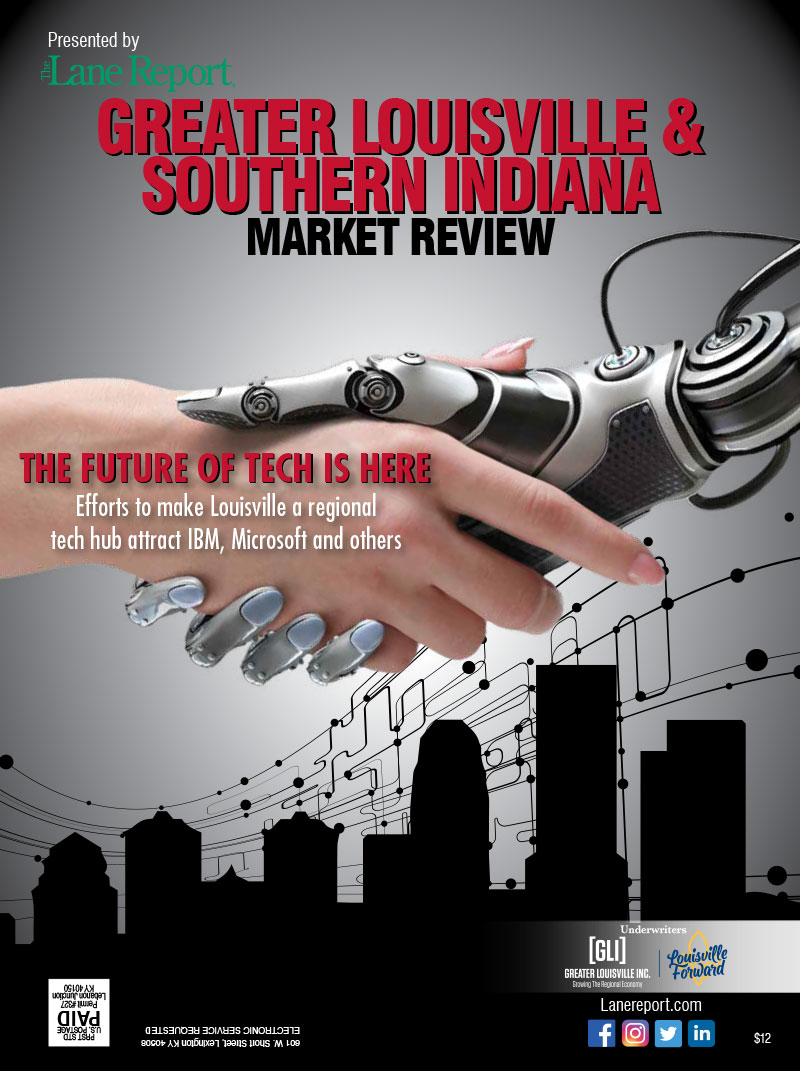 EdjAnalytics LLC and its 30 team members were already operating the business completely via the Slack messaging platform, with virtually no internal email, before the pandemic hit. Tech Tribune named EdjAnalytics a 2020 top Kentucky tech startup a year after Greater Louisville Inc. bestowed a 2019 Inc.credible Innovation Award.
The data science firm customizes big data to improve clients' decision making, and expects the pandemic will accelerate its work. For example, since face-to-face interactions will be limited, online sports betting will increase and bettors will want to review past data, said Tamela Triplett, a product manager at EdjAnalytics. EdjSports, a sports subsidiary, assists coaches and teams through predictive models and custom software.
"Our team members are deep into data, and we were not into hallway conversations at work even before COVID-19 hit," Triplett said. "We have to capture the heart of the communications through different channels and hashtags for key subjects inside Slack for productivity."
Since the pandemic hit, even Zoom calls for those outside the inner circle of the company are handled in Slack "because of security concerns," Triplett said. 
Meanwhile, residential luxury real estate is seeing technology play an increasing role in completing transactions and reaching consumers, said Colleen Walker, a luxury home broker with eXp Realty in Louisville for 20-plus years.
"Our VirBELA platform for eXp World is now our 'office' where we have meetings (complete with avatars), and we use it for communications with colleagues across the globe, and even socializing in the workplace. Invitations for key presentations in the system are sent to outside members of the general public. This has become more of a necessity in the last 18 months. Buyers are also looking for virtual walkthroughs, and Zoom is a daily routine to speak with clients," Walker said.
---
IT'S FREE | Sign up for The Lane Report email business newsletter. Receive breaking Kentucky business news and updates daily. Click here to sign up
---
eXp Realty is the largest residential real estate brokerage by geography in North America. One of the fastest-growing firms, it has more than 25,000 agents across the globe. Walker works for The Group of Kentucky, under eXp.
Technology for cutting-edge companies in Louisville is constantly evolving, said Jim Kramer, a partner and the IT consulting team leader for MCM CPAs and Advisors. His company is now a major player in the market as a managed service provider for outsourced IT in addition to being a CPA firm, its original business area.
"People are rapidly moving to cloud or server environments. An auto dealership group is a good example of a company that has thin clients on the desktop, and all data is housed on a server. Data is no longer configured locally, allowing IT support calls (costs) to go down significantly for the same investment dollars in IT. Tech is becoming a commodity," Kramer said.
Large global firms are investing in back office environments in Louisville and seeing cost savings from these steps, which is leading them to add to their Louisville tech operations.
"As economic challenges and headwinds come in the future, always our goal is to reduce our costs – centralized services will continue to be put in," said William T. Ball, managing director for the Global Business Services Center of Hogan Lovells, the hub of back office support for legal and consulting practices to have outreach and clientele in 48 countries.
Hogan Lovells began investing in operations in Louisville in 2016, hiring 60 employees for an IT service desk and call center, compliance, finance and billing. That has grown to 200 employees, having added some legal practice support as well. "We focus on efficiencies and outstanding service companywide," Ball said.
A number of the Hogan Lovells IT development team reside in Louisville, he said, and last year they created internal tech innovation in artificial intelligence robotic process automation (RPA). The company's tech review team in litigation saw a need for document technology leveraging AI, especially machine learning for more accurate workflow; major litigation involved discovery work sifting through documentation with Korean language characters, and the AI-designed system software returned 90% of the necessary relevant documents in a set, when queried. The tech was developed in-house within a matter of weeks.
Hogan Lovells said that RPA is an emerging tech category useful to business service sector players because it allows people "to avoid the mundane." RPA has eliminated repetitive and time consuming legal tasks by pulling up to 30,000 documents from a database, where normally each one would have to be selected. RPA can sort the largest of datasets and alert system managers when finished. 
Trina Helm-White, IT compliance officer at Louisville-based Appriss, said 2021 will continue to see the business-service sector become extremely focused on data analytics based on all the information collected from clients, employees and even for recruitment, in recent years.
For example, in 2019 Appriss acquired Crime Finders Inc. (CFi), a top provider of court research services for the background-screening industry. When combined with its acquisition of HygenicsData (HDI) in 2018, this positioned Appriss as a significant player in the data-supplier landscape and solidified its commitment to the background screening market. The Appriss Risk Intelligence solution enhances pre-employment screening to keep threats out and provides continuous post-hire monitoring of employees and contractors, to identify threats within. 
Cybersecurity best practices and safety insights are valued systemwide at Appriss, Helm-White said, and compliance has picked up due to regulatory developments. With thousands of customers spanning federal, state and local governments, health systems and retailers, Appriss supports users in over 40 countries now. In the FedRamp and HITRUST areas of compliance, the year ahead will see even more activity inside Appriss Health. 
FedRamp is growing the use of the secure cloud for government clients through strong partnerships and by providing a standardized approach to security. HITRUST TPRM Methodology and the XChange are widely adopted across the health care industry. Breaches involving third parties continue to create substantial disruptions and costs for companies globally, Helm-White said.
Appriss Health, provider of the most comprehensive platform for opioid stewardship and substance use disorder (SUD) in the U.S., has built broad connectivity with more than 500,000 prescribers and pharmacists at nearly 80,000 facilities in 40 states, supporting more than 60 million patient encounters per month. It is accelerating adoption in opioid abuse and narcotics checks, and risk assessments.
Pandemic conditions strengthened its Open Beds behavioral health solution, which Appriss Health acquired in 2019.
The cloud-based OpenBeds platform identifies, unifies and tracks behavioral health resources.
The Appriss Health platform is integrated into their information technology systems of more than 130 of the nation's largest electronic health record platforms and every major U.S. pharmacy chain and pharmacy management system to enhance the experience of users.
Louisville has long maintained its presence in the business health care sector. 
Health care IT continues to be a rising force in Louisville ranks and is seeing a mixture of tech investments. In December 2019, Louisville-based 3DR Laboratories, the largest and most respected 3D medical post-processing laboratory in the United States, was acquired by Accumen Inc.
Earlier in 2019, Louisville-based Waystar acquired Digitize.AI, a Charlotte, N.C.-based company that uses artificial intelligence to provide faster and smarter prior authorizations for the health care industry. Waystar further acquired PARO Decision Support LCC, whose predictive analytics tool determines whether patients should be classified as charity care. Waystar also purchased Recondo Technology, whose revenue cycle automation solutions are powered by advanced RPA.
Health care business and back-office support is a Louisville strength
Ernst & Young's consulting growth includes outreach into the telehealth arena, said Greg Pope, E&Y Louisville managing partner. In support of that strategy, the national firm spent $4.3 million to open its National Executive Assistant Team facility downtown in 2018, then invested another $2.1 million to expand and add 60 jobs in 2019, bringing the total in 2020 to more
than 200.
Ernst & Young's global executive assistant team operation is ever-expanding, Pope said. The Louisville team supports consulting leaders globally for seamless collaboration with clients who are moving rapidly to deploy new technology.
"With the pandemic, restrictions around telehealth are being lifted and payments are authorized," he said, "allowing our clients to expand into these areas. COVID-19 has accelerated digital transformation, and that has begun to leverage productivity in the areas of software, infrastructure, collaborations and networks."
Reviewing operations for business resilience planning, particularly in the area of cybersecurity for vendor risk management, is another trend in the last year.
The business-services sector has generated tremendous need for innovation in certain corridors like contactless payment in the retail industry in 2020 as well as the ongoing battle against fraud. Louisville-based Appriss is an industry leader also in retail performance improvement solutions, and has been refocusing there with an eye on acquisitions.
Appriss Retail produced a 2019 Consumer Returns in the Retail Industry report finding "return fraud" was up 35% from 2018 as retailers were struggling to find a balance between making returns as frictionless as possible and keeping costs in check, according to Steve Prebble, Appriss Retail president.
Appriss Retail Solutions found opportunity for growth in re-evaluating infrastructure for key services designed for brick-and-mortar companies because of COVID-19.
"For example, stores were no longer taking returns during the COVID-19 outbreak, so this slowed down our software solutions in retail," Helm-White said. With demand for reconfiguring data structures and workflow, Appriss Retail is looking for acquisitions to offer new products. 
"Many Louisville companies made acquisitions in technology in 2019, and will continue to invest in this area, particularly because of the pandemic," said Jay Rollins of Louisville-based Cloudnexus Technologies, and a board member for the area tech council Technology Association of Louisville Kentucky (TALK). "Managed services and cybersecurity measures
within the business services sector are here to stay." 
The Underwriters Group
1700 Eastpoint Pkwy.
Louisville, KY 40223
(502) 244-1343
The Underwriters Group is a privately owned, and truly independent, risk management firm helping businesses protect their people, assets and their futures.
Founded in 1941, The Underwriters Group is built on a solid foundation of individualized customer service and commercial insurance expertise. For three generations, the private, family-owned business has championed its clients' missions, protecting their interests and making sure they are poised to succeed.
The Underwriters Group has become a leader in commercial insurance products and an innovative service provider by putting its customers first. Whether it's designing and implementing risk management solutions or servicing existing policies, this approach leads to the development of unique client relationships, providing more clarity in understanding our customers' business needs.
Kentucky Employer' Mutual Insurance (KEMI)
250 West Main Street,
Suite 900
Lexington, KY 40507-1724
(859) 425-7800
Kentucky Employers' Mutual Insurance (KEMI) is the largest provider of workers' compensation insurance in Kentucky, providing coverage to more than 20,000 policyholders in all 120 counties of the state. We provide exceptional underwriting, safety education and claims services to our policyholders. This, combined with our competitive pricing, responsible financial management and a focus on innovation makes KEMI the provider of choice for Kentucky businesses. We are proud to have earned and maintained an "excellent" rating by A.M. Best.
Jeffersontown Economic Development
10416 Watterson Trail
Jeffersontown, KY 40299
(502) 261-9697
Jeffersontown is an unbeatable location with beautiful park settings and amenities not found anywhere else in the metro area. Bluegrass Commerce Park is home to hundreds of businesses and offers a solid infrastructure of support services to benefit companies located there. With 34,000 employees, Bluegrass Commerce Park is the largest diversified employment center in Kentucky.
Jeffersontown is an ideal location, and its Jeffersontown Occupation Business Savings (JOBS) tax incentive program makes locating in the city a smart financial move for qualifying businesses.
Net Tango
12804 Townepark Way,
Suite 100
Louisville, KY 40243
(502) 245-1750
Leading organizations trust Net Tango to plan, design and develop their most important web projects. Since 1996, the Louisville-based web firm has provided technology experts and leaders who bring knowledge, experience  and strategic problem-solving to every project. 
Net Tango specializes in enterprise websites, software development and digital strategy solutions. With an exceptional team of engineers, developers, designers and project managers, Net Tango is ready to make technology your competitive advantage.