FINANCIAL SERVICES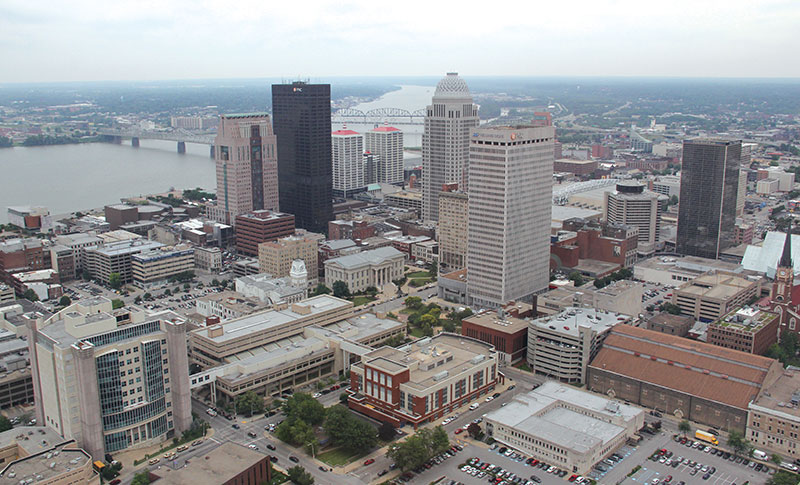 The answer to which comes first: a robust financial sector or the businesses that rely on it, seems obvious. After all, banks do not directly cause businesses to open or expand. But a thriving economy with strong job growth business expansion, and consumer demand does spur growth of the banks serving that economy.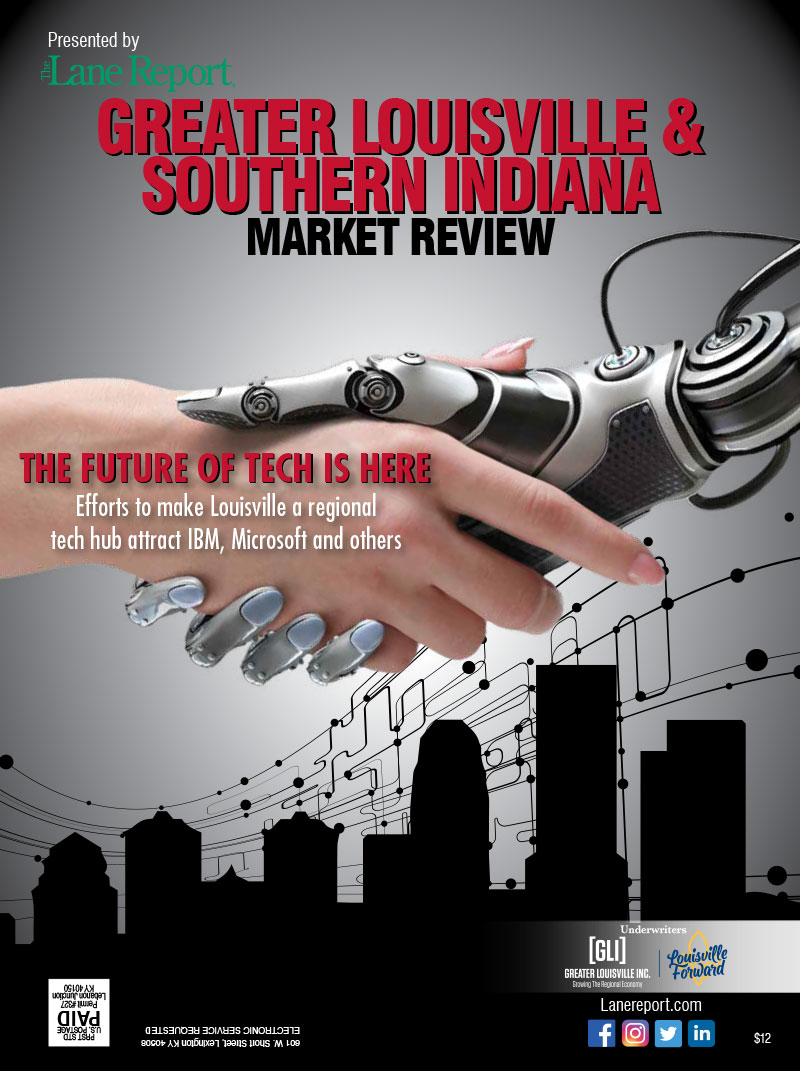 Such is the case in Louisville, a city where just above 41% of its populace earns greater than $35,600 annually.
Louisville is attractive to businesses looking to relocate or expand. The region's diversified economy has outperformed the U.S. in job and income growth on a per capital basis throughout the last decade, according to Greater Louisville Inc. (GLI), the region's chamber of commerce. It has a low cost of living and doing business, and a low unemployment rate, 3.5% in February 2020.
In March 2020, when the global pandemic caused a shutdown of all nonessential businesses, the jobless rate climbed to 4.3%; in April it was 16.6%. Emotions ran high as companies struggled to figure out how to pay their staffs and remain in business. The region's financial institutions stepped up to the challenge.
With careful planning and quick response, banks altered the ways they interacted with customers but never closed their doors.
Strong footing 'weathers the crisis'
Over its more than 40-year history, Republic Bank has progressed from an institution serving Shelby County to one headquartered on West Market Street in downtown Louisville. It offers 28 branches across Kentucky, plus two in Ohio and three in Indiana. Recent success has been admirable, with Chairman/CEO Steve Trager describing "a very strong 2019 and Q1 2020 prior to the onset" of the pandemic. He said the success – key to the bank's ability to survive the pandemic – was ongoing.
"Our mortgage business, including mortgage warehouse lending, grew nearly 100% in 2019, continued significant growth in Q1, and demand has remained very strong though the crisis," Trager said.
Headquartered on Eastpoint Parkway in Louisville, Limestone Bank launched more than a century ago, seeing name changes from Bullitt County Bank to PBI before settling on the current Limestone moniker. The bank's website lists personal and business banking as its specialties.
---
IT'S FREE | Sign up for The Lane Report email business newsletter. Receive breaking Kentucky business news and updates daily. Click here to sign up
---
Morgan Tiemann, Limestone's vice president, director of marketing and communications, said the bank's commercial activity has been strong.
"Our biggest area of organic growth has been in treasury management services led by a team of commercial banking professionals," Tiemann said. "The team works with each organization to create custom solutions to meet their business banking needs while providing efficient, ongoing one-on-one support," she added.
German American Bank, headquartered in Jasper, Ind., continues to expand in the Greater Louisville market. In 2020, the bank added several employees to serve the financial needs of the Louisville area business community. German American has offices in 20 counties in southern Indiana. Five of those offices are located in the Louisville MSA.
Pandemic presents unique challenges
By the time Kentucky officials had determined the coronavirus was highly contagious with potentially deadly complications for some populations, the next step was to order a shutdown of "nonessential" businesses. To comply, most greater Louisville banks immediately closed their branches and relied on drive-through services to address customer needs safely.
Limestone Bank enacted what Tiemann called a "detailed pandemic response plan," key to sustaining operations, she said.
"The bank pivoted to remote working environments for the maximum number of staff and shifted all 20 banking centers to drive-thru services and appointment only," she said. "The bank also provided necessary PPE (personal protective equipment) and implemented new procedures across all banking centers to reduce the spread of germs."
The pivoting she describes refers to more than just making customers and employees safe.
"Additionally, the bank used strategic, cross-department teams to develop and deploy custom solutions for delivering products and services to customers in an efficient and safe way, including Paycheck Protection Program loans," Tiemann said.
At Republic Bank, Trager said FDIC insurance was in place to extend "peace of mind during these troubling times."
"We have also put the safety and health of our employees, clients and communities as our highest priority by quickly adapting 85% of our non-banking center associates to work-from-home, and by limiting clients' banking center lobby access," Trager said.
Banks with strong community and client focus, like Republic Bank, have provided the support and personal service that may be lacking from very large institutions, he said.
"We are proud to have assisted more than 3,500 small businesses to secure over $500 million in SBA (Small Business Administration) Paycheck Protection Program (PPP) funding, and a number of these businesses that had not previously banked with us said they came to us because they were not getting the support and attention from their existing banks to secure these SBA loans," Trager said.
Technology focused
In an age when e-commerce increasingly occurs on personal computers and mobile devices, banking is catching up. A report from Statista.com traces the growth of online banking among U.S. customers, climbing from 134 million users in 2014 to 162 million in 2019.
"Prior to COVID-19, over two-thirds of our personal retail clients actively used our mobile and online banking solutions, and that has increased even more with the pandemic," Trager said.
Electronic services were the linchpin in addressing customer needs during the pandemic, with a healthy portion of its clientele already having adopted its e-services, Tiemann said. These include deposits and other transactions, and are part of an overall strategy to satisfy customers.
"During the pandemic, we capitalized on the opportunity to expand those services to existing and potential customers that may have previously been reluctant to use technology," Tiemann said. "Looking ahead, the bank will continue to expand upon our existing digital service channels for both consumer and commercial customers and will also be launching a new digital lending platform in the near future."
Trager said Republic Bank's Interactive Teller Machines (ITMs) offered via drive-through lanes allowed video chats between clients and live customer service representatives, a solution almost tailor-made for social distancing.
"Like mobile and online banking,
we fully expect clients to continue to love the ease and convenience of using our ITMs. We have nearly 50 ITMs across
our footprint."
Investment firms using new tech, too
Wealth management firms are using today's technology to better serve their customers.
Mariner Wealth Management, a nationwide firm with two offices in the Greater Louisville region, has been focused on utilizing new technology to streamline business operations and enhance service and accessibility, said Pamela Thompson, managing director and senior wealth adviser at Mariner.
Mariner has 11 employees in its two offices, one of which is located on U.S. 42 near Interstate 264. The other is just across the river in New Albany.
"Web-based systems such as Box and Salesforce have replaced location-based technology and paper files, helping increase convenience as well as the security that is so important to the work that we do," she said.
When the global pandemic forced many businesses to make new working arrangements for employees, Mariner was easily able to allow its staff to telecommute.
Mariner's staff maintained communication with clients to help them with their questions and concerns, Thompson said. It can be very disconcerting when the stock market becomes volatile in reaction to world events, she said.
"We remind our clients that at times like this, we see why it is so important to have a proper balance in their portfolios. When we meet, we confirm their objectives and talk through any changes that might be appropriate based on their long-term horizon as well as shorter-term need for liquidity," Thompson said.
During times of crisis, it is best for investors to think about their long-term goals and be intentional about their next steps.
"Our advice is to not panic, stick to your long-term plan, and do not assume that every market commentary heard on TV is an accurate prediction and something you should take action on," Thompson said.
---
MCM CPAs & Advisors
2600 Meidinger Tower
462 S. Fourth St.
Louisville, KY 40202
(888) 587-1719
MCM CPAs & Advisors is a large regional CPA firm that offers expertise in a full range of assurance, tax, and advisory services for public and privately held organizations, nonprofit, small businesses and individuals. MCM goes beyond accounting to offer specialized services in areas such as technology solutions, HR advisory and transaction advisory services to help build strong businesses and to help them achieve your goals.
MCM has offices in Louisville and Lexington, Ky.; Jeffersonville and Indianapolis, Ind.; and Cincinnati, Ohio, and was recently ranked by Inside Public Accounting's Top 100 list as the 76th largest accounting firm in the United States (based on net revenue).
---
German American Bank
(812) 248-9282
German American Bank is dedicated to helping individuals, families and businesses achieve greater prosperity and quality of life. The financial team builds lasting client relationships based on integrity, responsive service, innovation, and shared values. German American supports the communities it serves and believes when a community thrives, its people prosper.
From banking technology that is continually enhanced to stay abreast of the latest advancements, to local, responsive decision making by a talented team of local professionals, German American Bank maintains a strong business banking focus and is the ideal choice for a broad range of financial needs.
---
Mariner Wealth Advisors
4965 U.S. 42, Suite 1000
Louisville, KY 40222
(502) 236-2079
3707 Charlestown Road, Suite C-2
New Albany, IN 47150
(812)542-1018
Mariner Wealth Advisors is a privately owned national advisory firm with two Louisville-area offices, offering comprehensive wealth management and investment services, customized to help you navigate your financial future.
Mariner's integrated approach brings investment management and financial planning under one roof with tax, business advisory, trust services and insurance, to create a personalized wealth management plan for each client. Its advisers partner with clients for whatever life brings their way.
---
BANKS
Bedford Bank
bedfordbank.com
Central Bank
centralbank.com
Citizens Deposit Bank
cdbt.com
Citizens Union Bank of Shelbyville
cubbank.com
Commonwealth Bank & Trust Co.
cbandt.com
Eclipse Bank
eclipsebank.com
FirstBank
firstbankonline.com
Fifth Third Bank
53.com
First Financial Bank
bankatfirst.com
First Harrison Bank
firstharrison.com
First Savings Bank, F.S.B.
fsbbank.net
Forcht Bank
forchtbank.com
German American Bank
germanamerican.com
Independence Bank
1776bank.com
JPMorgan Chase Bank
chase.com
Liberty Bank
libertybank.net
Limestone Bank
limestonebank.com
Lincoln National Bank
mylnb.com
Magnolia Bank
magnoliabank.com
Mid-Southern Savings Bank
mid-southern.com
The New Washington State Bank
newwashbank.com
Old National Bank
oldnational.com
Peoples Bank
pboflebanon.com
PNC Bank
pnc.com
Regions Bank
regions.com
Republic Bank & Trust
republicbank.com
River City Bank
rivercitybank.com
South Central Bank
southcentralbank.com
Stock Yards Bank & Trust
syb.com
Town & Country Bank and Trust
mytcbt.com
Truist (formerly BB&T)
bbt.com
U.S. Bank
usbank.com
Wilson & Muir Bank & Trust Co.
wilsonmuirbank.com
WesBanco
wesbanco.com
ACCOUNTING FIRMS
Baldwin CPAs
baldwincpas.com
BKD LLP
bkd.com
Blue & Co. LLC
blueandco.com
Crowe
crowe.com
Dean Dorton
deandorton.com
Deloitte
deloitte.com
Deming Malone Livesay & Ostroff PSC
dmlo.com
Ernst & Young LLP
ey.com
Harding Shymanski & Co. PSC
hsccpa.com
Jones Nale & Mattingly PLC
jnmcpa.com
KPMG LLP
kpmg.com
Louis T. Roth & Co. PLLC
ltroth.com
Mather & Co. CPAs LLC
matherandcompany.com
Monroe Shine CPAs
monroeshine.com
MCM CPAs & Advisors
mcmcpa.com
PricewaterhouseCoopers LLP
pwc.com
Rodefer Moss & Co. PLLC
rodefermoss.com
Strothman & Co. PSC
strothman.com
Welenken CPAs
welenken.com