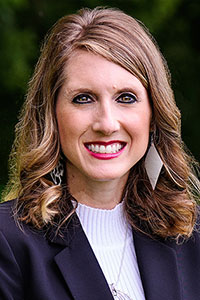 PIKEVILLE, Ky. — Sabrina Lequire has joined Community Trust's Wealth and Trust Management team as a wealth advisor for Private Wealth Services, Andy D. Waters, president and CEO of Community Trust and Investment Company, announced recently.
As a key member of Private Wealth Services, Lequire's responsibilities include overseeing client relationships, administering trusts and assisting with legacy planning. Her office is located at 346 North Mayo Trail in Pikeville, Ky.
Lequire earned a bachelor's degree in business management and administration from Sullivan University. She has also obtained master's degrees from both Sullivan and Morehead State University. Lequire has several years of experience in the industry and has previously held positions as a loan officer and internal auditor at Community Trust Bank. Additionally, she was a retail business owner for several years.
Lequire grew up in Banner, Ky. and currently lives there. In her spare time, she enjoys traveling, cooking, being outdoors and spending time with her family.