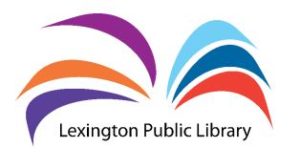 Lexington, Ky. — As part of its ongoing commitment to serving the community, the Lexington Public Library will host extended early in-person voting at Beaumont, Northside, and Tates Creek Libraries from October 13th – November 2nd in addition to Election Day voting on Tuesday, November 3rd.  Early voting hours will be Monday-Friday from 8:30-4:00 and Saturday, 9-1.
The Beaumont and Tates Creek branches of the Lexington Public Library will return to curbside service only from October 13-31 to accommodate early voting. All Library locations will be closed on November 2-3 for voting purposes.
For more information please visit the Lexington Public Library's website at www.lexpublib.org and their social media pages @lexpublib.