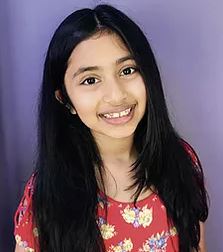 Louisville, Ky. — One of the youngest known published authors in the world, Prisha Hedau, released her first book, PANDEMIC 2020: A 9 Year Old's Perspective. 
Hedau never specifically set out to write a book. What started as daily note-taking on note cards to remember her experience during the 2020 COVID-19 pandemic, moved to essay writing after encouragement from her parents. Soon the Louisville, Ky., resident's thoughts became small chapters that created a book. 
Only nine years old when she wrote the book, but now 10, she is found to be among only a handful of published child authors in the world. 
"I didn't write this book to make money. While I would like to save a portion to go towards my education one day, I wrote this book to be able to give back to Dare to Care Food Bank and to COVID-related organizations to help people in my community," Hedau said.
"In 100 years from now, people can read my book and remember what 2020 was like." Hedau
 shared that not only will readers be able to relate to her thoughts and feelings, but they will also find useful tips for non-traditional learning, finding new hobbies, and instilling healthy habits.
As she adds author to her resume, it joins a long list of accomplishments, including holding state and national-level rankings in chess and math competitions and managing several social media platforms where she shares videos of her self-choreographed dances.
To learn more about Prisha Hedau and to purchase
PANDEMIC 2020: A 9 Year Old's Perspective
, visit her website
https://www.prishahedau.com/
, which was also created by her.