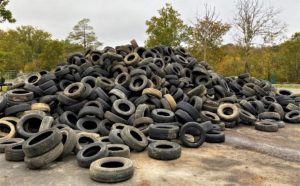 COVINGTON, Ky. – Oh, the plight of worn-out tires. Left in the corner of the backyard, they collect water and breed mosquitos. Stuck in the corner of the garage or basement, they take up space.
Thrown in the woods, they take decades to decompose, all the while leaching toxic chemicals into the water supply. Simply put, the rings of rubber once praised for stylish looks, providing our vehicles traction in the rain, and helping us stop in an emergency do nothing but cause problems.
What's a conscientious resident to do?
If you live in Covington, you can get rid of your old tires for free come Saturday, thanks to a first-ever drop-off event organized by the City of Covington and Rumpke Waste & Recycling. Residents can drop off up to 10 tires, with or without rims, although certain specialty tires are prohibited (see details below). All tires will be recycled, Rumpke says. The event solves a long-standing problem in the city since tires can't be thrown in either the regular trash or in recycling bins, said Sheila Fields, Covington's Solid Waste and Recycling coordinator.
"We're excited because this gives homeowners a viable option for responsibly getting rid of something in a way that will neither cost them nor wind up hurting the environment," Fields said. "Whether you have a few tires sitting around the house or know of some abandoned ones in the neighborhood, this is your opportunity."
The drop-off event happens 8 a.m. to noon Saturday at the Covington Transfer Station at 4399 Boron Drive, at the southern end of the street. To get to the site, turn right just before the City's Public Works Garage.
You must be a Covington resident, and no businesses – such as tire retailers, scrap or salvage yards, and recycling facilities – are allowed to participate. The event was made possible by a new, expanded partnership between the City and Rumpke, which has taken over ownership of the transfer station, Fields said. "Rumpke is working with us to solve a range of challenges for our residents related to trash and recycling," she said. "This is definitely going to make our neighborhoods cleaner."
Accepted tires:
·      Cars and trucks
·      Tractor, farm implement
·      ATV
·      Lawn tractor
·      Bicycle
·      Motorcycle
·      Golf cart
Not accepted:
·      Foam-filled tires
·      Calcium-filled tires
·      Over the Road Tires (OTR)
·      Solid tires with or without a press-on-rim
·      Tires with a bead greater than 1¾ inches
·      Tracks
·      Sheet rubber