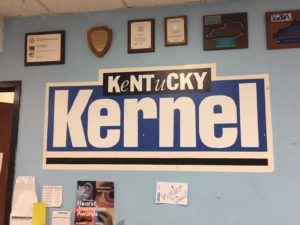 LEXINGTON, Ky.  — The 2020 recipient of the James Madison Award is the Kentucky Kernel, the independent student newspaper at the University of Kentucky. The James Madison Award is awarded by the Scripps Howard First Amendment Center in the School of Journalism and Media at the UK College of Communication and Information to annually recognize a Kentuckian who has made an outstanding contribution to the First Amendment.
The Kentucky Kernel has been embroiled in a five-year legal case with the University of Kentucky concerning the commonwealth's open records law pertaining to a story on the investigation of a former professor accused of sexual harassment. The case reached the Kentucky Supreme Court in October 2020, with a decision still uncertain.
"Through six editors and almost 30 stories, the Kernel has not wavered," noted the nomination letter. "The Kentucky Kernel — represented by the students who have worked for it these last five years — is a shining example of First Amendment principles at work."
"The award to the Kernel is a testimony to the power and place of student media, not just on campuses but in society at large. The Kernel's battle is an inspiration to students and faculty, and an example to newspapers at a time when business pressures have made them less willing to fight battles for the First Amendment, which are almost always battles on behalf of the public interest," said Al Cross, a member of the award selection committee and UK extension professor of journalism.
The James Madison Award is scheduled to be presented to the Kentucky Kernel at the Scripps Howard State of the First Amendment Address delivered by First Amendment and media law scholar Stephen Bates, scheduled for 5 p.m. Thursday, Nov. 12, via Zoom, with details available at https://ci.uky.edu/jam/events.
The James Madison Award, created in 2006, honors the nation's fourth president, whose extraordinary efforts led to the ratification of the Bill of Rights. Nominees must have significant ties to Kentucky, and their efforts must have resulted in the preservation or expansion of freedom of the press and/or freedom of speech. The award recognizes a long-term commitment to these ideals.
For more on the open records case concerning the Kentucky Kernel: www.kentucky.com/news/local/education/article246608918.html. For more on the Kentucky Kernel: www.kykernel.com. For more on the James Madison Award: https://ci.uky.edu/jam/james-madison-award.