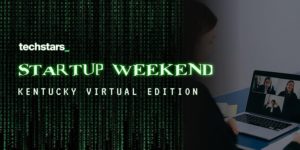 LEXINGTON, Ky. —Startup ecosystems across the state are coming together to create the first-ever Startup Weekend Kentucky, an exercise for entrepreneurial education. The event, November 20-22, begins at 5 p.m. Friday and final pitches will be held Sunday evening. The cost to attend is $20 and all attendees will join virtually.
"We could either cancel like everything else in 2020 or do something more collaborative than ever. We chose the latter option. 2020 is the year everyone came together across Kentucky and Startup Weekend will be no different," said Keith McMunn, Startup Weekend Facilitator.
Techstars Startup Weekend is more than a 54-hour sprint filled with excitement. More importantly, it can be the beginning of something powerful. Often, it is the beginning of a friendship, a team of founders, or even a company that makes it big. Just ask Zach Frey. Zach attended Startup Weekend Lexington in 2016 and started WHYOO, a mobile, on-demand oil changing service with complete strangers. Although WHYOO succumbed to the same fate as many startups do, Zach's co-founders from Startup Weekend are still important parts of his network as he builds his latest venture, Flux Shoes.