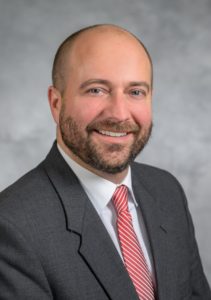 Early in his tenure as Somerset's mayor, Alan Keck made a statement at a city council meeting that has defined his service. "To get things done, you've got to get things done," he said, a plain-spoken and simple declaration that, in order to be executed, requires a vision that must be pursued with full vigor and without excuses.
We've taken those words to heart at SPEDA since being formed nearly two years ago. We work with that same vigor, bringing energy, vision, and collaboration to the table to begin a new day for our community. We are grateful for the opportunity we've been given and proud of the success we've had in Somerset and Pulaski County in such a short amount of time.
On day one, we went about establishing our core values — being bold, innovative, growth-oriented, vibrant, united, and collaborative — as well as our top priorities, viewing each through the lens of improving quality of life. Two of those priorities, education and workforce development, play major roles in our holistic approach to strengthening the local economy — an approach uniquely focused on initiatives that make business about people.
So it should come as no surprise that SPEDA proudly supports an endeavor to build a traditional four-year university in the heart of downtown Somerset. Not only will it enhance educational opportunities and workforce development for the people of our community and abroad, but its creation also embodies each and every one of our core values with the ultimate goal of improving quality of life.
Many politicians and community leaders have long discussed and campaigned for a four-year university in our community to no avail.
It begs the question: If we do not lead, who will? Mayor Keck confidently proclaimed it was time to move forward. The 
University of Somerset
board's vision to create a four-year university from scratch is commendable, to say the least — but this group's willingness to set a plan into motion, raise funding and seek accreditation so swiftly is extraordinary.  I've read with great interest and pride the overwhelmingly positive feedback from Pulaski Countians about this endeavor, and stand ready to support its need here despite the existence of an outstanding community college and a public four-year option for several of its programs.  You will not find a more firm believer in Somerset Community College (SCC) and the Kentucky Community and Technical College System (KCTCS) than myself.
A current member of the KCTCS Board of Regents, I attended SCC during my freshman year, and one of my greatest honors was being asked to be a commencement speaker for one of SCC's graduating classes. I served several years on the SCC Foundation, helping raise money and organize events. I am a tireless advocate of the community college mission. SPEDA and SCC work hand-in-hand on several workforce development initiatives, a partnership of which I am extremely proud. The University of Somerset, based in the liberal arts tradition with a focus on technology and scientific development, will complement SCC tremendously. It is exciting to think of the collaboration that can take place between these two institutions.  As for the decision to build a privately funded institution independent of government support, my friends, I must speak frankly.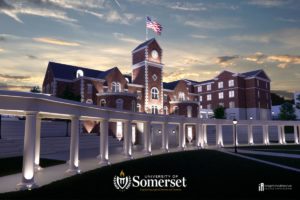 The Commonwealth of Kentucky cannot afford to financially support the state's current higher education institutions, much less a new one. Far too many times people look to their government for all the answers. This should not be one of those times. Raising money privately instead of depending on taxpayer funding to cover the cost when the system is already overburdened is the responsible choice.  I believe those who choose to invest in the University of Somerset will see the real impact of their commitment in short order.
A feasibility study conducted in 2018, before SPEDA was formed, shows a four-year institution could generate as much as $128 million for the community and more than 1,000 jobs. The significance of this economic impact cannot be understated. The University of Somerset will bring students from across the state, nation, and world to Pulaski County. It has the potential to increase tourism, serve as a significant recruitment tool for new business and industry, and retain scores of bright students who otherwise would have left our community to pursue this kind of education elsewhere.  What is this kind of education? It's one built on a foundation of character, patriotism, and virtue.
It prepares students to stand up for liberty and truth by teaching them how to think for themselves. It's a world-class education that can equip the next generation to lead in the global marketplace. Students will grow and learn through healthy discourse, in an environment that is balanced and distinctly non-partisan. An environment where all voices will be heard. That reality does not exist now in higher education.
It's a big dream. But it's also time to dream big. We must lead boldly. We must innovate. We must be pioneers and forge new territory. And we must outwork everyone around us.  If SPEDA fails to live up to its core values, if we shirk our responsibility as a leading community organization, we will all pay the highest price for our neglect and short-sightedness.  And so, SPEDA offers its unwavering support for the University of Somerset.
Let's move this community forward together. To get things done, you've got to get things done. Here we don't just lay bricks, we build cathedrals. The University of Somerset will be one of those cathedrals.