When the Breeders' Cup team decided to bring the World Championships back home to Keeneland, the LexArts Board of Directors didn't think twice. Having had phenomenal success in its first two iterations of Horse Mania, the LexArts public art project staged in 2000 and 2010, the board knew it would be a natural fit again this year. However, just as the popular public art project was taking shape, the COVID-19 pandemic created a full stop, and Horse Mania 2020 was a late scratch.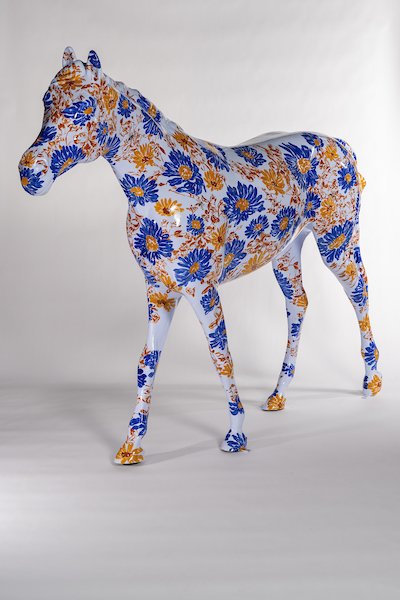 But ingenuity prevailed. With Breeders' Cup fast approaching, LexArts pivoted and partnered with three iconic Kentucky brands to create The Painted Horse Trilogy. Breeders' Cup, Keeneland, and Maker's Mark have joined forces to bring this public art project to the starting gate, after all.
Three full-size fiberglass horses have now become extraordinary works of art by Kentucky artists Carlos Gamez de Francisco, Helene Steene, and Agustin Zarate.
During Breeders' Cup week, the horses were exhibited on the south end of the Robert F. Stephens Courthouse Plaza, adjacent to Main Street. They were relocated to Keeneland for the two days of Breeders' Cup World Championships and then returned to downtown Lexington. "White Oak" is displayed in front of Dudley's on Short, "Flowers of the Breeders' Cup" is displayed at the front entrance of Courthouse Square, and "Keeneland 2020" is displayed on the lawn of Cross Gate Gallery. The equine sculptures will remain in those locations until Nov. 19, when they will return to the hallowed grounds of Keeneland.
Each of these horses is entered as a separate lot in Keeneland's Sporting Arts Auction, facilitated by Cross Gate Gallery, to be held virtually on Sunday, November 22. Proceeds from the auction will benefit LexArts and the Central Kentucky arts community. Based on the historical success of the Sporting Art Auction, as well as prior Horse Mania auctions, demand for these works of art will be strong.
"This partnership is many months in the making and LexArts is grateful for the commitment and support of Breeders' Cup, Keeneland and Maker's Mark, all iconic brands with deep Kentucky roots and enthusiasts far beyond our great commonwealth," said LexArts President and CEO Ame Sweetall. "The artists' inspirational works capture the essence of each sponsor in magnificent form and represent the best of Kentucky. Demand will be strong for these one-of-a-kind sculptures during the Sporting Art Auction and the proceeds will support the continued relief and recovery of the arts in the Bluegrass."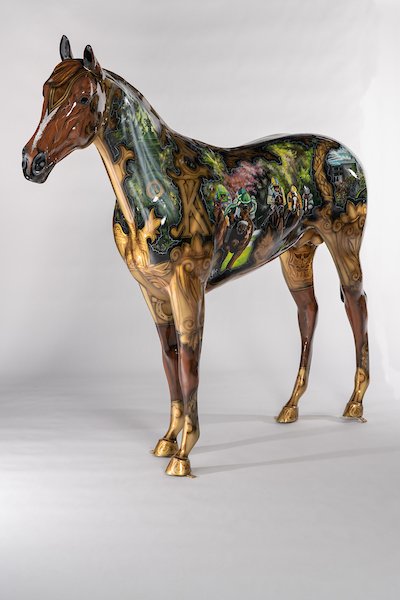 "It has always been important for Maker's Mark to find meaningful ways to give back to the community, and this effort that brings together such iconic partners as Keeneland and the Breeders' Cup seems the perfect way to do just that," said Rob Samuels, an eighth-generation whisky maker and Managing Director of Maker's Mark. "The vision of these amazing artists complements the vital work of LexArts to support the arts and improve the quality of life in Central Kentucky. That's a win for everyone involved."
"Keeneland is proud of the Painted Horse Trilogy, which showcases the talents of Kentucky artists and celebrates the return of the Breeders' Cup to the Lexington community," Keeneland President and CEO Bill Thomason said. "We applaud LexArts for this creative initiative and thank them for the continued support of Central Kentucky's horse industry."
"We're proud to be joining forces with our friends at LexArts, Keeneland and Maker's Mark to celebrate the upcoming World Championships and support the vibrant arts community here in Lexington," said Drew Fleming, President, and CEO of Breeders' Cup. "We applaud the talented artists who have brought this initiative to life and look forward to seeing their works around town over the next couple of weeks!"