LOUISVILLE, Ky. – Louisville Metro has awarded new funding to west Louisville-based organizations AMPED and Louisville Central Community Center (LCCC) to grow their technology upskilling programs, part of the continued work by the Future of Work Initiative to provide skills to Louisville residents and tools to companies that they will need to be successful in the coming data economy.
"As artificial intelligence and automation continue to reshape our economy, we are making investments in our workforce to be competitive," Mayor Greg Fischer said. "And as we seek to inject equity in all aspects of our city, we are particularly focused on reversing the under-representation of traditionally marginalized populations into our tech workforce and increasing opportunities for residents to obtain family-supporting jobs."
RELATED: Louisville is positioning itself as a regional hub for tech, artificial intelligence. The Lane Report's Market Review of Greater Louisville explores those efforts. 
AMPED and LCCC will offer intensive training to two cohorts of students, providing them with skills they need to help them obtain jobs in data analytics, user experience design, digital marketing, development and other fields. In addition to training, the nonprofits will assist with job placement by working with established career counselors or the local workforce development board, provide job interview prep and offer at least six months of follow-up services for program graduates.
To ease the financial burden that they may face while completing the training programs and assist with the cost of technology and hardware, participants will receive a stipend and support in overcoming barriers to completion.
"Many of us have heard someone use the term, 'If all things were equal.' Well this is the beginning of all things being equal. This is just the first step in recognizing, acknowledging, and acting upon all things that ARE NOT EQUAL and making an intentional effort to make all things equal," said Dave W. Christopher Sr., executive director of AMPED.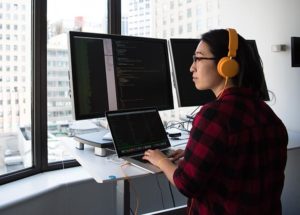 "LCCC is honored to be part of this initiative. It presents a great opportunity to leverage our leadership and experience in technology, workforce and micro-enterprise development. The Rapid Upskilling Initiative will empower us to deliver much needed training resources to underserved career seekers and entrepreneurs, while helping toward advancing equity and economic viability of underrepresented family leaders in our community," said Kevin Fields Sr., CEO of LCCC.
The expansion is part of the broader Future of Work Initiative, a partnership between Louisville Metro and tech giant Microsoft created in June 2019 around artificial intelligence, the Internet of Things and data science. The initiative focuses on Louisville's desire to address socio-economic, gender and ethnic disparity in the technology field in addition to growing its overall tech talent pool and helping local companies implement emerging technologies. The training programs offered by AMPED and LCCC will target groups that are underrepresented in the tech sector, including Black residents, women and low-income individuals.
Since its creation, the Future of Work Initiative has built partnerships with companies and organizations including Humana, Microsoft, JPMorgan Chase, the Rockefeller Foundation, Adecco, General Assembly, and the Louisville Healthcare CEO Council to further its mission and connect tech talent to open jobs. Humana, Microsoft, JPMorgan Chase and the Rockefeller Foundation are critical funding partners in the expansion of Future of Work Initiative's upskilling training.
"Humana is excited to be a part of this important partnership, which is creating a scalable and sustainable pipeline of diverse talent with data analytics and data science skills needed for the future. Together with our partners, we are intentionally designing this experience to ensure that the time and energy these students are investing results in a career that pays a living wage and has the opportunity for further growth and development," said Roger Cude, Humana's Senior Vice President of Digital & Community Development. "This is part of Humana's continued commitment to the long-term health and well-being of the Louisville community."
While existing training programs like Code Louisville are producing impressive results, more of these efforts are needed to reach the scale of change required for Louisville to keep growing these high-paying jobs in the new economy.
With the high number of white men traditionally dominating in computer science, the city and world would miss out on the talent, experience and ideas from diverse voices that could help industry and society address the complexity of issues today.
"After being laid off as a pharmaceutical sales rep, I had to re-evaluate what my next career path would be," said April Irvin, General Assembly graduate and newly hired Humana associate. "Being an AMPED and General Assembly participant paved the way for me to embark on a new career path in the tech industry. I obtained important software knowledge that has allowed me to utilize my skills in my new role as a data analyst at Humana. After years of perseverance, this is an opportunity of a lifetime."
Learn more about opportunities open to people seeking to learn new tech skills and certifications at www.futurelou.com.