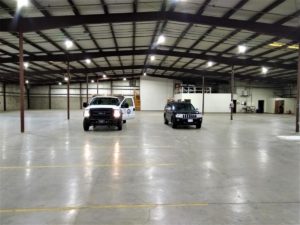 COVINGTON, Ky. — The planned new home for Covington's Public Works Department for the time being looks like a concrete slab with metal walls and roof.
To turn the 68,000-plus-square-foot building into an efficient, functional space, one that serves as a base for the critical job of maintaining the physical infrastructure of the city, the Covington Board of Commissioners voted in a special meeting Tuesday night to hire Hub+Weber Architects.
The City bought the building at 1730 Russell St. for $2.65 million after agreeing to sell the existing complex on the southern end of Boron Drive in Latonia to Rumpke Waste & Recycling for the company's new Northern Kentucky headquarters.
The Russell Street site consists of 3.68 acres tucked up against the CSX Transportation railroad tracks and was the former home of Cincinnati Tag & Supply.
Hub+Weber will work with City officials to design both the interior and exterior of the building to accommodate the Department, its 60-70 employees (a number that fluctuates with seasonal hires), vehicle fleet, equipment, and road salt dome.
The $142,600 contract has three parts:
Designing the space and creating architectural renderings.
Turning the designs into drawings for use in securing building permits, bidding on the construction contract, and doing the work on the building.
Administration of the construction project.
Warneford said that when the new building is finished, Public Works would likely move its different divisions in stages to eliminate any potential negative impact on its ability to serve the public.