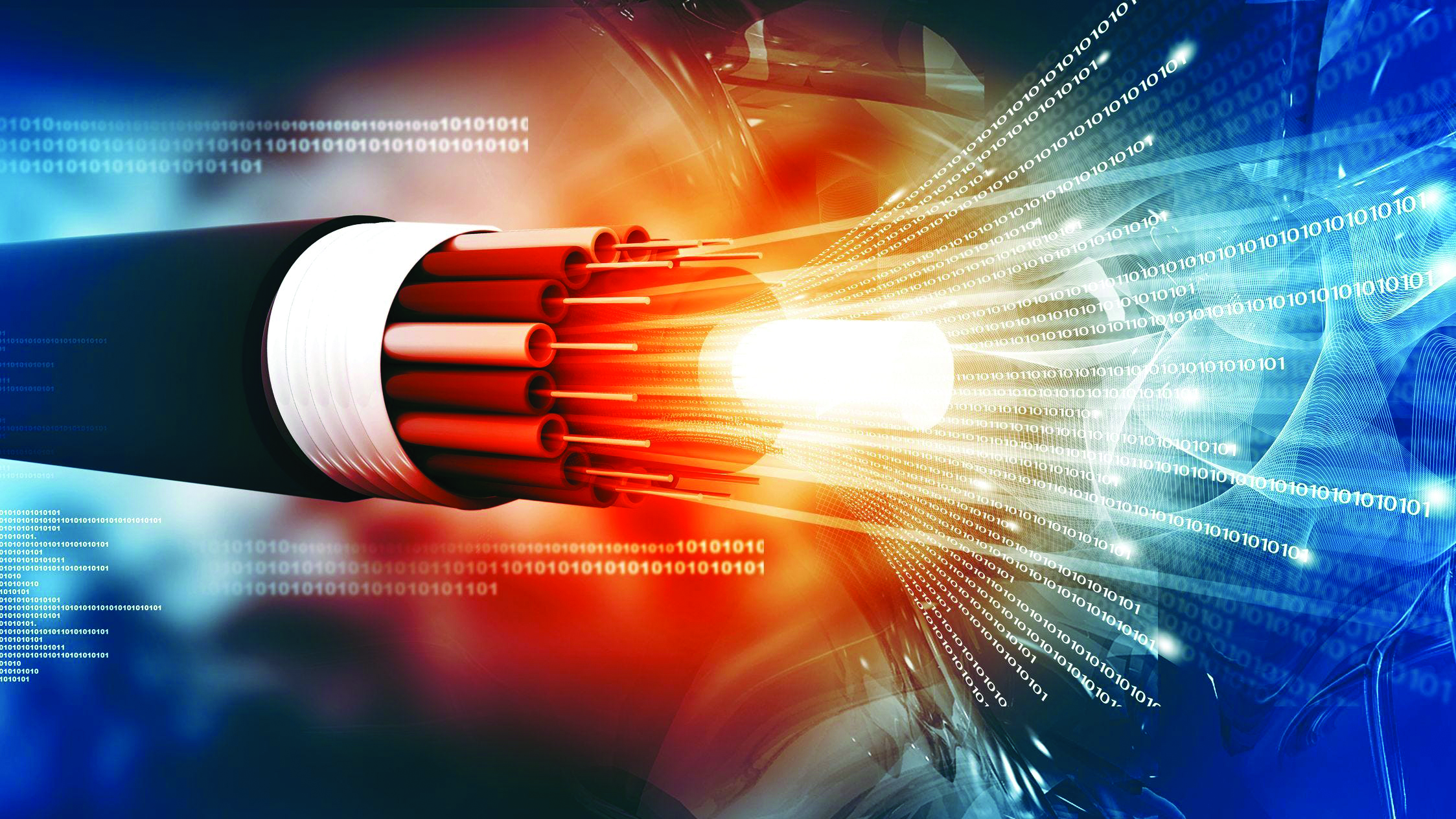 Sharing the vision that broadband internet service is vital infrastructure in today's global economy, Kentucky business impresario Jim Host began work in 2004 toward making it available statewide when he was Kentucky's commerce secretary in the Fletcher administration. After a half-decade diversion to push Louisville's KFC Yum! Center into existence in late 2010, Host returned to a background role orchestrating what would become the Kentucky Wired project.
In January 2021, the public-private Kentucky Communications Network Authority completed a $368 million project to build a 3,300-mile open-access network of 288-strand fiber-optic cable with at least one local-service-friendly node in all 120 counties. Kentucky is the first state to ensure the capability for broadband in all its rural areas.
Ongoing advances in fiber-optic use technology make it difficult to describe the data-carry capacity because it is enormous, far beyond any current uses. Japan's national research agency has demonstrated network nodes operating at petabit capacity—1 million gigabits of data per second—enough to stream high-res 8K video to 10 million users at once, an October 2019 networkworld.com article reported.
Kentucky Wired is a "middle-mile" project. Making the hundreds of thousands of last-mile connections to individual homes and businesses throughout the commonwealth in a financially feasible manner is up to local internet service providers (ISP), scores of which are now taking on the task.
The now-complete statewide system sells use of its data network to the local ISPs through Accelecom, which was known as Kentucky Open Fiber until availability of the Accelecom brand name was confirmed in December.
The ISPs have the job of physically building and operating the local "final mile" systems whose equipment links homes, businesses, nonprofits and many government offices to the ultra-high-speed broadband network or backbone. And always, the data capacity or speed experience of individual users will be as good as the equipment their ISP can provide and they are willing to pay for. Sectors with the highest potential for big data use are manufacturing, banking and securities, communications and media, health care providers and government. Other sectors rated high for big data use include retail, transportation and utilities.
Broadband essential to economic development
Economic development is the top benefit that completion of the state broadband backbone will bring, said Jamie Link, executive director of Kentucky Communications Network Authority, the state agency overseeing the Kentucky Wired project.
It will take years for opportunities to be realized, but Kentucky has greatly improved its position and potential in a rapidly changing digital economy.
"We are the only state with a full-access network to every county," said Rob Morphonios, CEO of Kentucky Wired.
Operational changes caused by the COVID-19 pandemic highlight the need for and role of broadband internet in conducting essential functions, Link said.
"Our goal by the end of 2021 is to have 700 to 800 Kentucky government entities connected to the network," Link said. Part of that goal includes providing a minimum five-fold increase in broadband speed to help them better serve state residents. The Cabinet for Health and Family Services and the Transportation Cabinet are among the early adopters.
In addition to private-sector ISPs, Kentucky's 120 county governments are prime initial targets for Accelecom to sign up, said David Flessas, CEO of the network's sales operation.
"We think there is a lot of opportunity in the health care sector," Flessas said. "A big chunk of the target market will be better connectivity for cell and wireless carriers. The popularity of wireless is growing, and they need backbone access."
Accelecom/Open Fiber Kentucky's first orders began providing service in the second quarter of fiscal 2021, he said. Accelecom's goal is to have a robust and growing customer list by the end of calendar 2021.
Providing broadband connectivity to Kentucky's most remote residents and businesses in rugged and sparsely populated areas remains a challenge and likely will occur first via wireless signals beamed from towers local ISPs erect on strategic ridgetops. Every such tower requires a hard fiber connection to supply a signal to perhaps 100 paying recipients. It is up each ISP decision maker or entrepreneur to determine the financial viability of each component of their local system.
Budget line today, revenue stream tomorrow
Kentucky Wired's annual costs for debt service—primarily to financier Macquarie of Australia—and to maintain, administer and operate the system are $30 million to $32 million annually, Link said. Including other contractual obligations, its state budget line for fiscal 2021 is $46 million, the majority of it coming from the commonwealth.
Existing agreements to provide service to state agencies plus contracts by Open Fiber/Accelecom should generate about $11 million this year, he said.
Accelecom is "just ramping up with sales and revenue to contribute," Flessas said. "It will be into (fiscal) '22 until we make a material contribution. We do anticipate being highly successful."
Physical completion of the network marks the beginning for the project's potential impact, which will take years to evolve, said Lonnie Lawson, president/CEO of the Center For Rural Development in Somerset.
Lawson is credited with first suggesting a county-by-county broadband network as an economic development tool for Eastern Kentucky, a region reeling from the loss of coal revenue. As the idea received serious consideration, it came to be viewed as a goal that could serve the entire state.
Seeing it now come to fruition, Lawson likes the long-term utility of the infrastructure that has been put in place. Already some 3,000 Eastern Kentucky residents are using broadband service to their home for distance-work jobs around the country, he said.
"In 2030 or 2040, this technology will still be servicing the new technology that comes along," Lawson said.
Every individual job and new business that results grows the state tax base. One user is AppHarvest, whose first high-tech greenhouse creating more than 250 jobs near Morehead connects to its parent technology in the Netherlands. AppHarvest has announced at least two more large greenhouses are coming to Eastern Kentucky.
Similar to electrification in past century
Host equates today's high-speed broadband to wiring the country for electricity in the 1930s and '40s—not only in its importance to participation in the new economy but the impossibility of making it universally available without government involvement. Relying only on financially viable private utility operations without the federal Tennessee Valley Authority and Rural Electrification Authority, swaths of Kentucky would still be without electricity.
Host spent nearly two years early in the Fletcher administration working with the state's telephone companies to map out a broadband strategy and launch Connect Kentucky. More substantial work resumed when Gov. Steve Beshear and U.S. Rep. Hal Rogers launched the Saving Our Appalachia Region (SOAR) economic development initiative in 2013.
As SOAR began organizing its work groups, broadband service blanketing every corner of every county in Eastern Kentucky was envisioned as the primary goal to bring economic development to a region in need. Host said urban opponents of Kentucky Wired would be wiser to view the project not as an expensive gift to rural residents but as the means to turn longtime consumers of government services and tax revenue into creators of revenue, wealth and income for the state.
"Kentucky has historically ranked among the bottom of the nation for broadband connectivity," said Rogers, "but Kentucky Wired will launch us to the top tier, opening the door for new industries and jobs for our people. We know that broadband cannot single-handedly solve our generational challenges in Kentucky's Appalachian region, but without broadband, we aren't even on the playing field."