Muhammad Ali was not the only heavy hitter who to call Louisville home. Some of the biggest names in business are headquartered here: Humana, Yum!, Kindred Healthcare, Brown-Forman, UPS Airlines, Papa John's, GE Appliances and more.

Louisville has the largest concentration of aging-care headquarters in the nation as well as the headquarters of some of the world's largest restaurant and beverage operations. It has a growing business-services sector focused on information technology, and the city leads the way in advanced manufacturing and logistics.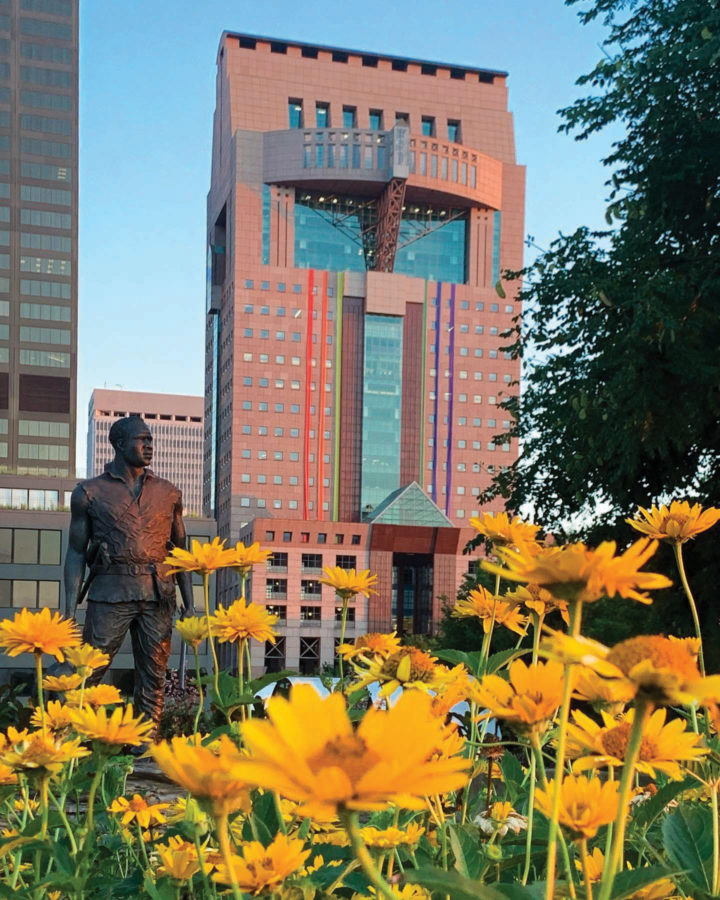 Businesses prosper in Louisville. With its pro-business attitude, low cost of operations and low taxes, the Greater Louisville region offers a supportive and progressive climate for business. The region's diversified economy has outperformed the U.S. in job and income growth on a per capita basis throughout the last decade.
Site Selection magazine in 2021 ranked Louisville among the top metropolitan areas in both the East North Central (seventh) and South Central (sixth) regions. Rankings are based on the number of new economic development projects brought to the metropolitan area in a calendar year. Last year, Louisville located 41 projects, adding 2,200 new jobs and $474 million in new investment to the city.
Since 2014, Louisville has experienced more than $17 billion in investments.
"Rising in these rankings during a pandemic is evidence of the core strength of our economy," said Mayor Greg Fischer. "It validates the intentional work we are doing around our business clusters, which is growing jobs."
Below is a sampling of some of the companies that are headquartered in the region:
21c Museum Hotels
Hotels management
AAF International
Filters, air and gas manufacturers
Air Hydro Power
Industrial equipment supplier
Allied Ready Mix Co.
Concrete
Appriss
Software company
Atria Senior Living
Facilities management
AxisPoint Alliance
Concierge shipping, centralized technology platform, warehousing and logistics
Baptist Health
Health care management
Bearno's Pizza
Pizza franchise
Blumine Health
Concierge health services company
Bright Spring Health
Home health services
Brown-Forman
Distilled spirits
CafePress
On-demand digital printing
Carewise Health
Health services
Charah Solutions
Waste disposal
Chrysalis Ventures
Venture capital companies
Churchill Downs Inc.
Horse racing, wagering, gaming
Clarendon Flavors
R&D and production of flavorings for specialty beverage marketers
Citizens Financial Bank
Banking
Copper and Kings American Brandy Co.
Distillery; brandy and other alcoholic products
Commonwealth Bank & Trust
Banking
Creation Gardens
Meat processing and food service distribution
CreoSalus Inc.
Pharmaceutical research and manufacturing
Delta Dental
Dental insurance company
EdJAnalytics
Data science; tech services firm
Eggheadz
Restaurant management
El Toro
Targeted internet marketing
Elmcroft Senior Living
Senior residential services
Farm Credit Mid-America
Agriculture lender
Feeders Supply
Pet shops
Fives Intralogistics Corp.
Conveyor equipment
Flavorman
Custom beverage development
Furniture Liquidators
Furniture stores
Generation Tux
Formal wear suppliers
Genscape
Information and referral services
Haier U.S. Appliances Solutions – GE Appliances
Household appliances
Heaven Hill Distilleries (Bardstown)
Distilled spirits bottling
Heine Bros. Coffee
Fair trade and organic coffee roaster
Humana
Medical insurance plans
Icap Energy
Petroleum products wholesaler
Industrial Kiln & Dryer
Rotary dryers, kilns, ball mills, and processing equipment
Interapt
Software development and IT training
IPAK (Radcliff)
Packaging manufacturing
Isopure
Water purification company
Kindred Healthcare
Health care management
Koch Filter Corp.
Air filters, bags and cartridges
Koligo Therapeutics
Develops, manufactures, commercializes cell therapies for pancreatic disease
Landmark Recovery
Addiction treatment centers
Lantech
Stretch wrapping technology
Leap Group
Logistics
Limestone Bancorp
Banking
Liquor Stores North America
Retail management
LJS Partners
Long John Silver's restaurants
Louisville Ladder
Wholesale distribution of ladders and related climbing products
Louisville Paving and Construction
Asphalt products
Lucina Health
Software development, analytics
Management Registry
Professional staffing agencies
Manna Inc.
Quick-serve restaurants
Moby Dick Commissary Inc.
Restaurant supplies; commissary
Norton Healthcare
Hospital system
Office Resources Inc.
Office furniture
Onco360
National oncology pharmacy
Papa John's International
Pizza franchise
Parallel Products of Kentucky
Industrial organic products
Parts Unlimited Interior (La Grange)
Manufacture/warehouse interior auto parts
PharmaCord
Pharmaceutical company
PharMerica
Pharmacy services
Republic Bancorp
Banking
Roll Forming Corp. (Shelbyville)
Design and production of roll formed products
Safai Enterprises
Roaster, packager, distributor of specialty coffee
Samtec (New Albany, Ind.)
Cables and connectors manufacturer
SGS International
Global commercial printing company
Signature Health Care
Nursing and convalescent care
Statewide Mortgage
Mortgage lender
Stock Yards Bancorp
Banking
Sypris Solutions
Electronic equipment and supplies
Texas Roadhouse
Restaurant management
Thorntons
Retail management services
Turning Point Brands
Tobacco and alternative smoking products
UPS Airlines
Shipping hub
US WorldMeds
Pharmaceuticals
Waystar Health
Medical records service
Yum! Brands
Parent company of KFC, Taco Bell, Pizza Hut, The Habit Burger Grill
Click here for more Kentucky business news.