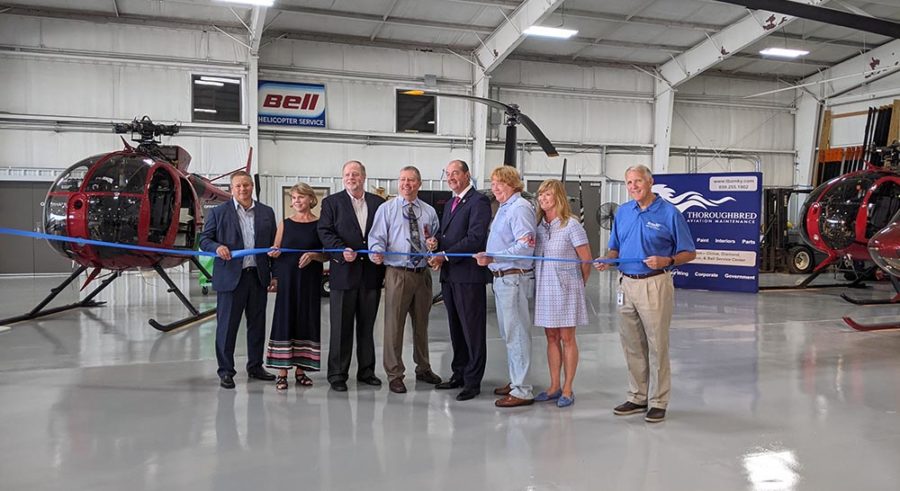 LEXINGTON, Ky. — A homegrown Kentucky company is expanding in the commonwealth. Thoroughbred Aviation Maintenance on Wednesday celebrated the opening of its new consolidated headquarters operation at Lexington's Blue Grass Airport, a project creating up to 47 full-time jobs over the next three years with an $800,000 investment.
The new location consolidates TAM's existing presence at Blue Grass Airport, where it has operated since 2018 when the company acquired Mustang Aviation. TAM maintains and services all inbound and departing commercial flights in Lexington, currently employing 18 people.
Company leaders expect the new operation to add 10 positions over the next 12 months, with targeted employment of 65 full-time staff members within three years. Jobs created by this project include aircraft technicians, sheet metal specialists, avionics, and administrative positions. TAM recently partnered with Bluegrass Community & Technical College to capitalize on its apprenticeship program and create a local talent pipeline.
The company's new headquarters at the Blue Grass Airport is in addition to locations in Richmond and the Big Sandy Regional Airport in Martin County, which opened in 2017. TAM also maintains a facility at the Huntington Tri-State Airport in West Virginia and on-call facilities in Danville and Somerset.
Founded in 1988 as Thoroughbred Helicopters, TAM has grown to include maintenance of aircraft from small Cessna planes to corporate jets, and helicopters from the helicycle to an AS365 N3 Airbus medium utility helicopter.
TAM provides avionics installation, repair and inspections, aircraft painting, interiors, airframe repair, and other services for government aircraft and law enforcement agencies, as well as corporate and privately owned aircraft. In 2017, TAM secured two five-year contracts with the U.S. Department of Agriculture to upgrade and maintain two Airbus H120 utility helicopters, along with contracts with numerous other federal, state, and local government agencies in Kentucky and surrounding states.
For more information on Thoroughbred Aviation Maintenance, visit TBAMKY.com.
Click here for more Kentucky business news.