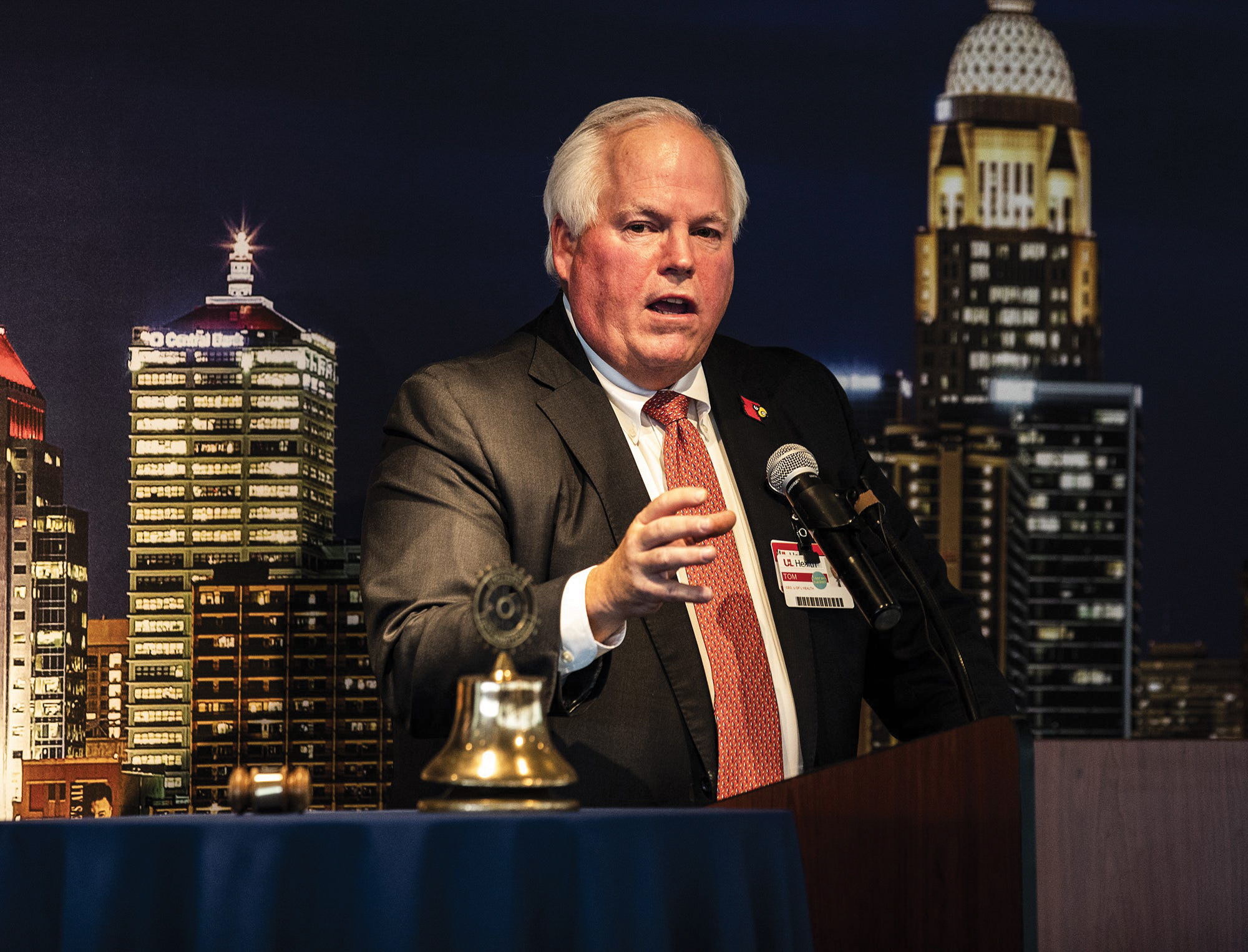 You came to UofL Health from out of town at a crucial moment and quickly made the momentous decision to acquire the KentuckyOne Health properties, which included Jewish Hospital, Mary and Elizabeth Hospital, Brown Cancer Center and Frazier Rehab. Did your experience as CEO of the Quorum Health hospital system in Nashville give you a previous opportunity to assess the Louisville market?
Tom Miller: I had worked in multihospital systems, bringing together hospitals to work as a system. Up in Fort Wayne, Ind., we started with one hospital; we grew to 10 hospitals and operated as a system. I got asked to come to the corporate office there to lead one of the divisions—which was multistate—and manage those individual hospitals into something that would be system-related.
When I moved to Quorum, a publicly traded company, we had 38 owned hospitals and 100 managed hospitals. My background has been in trying to work not as individual hospitals but as hospital systems. I had retired from Quorum and was on the beach in the panhandle of Florida when I got a call: Would I consider coming to Louisville? I had known the Louisville market because one of my responsibilities had been Kentucky and we were considering the acquisition in Kentucky of those hospitals here that got bought by CHI (Catholic Health Initiatives) for KentuckyOne. We didn't go forward with that, but I did get to assess those hospitals and I knew a little about it.
I was initially asked just to come assess the situation with KentuckyOne. The feeling of the university board at that time was that those hospitals were integral to the medical school of the community because so many of the faculty provided care there. Yet there was concern about an investment in a group of hospitals that was losing significant amounts of money. The initial thought was, let's continue to work with whoever would be the next owner and find a way to partner. As time went on, finding a new owner just didn't happen in a way that anybody thought was appropriate, and CHI was having to make decisions. We assessed this and with the support of everyone and the university board, the recommendation was that we bring these together and operate them as a system. I would say it's been good for the community, it's been good for the university, and it's been good for us. And I hope for the patients that we take care of, that we now have resources to be able to meet their needs.
And think if those hospitals had closed under a COVID situation. We are absolutely full this morning. I don't know where those patients would have gone for care. When we first took over Jewish (Hospital), we had about 200 patients in there. We ran 300 this week. There is just no way those patients could have been absorbed anywhere else within the health care systems.
MG: The deal to acquire the entities involved the state putting in millions of dollars. What were the major financial elements that allowed the link-up of UofL and the KentuckyOne facilities to happen?
TM: The state did agree to a $35 million loan in an economic development relationship with some criteria. The criteria was that we would maintain a full-time Kentucky-based workforce and expand services to the underserved and the rural areas. That would be measured on an ongoing basis with the state. We borrowed the money; it's a debt. If we meet certain criteria they will forgive half of that debt. Of that $35 million, we have to pay back $17.5 million. If we meet these other criteria, they will consider forgiving that.
We have to provide an annual report to them for many years. We have to show that the payroll taxes (we pay) will far exceed the forgiveness in this. It's over 6,000 jobs. If we keep those jobs, the payroll taxes in that are about four times the forgiveness. It was a good deal for the state, too.
Going into this, we needed help on the cash-flow side because we weren't sitting flush with a lot of cash to make payroll and reinvest in some of the capital that was necessary. That was critical for the city. Part of the condition for the university board was that we got a lot of support from local foundations. The Jewish Heritage Fund for Excellence agreed to invest $10 million in the organization and the Legacy Foundation of Kentuckiana agreed to invest $10 million a year over four years. It was a combination of the support of the university, the support of the state, and support of the community foundations for us to be in a position to make this acquisition.
MG: What is being done differently now that lets UofL Health run successfully while Jewish and others were losing money before?
TM: First, I would say IT systems, so we can recognize the revenue spends that are important, and that our collection process has been brought back locally. That's made a significant difference because accounts were going uncollected that should have been collected. Some of the work was being done offshore in other countries and we just weren't a believer in that. We brought that all back locally.
Some of the hospitals are required to be meaningful-use criteria or you are penalized and have reduced revenues. We updated those facilities to all be meaningful-use certified. Recruitment of doctors is a critical component, but I would also say that size does matter. We've been able to get economies of scale for our purchases. Our goal was to save $12 million a year in our supply chain by buying the same product at a cheaper price; we've been able to achieve that. We partnered with the state in making sure that the teaching part of our organization was expanded. It's a combination of a lot of items.
We also had additional expenses. We had to increase the wage scales to be competitive because of the shortage of staff. But overall, we have met our budgeted profitability goals so that we could reinvest in the hospitals. We feel we're on solid footing today and can do what we need to do to be innovative in health care, to remain a critical-access component for our community, to be the level-one trauma center so that the most critical patients will get taken care of.
Unfortunately, our trauma business has grown. A lot of that is car accidents, but it's also violence in the community. We generally take care of those patients. We have a dedicated team of trauma surgeons in our emergency department. When you see a gunshot victim, they're coming to our organization whether it's 3 in the morning or 3 in the afternoon.
MG: What are the synergies this link-up has created for UofL Health and the former KentuckyOne entities?
TM: We didn't set up what I will call the corporate office. In many situations like this you will see a corporate office with a lot of overhead associated with that. We took existing people and expanded their responsibilities. The ability to do that without adding additional costs has been very beneficial for us. I serve as the CEO of the health system, but also serve as CEO of the UofL Physicians practice and CEO for University Medical Center. We have great people at each of our hospitals, but we didn't add much management staff; we actually reduced it in bringing these entities together. And that's important.
Secondly, we had a target of $12 million supplies expense (savings) by being able to buy more. We set up a warehousing function associated with that and we achieved that $12 million last year and we will achieve that this year. From the standpoint of the business office, the ability to have local people is about a $20 million a year advantage for us. So these things alone caused those hospitals to go from a negative $40-$50 million to profitability. It means being able to know that in the future, we're reinvesting in these organizations to be the community hospitals, to make sure that Jewish Hospital has the latest technology and specialists to take care of the sickest of the sick.
We believe we take care of the sickest of the sick at Jewish Hospital. If you're really sick, we're the place to come to. That's part of being a teaching hospital, which is to take care of those who not every hospital can take care of. Yesterday we had 18 transfers waiting to come to Jewish from outlying hospitals. That's a daily occurrence. Many of the outlying hospitals just don't have the capabilities and we try to be available so they don't have to worry about taking care of patients they don't have the resources for.
MG: What is the overall revenue for UofL Health in a year?
TM: It should be close to $2 billion this year; that's what our budget is. That's up significantly. Two years ago we were at $650 million, so we have more than doubled over the last two years. Part of that is the acquisition of the KentuckyOne facilities that were in our community. Part of that is growth. During this COVID situation, many people were choosing not to come in for care because they were concerned about coming to hospitals—that was where the COVID patients were. So, we did see some declines. And we did have a several-month period where the governor enacted safeguards and asked us to stop doing elective surgeries. Those had a significant impact on our organization that we had to overcome.
In the Louisville area, we didn't find ourselves in the situation where there were patients who could never get into the hospital. We always have ICU beds available for those sickest patients. We have been full, but we have been able to manage based on the resources we have. We cooperated with the other health care facilities to ensure every patient had the opportunity to get care.
MG: Is UofL Health in the black?
TM: Yes, we are. Last year we reinvested $80 million in our facilities. We are doing that again this year. Pretty much everything that we make, we reinvest in our facilities. As we acquired the KentuckyOne facilities, we have had to reinvest in them with new capital equipment, new beds, with renovations. When you look at the margin we make, pretty much everything we're making we are reinvesting. But if you don't make a margin, you can't do that. Our margin is about 5% in our budget. For a nonprofit, that 4 to 5% range is about right and that's where we are.
MG: What are the trends in your main revenue streams and expenses?
TM: Each of our hospitals is unique and distinct so I talk about each one of them. In Shelbyville, which is a small hospital, we have reinvested to open an ICU organization that makes a significant difference: They are able to not just transfer patients out but keep them and let them be taken care of in their community.
At Mary and Elizabeth Hospital, we have opened a chemical dependency program. We have opened a program for cardiac patients. We have installed an additional cath(eterization) lab to take care of all the cardiac patients who are coming in.
At Frazier, we opened a general psyche program for the needs of elderly patients who are having issues.
Peace Hospital is the largest nonprivate or private hospital for psychiatric care in the state. We're proud that we were able to meet the needs of those in the community. Mental health is not always understood and the resources are not always available.
Jewish Hospital initially had 12 operating rooms; there are now over 20 ORs. We continue to reinvest in our high-end services or transplant service. In transplant last year, we did about 130 cases; we have already done about 80 this year so we should be about 20-25% above that.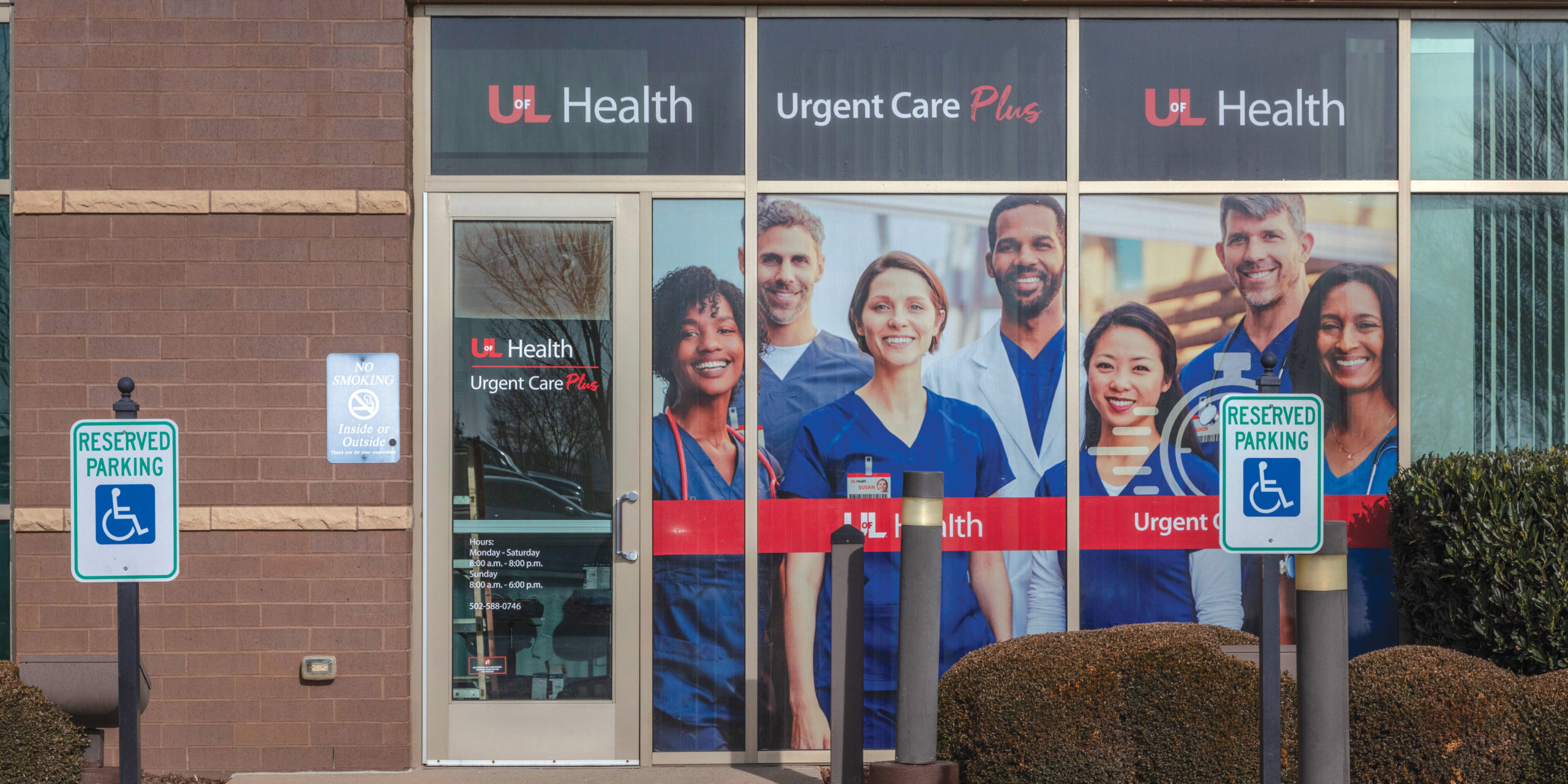 MG: That's a high-revenue category, isn't it?
TM: It's a high-revenue category, but it's a high expense category also. Heart transplant in and of itself is not a profitable service, but it's a community service and what we believe we should be doing as a high-level health care facility. We continue to reinvest in the Brown Cancer Center and have opened a new satellite of the Brown Cancer Center on the northeast side of town. And at University Hospital, we recruited about 150 doctors this past year.
It's all about access. It's all about needs of the patients, and it's all about expanding services so that people don't have to leave Louisville for care. That's critical for us. We believe we should be able to meet all the needs of those individuals.
MG: UofL Health is among several multibillion-dollar provider networks in the competitive Louisville market. How do you describe UofL Health's unique area of service?
TM: We are an academic teaching hospital dedicated to meeting the needs of everyone in our community. We specifically have focused on the underserved and anyone who needs high-level care. As an academic teaching hospital, we have subspecialists in almost every area of medicine. From the research that's done in our organization that we make available to the teaching responsibility we have for our community and the fact that we provide a critical access for everybody in need, we are unique in that viewpoint. Most of our efforts have been in teaching; we have over 600 residents within the University of Louisville School of Medicine, and that partnership is key for us to be successful.
MG: UofL Health has expanded its urgent health locations. What is the key strategy in doing that?
TM: The most frustration you hear in our community is access to care and access at the right time for the patient. We have added five urgent care centers that we call Urgent Care Plus, because they're not just urgent care. Our primary care doctors also are there to take care of the longer term needs of patients, not just the emergent needs. Whether you need to see somebody on a weekend or 8 o'clock at night, we provide longer hours of service: 8 to 8 (Monday through Saturday and 8-6 on Sunday). We want to make sure we're there based on the needs of the patient; if they don't have a primary care doctor, they can develop a relationship through that process. It has been a strategic expansion, some of that in the west and southwest areas to make sure there is access there. And we will continue to grow that.
MG: Did UofL Health have urgent care locations previously?
TM: There are five Urgent Care Pluses today. Before, there was one location that had been created by KentuckyOne Health that was not designed for urgent care; it was seeing more work-related issues. We always had a lot of free-standing ERs within our organization, but ER care and urgent care are somewhat different. People go to urgent care because they want to get in and out; they don't have life-threatening injuries. We hope those are going to the ER, where we have more resources.
MG: Has the fact that Medicaid expanded in Kentucky in the past year played into the decision to expand urgent care and create primary care relationships?
TM: It is a component. The expansion of Medicaid has been good for the health care system. We have always been taking care of those patients whether Medicaid expanded or not, and it gives us some confidence for patients that they won't have a bill that they can't afford and that they might be able to obtain a long-term relationship. Unfortunately, prior to expansion there were patients in the community who didn't come in for care; they were concerned they couldn't pay for it and that should never be the factor in seeking health care.
MG: The past year-plus has been COVID, COVID, COVID, which in the general economy has sped up previously existing trends. What are the most impactful changes and adjustments for UofL Health through the pandemic?
TM: First of all, safety for our team members and our doctors. Today, one of the most important components we have is to make sure that we have the supplies and personal protective equipment (PPE) to keep everyone safe. We have done a great job and have never had a day where we have not had that equipment. So, handwashing, cleaning the rooms after a patient has been there to make sure that it is as clean and sanitized as it can be, and the waiting rooms. We have had to limit visitor access so that we have a chance to screen visitors and make sure they don't compromise our current health situation.
We opened off-site mass screenings for tests. We've done over 150,000 vaccinations of the COVID vaccine. That wasn't specifically a hospital function; most vaccines occur in a public health department or doctors' offices. These sites for both testing and vaccinations have been a large use of our staff. We have the ability to do 2,000 vaccines a day at the Cardinal Stadium parking lot. We felt it was important for us to be a contributor to that for the safety of the whole community.
MG: Did you have any coordination role beyond UofL Health?
TM: We did. Gaining access to vaccines was a state-driven process; they allocated that, so we worked with the state to set up the vaccination sites and coordinated with our competitors, the Department of Health and the mayor's office to make sure we were meeting the needs of the community. We coordinated together to make sure the teachers were a priority. We worked with the governor regarding what those priorities should be. Obviously, the elderly, the nursing homes and the school teachers were high priority, and the health care workers and EMS teams. Then we worked through the rest of the population. It was very coordinated, driven a lot by the state and the commitment of the governor. He showed up at many of our sites to thank our health care workers.
I can't say enough about our team members, our doctors, our nurses, all our staff members and what they did. Throughout this time, many people stayed at home; every single day our health care workers have showed up for work. Many times, they have put themselves at risk when they have families at home; they were concerned that by coming to work they might compromise the health of their kids or family members. They have had to social distance and wear more protective equipment, they have had to be careful, but they were here taking care of the community.
MG: How has UofL Health handled the complex finances involved in standing up testing sites and COVID patient wards, acquiring PPE, addressing city and state crisis needs, adding the KentuckyOne facilities that channel in new revenue streams, and then federal aid that has to be tracked?
TM: There is no doubt that for the last 18 months we have been operating in the eye of a hurricane. We had the acquisition of the KentuckyOne facilities, trying to integrate them, and then three months into the acquisition comes COVID. We have a great finance team. We had support from the state to gain access to vaccines and PPE when there were statewide shortages. I want to commend all our team members. Our chief medical officer has been out there guiding us and making sure that we're doing the right things for our COVID situation.
The federal government helped with the CARES Act. When the governor postponed elective (surgery) cases, we were losing $30 million a month and you can't make that up with volume. The CARES Act funds have allowed the hospitals to stay stable.
The No. 1 issue we had to address was nurse staffing. This community has a nurse shortage, and we were all working hard with the current schools to graduate students. There's still maybe a 1,000-nurse shortage in this broader community that we're all having to deal with. Our nurses are working overtime to meet the needs. I can't say enough about the dedication of our nurses; they really believe that patients come first. They are going above and beyond to take care of the community.
MG: Did the finance office do anything different to keep up with the 'hurricane' swirling around them?
TM: We added people as a result of the acquisition with KentuckyOne, but generally we refocused the efforts of some of our finance team. Any money we receive from the federal government has to be audited and we must make sure it's used appropriately, so we do have a team working on that. But we really haven't had a significant amount of new people in finance; we just asked them within their responsibilities to reprioritize. It's difficult to add people when you're concerned about revenues.
MG: Health care planning includes major long-term investments in high-dollar equipment, programs and personnel, but health care has had such unpredictability for over a decade. How do factors like the pandemic and changes in Medicaid and the Affordable Care Act affect the strategic planning process?
TM: Those are all factors. And with the acquisition, we've had to reinvest in some of these hospitals. When you talk about spending $80 million in capital, the IT changes going on are a significant part of that. We bought five new cath labs; those are each about a $1.5 million. We've invested over $50 million in our IT services over the last two and a half years. In every part of our organization, we have had to reinvest, and we will have to continue to do that.
I joke that we do long-term strategic plans that are one year in length—it's hard to imagine five years out because everything changes so fast. But the parts that are long-term planning for us are trying to meet the nursing needs we have and trying to predict the future.
We have over 1,000 patients in our hospitals today; we have the ability to increase beds by 200 to 300 more if needed. The biggest issue is to make sure we have nursing staff to take care of those patients. We're trying to recruit another 100 doctors this year in a lot of specialty areas: cancer care, surgical oncology, rheumatology, primary care, advanced cardiology.
We're also looking at if our facilities meet the current needs of the community. Bullitt County is the 10th largest county in the state and it doesn't have a hospital. We did a thorough review and said yes, there is the need. We had our urgent care and surgery center and a freestanding ER there. How can we marry these together but be frugal with our cost structure so that we don't reinvest more than necessary? We're in that process of developing inpatient beds in Bullitt County.
And the same with rehab in a venture that we have on the east side of (Jefferson) county, adding an additional Frazier Rehab facility. We will continue to do everything we can to improve access to care.
MG: Would UofL Health consider acquiring other Kentucky community hospitals if opportunities come up?
TM: We would never say no if we believe we could help another organization be successful, if we thought we could contribute to improving the health of that community. If there is a good fit, we're more than willing, but it's not to control—it's to improve the care.
MG: Does every UofL Health institution have its own strategic plan or is there an overall system plan?
TM: We have a community board at every one of our organizations. Each facility has a plan, and each service line has a strategic plan. We have one for our transplant program and one for the oncology program at Brown Cancer Center. My approach is very straightforward: Hire the best of the best. I have great CEOs in Shelbyville and Mary and Elizabeth, Dr. Jason Chesney at Brown Cancer Center, Cathy Spalding at Frazier Rehab, John Walsh at Jewish. I believe in the term 'coopetition.' I want to hire strong people to make sure they're focused on the success of their facilities, but we also have to work together in a competitive environment where we cooperate for the success of everyone in the community. When you think of health systems, you sometimes think of all these outlying hospitals and the mother ship, and everybody's focused on improving the mother ship. We're 100% opposite of that. Our focus is keeping patients at the hospitals at the most local level they can be. I want to enhance the facilities at Shelbyville so that that community can be taken care of in a Shelby County hospital. I want to enhance the facilities at Mary and Elizabeth so they don't have to come down here, but when they do I want to make sure that we have the resources at Jewish and University to take care of those high-end patients that need care. It is a distribution model where you try to make every organization successful. I have very strong CEOs and they're focused on the success of their organization. Brown Cancer Center used to just be downtown and we've expanded that northeast to offer infusions and radiation therapy out to that community. We have another site that we are in the process of expanding that we hope to announce in the next 60 days on the south side of town. Our goals are to bring great academic health care to the entire community.
MG: Any closing comments that you'd like to make?
TM: Over the last 18 months there's been a term that's used that I truly appreciate and that's the 'health care heroes.' We have health care heroes at our hospitals every single day. We have 12,000 associates. I just want to make sure I communicate to you how important the success of our organization is related to the people we have. There are so many health care heroes within our organization that the community has begun to recognize in the last 18 months and it's greatly appreciated. I'm just a facilitator. I don't do much of anything except try to set a direction and allocate resources to where I think the best use of the resources is. That's my job every day. But thank God for our nurses and doctors who take care of the patients. They are great, great people.
Click here for more Kentucky business news.