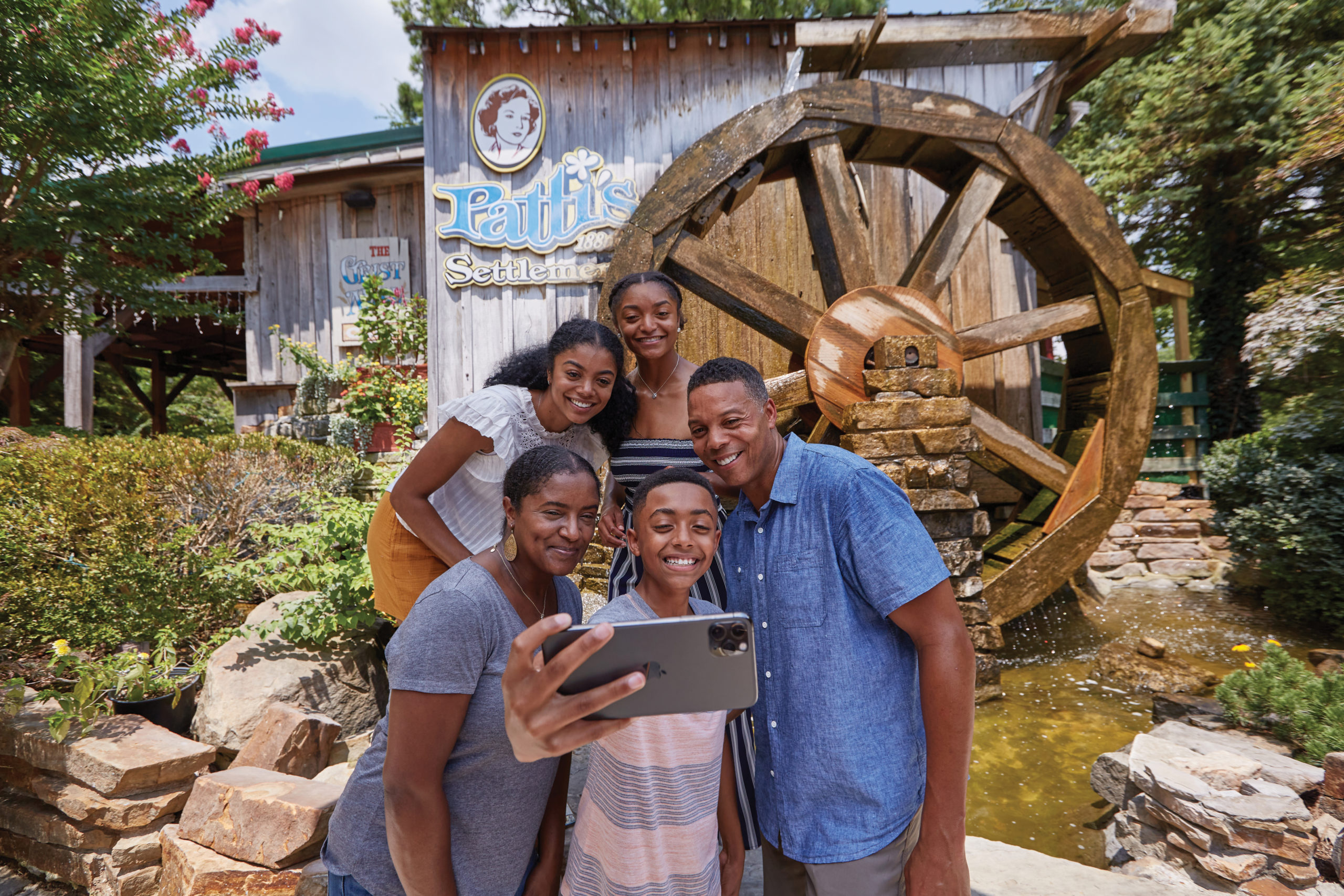 When thinking back over memorable times in my life, one that stands out because of its hilarity happened with four dear Mayfield friends a while back. The five of us—all old enough to know better than to create a ruckus in public—crammed into an old photo booth at Patti's 1880 Settlement in the town of Grand Rivers and popped our quarters in. Each photo shot was funnier than the previous one, and we all laughed till we wept. By the time we were called to our table to eat, we could barely breathe.
Each year several hundred thousand folks follow their rumbling stomachs to Patti's 1880's Settlement. Between its famous two-inch charbroiled pork chops and "mile-high meringue pies" that tower eight inches tall, this multifaceted attraction has become a virtual nirvana for hearty appetites.
Though the western Kentucky town can claim only 350 residents, folks from all over the country flock to this tiny mecca between Kentucky Lake and Lake Barkley. Many come to play on the water or to explore the 170,000-acre Land Between the Lakes National Recreation Area but a heck of a lot come only for Patti's, to eat, to shop and to play. And that's what Patti's founders, Patti and Bill Tullar, had in mind when they started the business: good food and good times.
Bill Tullar, a claims adjuster for the Small Business Administration, first came to west Kentucky in 1975 to assess recent flood damage in Grand Rivers, where he stayed in a tiny, six-room motel. Struck by the beauty of the area, he called his wife in Florida to tell her they could buy the motel for only $12,000. Both Tullars fell in love with the little town and purchased the Grand Rivers Motel. Two years later, Bill and Patti, along with their sons Chip and Michael Lee, opened Hamburger Patti's Ice Cream Parlor as part of the motel. In no time the motel rooms became dining rooms. The upstairs room and lavatory—complete with an iron claw-foot bathtub where a popular "Indian Joe statue" still resides—initially were the Tullars's living room and bath.
In 1990, when Bill grew weary of being called "Mr. Patti," the boys built a restaurant for him. Mr. Bill's added entertainment, including a honky-tonk piano for motor coach tours.
Mr. Bill's still exists as part of Patti's…just larger. With family as a focus, the restaurants added a small animal park, an 18-hole mini-golf course, a playground, mining activities, and remote-control boats. These days, a recreated log cabin settlement has eight gift shops with out-of-the-box holiday gifts, an outdoor café, and lovely gardens with streams and waterfalls that guests can explore. The atmosphere hearkens back to relaxing, simpler times.
There's even a wedding chapel that comfortably seats eight and peaceful, piped-in music fills the air. A private dining room seats 40 for post-betrothal dinners, corporate functions and family reunions.
Patti's beginnings and success story themselves are remarkable. But a challenge arose in 2018 that could have meant its demise. In the wee hours of February 5, a fire broke out in the kitchen and the entire building housing the restaurants had to be demolished and rebuilt. During the process, much of the rest of Patti's attractions remained open, and a food truck offered some of those delicious dishes for outdoor dining and carry-out. In the winter of 2019, the business reopened, complete with a much-loved yellow biplane hanging inside Bill's.
Not surprisingly, Patti's has won a few heady awards, including Southern Living magazine's Reader's Choice for No. 1 Best Small-Town Restaurant in the Southeastern U.S., and the Kentucky Restaurant of the Year Award for Best Tourism. Patti's now serves more than a million pork chops each year to people who journey to the tiny town from all over the world.
In its first year, the business made $8,000; this past year, the figure was around $8 million.
Both Patti's and Mr. Bill's serve those famous two-inch pork chops, a pound of center-cut pork chops, seasoned and char-broiled "to perfection." They are, of course, the house specialty. Lunch features a Kentucky Hot Brown like no other—an open-faced sandwich topped with thin-sliced ham and turkey smothered in house cheese sauce and oven-baked, then topped with a slice of tomato, crisp bacon and homemade potato chips.
And then there's dessert! The meringue pies are mouth-watering, as is Bill's Boatsinker Pie, a rich, dark, double-fudge pie topped with coffee ice cream, piled high with whipped cream, covered with chocolate sauce and topped with a cherry. Oh my!
If you are looking to stay nearby, the 58-room Patti's Inn and Suites, owned by Patti's, is located on Interstate 24, just four miles away from the 1880s Settlement.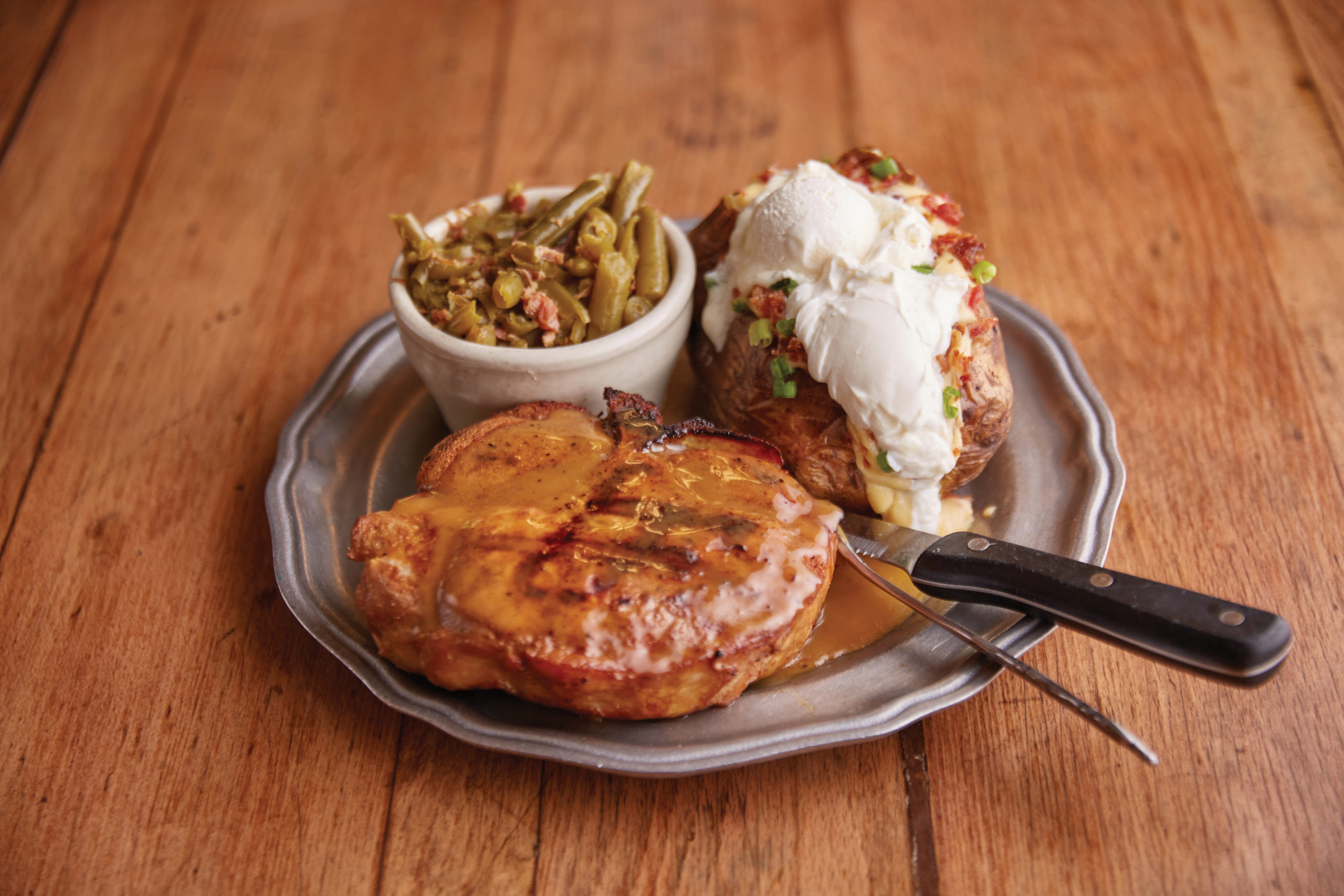 For tasty samplings of Patti's luscious offerings—seasonings and sauces, pies, strawberry butter and other goodies, you can order online at pattisboutiques.com. Thanks to Patti's website, you can even try your hand at baking its famous Sawdust Pie at home.
Find out more about Patti's 1880 Settlement at pattis1880s.com and/or call (888) 736-2515 for reservations. Reservations are always recommended, especially during the busy summer months and November and December, when Patti's sparkles with its Festival of Lights. Hours are from 4 p.m. to 10 p.m. nightly. It's free to everyone and no reservations are needed. Patti's is closed Dec. 24-26 to give employees time with their families. After all, families are what this yummy-food mecca is all about.
Click here for more Kentucky business news.