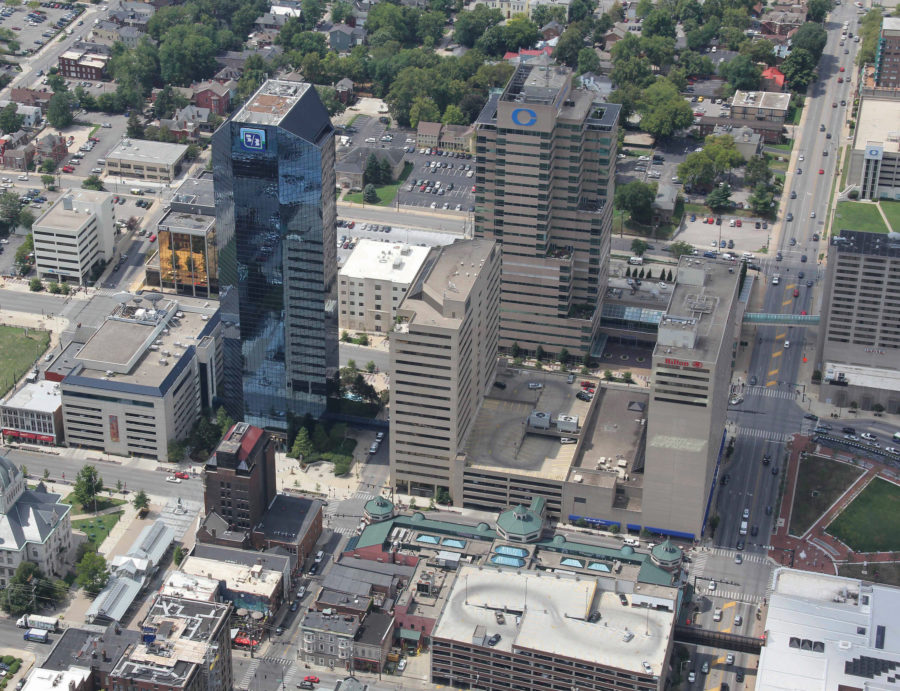 The banking world is all about balance, and not just in terms of deposits and withdrawals.
Live video tellers, virtual wallets and enhanced digital banking options provide the convenience many customers crave, but local experts contend there's no substitute for trusted relationships and personalized financial advice.
There's also a delicate balance in pursuing targeted growth while maintaining that hometown feel. Additionally, in 2021 Central Kentucky financial institutions helped customers navigate the ongoing effects of the COVID-19 pandemic while moving forward with new branch locations and services.
In August, all of Kentucky Bank's 19 branches became Stock Yards Bank operations. Both banks have similar deep roots in Kentucky. Stock Yards Bank traces its history to 1904, when it opened to the livestock and agribusiness industries as The Bourbon Stock Yards in Louisville. Kentucky Bank originated in Paris in 1851, serving the agricultural economy of the region.
James "Ja" Hillebrand, chairman and CEO of Stock Yards Bank, said the banks share a unique alignment of core values, business philosophies and service models—a community bank approach based on building long-term relationships and investing in the community.
"Kentucky Bank fits in seamlessly with how Stock Yards does business," Hillebrand said. Acquiring Kentucky Bank "allows us to expand into a new market, gives our existing customers more banking options in the region and allows us to enhance our services across the Central and Eastern Kentucky market."
Along with a newly branded PNC Private Bank that moved all personal wealth segments under one umbrella, 2021 was an exciting year for PNC, following the June 1 legal close of its acquisition of BBVA USA, which operates more than 600 branches in seven states, said John Gohmann, PNC regional president, Lexington.
"PNC's acquisition of BBVA USA will accelerate PNC's organic expansion efforts of the last several years," Gohmann said.
PNC has a presence in 29 of the nation's top 30 largest markets, representing 65% of the U.S. population, he said. And with more than $560 billion in assets, it becomes the fifth-largest U.S. commercial banking organization in terms of assets, loans, deposits and branches.
First National Bank of Manchester (FMBM) has a brand new 13,000-s.f. branch on West Fifth Street in London, said Janie Greer, executive vice president and director.
"During this unprecedented time, some banks have closed or sold due to the pandemic. However, FNBM's state-of-the-art building will be a leading feature of London's revitalization and shows our commitment as a community bank to London and the surrounding communities," Greer said.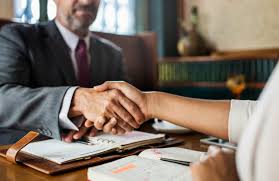 In addition, FMBM opened a loan production office in Lexington to accommodate new market-area development, and a commercial drive-through and walk-up windows were added at Manchester locations to serve customers during the pandemic.
A Versailles branch of Commonwealth Credit Union opened earlier in 2021, on Crossfield Drive, said Karen Harbin, president/CEO of Frankfort-based Commonwealth Credit Union.
And at South Central Bank, President/CEO Tommy Ross said within the past year a new loan production office opened in Bardstown while others are pursued in Murfreesboro and Thompson Station, Tenn. Future expansion is being discussed in Louisville and Somerset.
"(Bardstown) is a market where we saw great opportunity," he said.
Mount Sterling-based Traditional Bank opened a new loan and deposit production office in June 2021 in Louisville on Blankenbaker Parkway, the bank's first Jefferson County location, said CEO Andy Baker.
Late this year, a new Forcht Bank location will debut on West Main Street in downtown Lexington, said President/CEO Tucker Ballinger.
"The location will be a loan production office (LPO), which will serve as a convenient satellite office for many of our business clients located downtown," he said.
Features of the new space include a contemporary loft feel where guests can check news or emails and enjoy coffee, and access an interactive teller machine.
Mortgages, PPP loans continue to be strong business drivers
City National Bank's local loan portfolio has tripled from both organic growth and two mergers that expanded the company's reach into four additional counties, said Bluegrass Market President Bill Craycraft.
"Commercial loan demand has been strong and our Champion Mortgage product with no down payment requirement has been a popular choice in this vibrant housing market," he said.
Harbin said commercial banking at Commonwealth Credit Union has seen significant growth, resulting in new hires and positive changes to product options.
"Mortgage lending has been our largest area of growth," she said. "The low-rate environment paired with our mortgage lending experts that take a personal, consultative approach has caused our mortgage lending pipeline to receive tremendous growth."
As it was in 2020, Small Business Administration Paycheck Protection Program (PPP) loans continued to be a focus for banks and their business clients this year.
Jeff Koonce, WesBanco market president – Central and Southern Kentucky, said associates there directly assisted nearly 20,000 customers of all kinds during the pandemic.
"In addition to helping hundreds of local businesses secure critically important SBA PPP loans, we saw strong personal savings by our retail customers, as well as extremely robust residential mortgage originations, both purchases and refinancing," Koonce said.
There's good activity across the board, he said, but particular growth in digital services, retail and business banking deposit services, residential mortgage lending, and trust and wealth management.
"South Central Bank invested heavily in software that streamlined the PPP program both in terms of rolling it out to the customers and also the forgiveness program," Ross said. "SCB also experienced growth in the commercial loan portfolio and commercial deposits."
All of the markets Cumberland Valley National Bank serves have experienced growth in the past year, said Chief Financial Officer Ron Hart, with robust deposit growth and strong commercial loan and housing demands.
"Our CVNB team has remained dedicated throughout the COVID-19 pandemic, excelling at every challenge brought our way," he said. "Our bank was able to make over 800 PPP loans to help local small businesses in our markets. We are very proud of the work our employees did to make this possible."
And at Traditional Bank, "Deposits have surged," Baker said. "Cash surplus in the economy and spending restraint by consumers and businesses has created an excess of liquidity on bank balance sheets. Broadly, consumers have saved at historical levels with the savings rate peaking at 33.7% in April 2020."
American Bankers Association figures show since early 2020, banks' balance sheets have shown a 27% jump in deposits compared to about 3% in loans, he said.
With conventional bank loan demands still below pre-COVID-19 levels and an elevated money supply, there's an extremely competitive market for high-quality loans, Baker said.
Gohmann said PNC has assisted with a substantial number of PPP loans.
"In 2020, PNC employees registered more than 70,000 small business loans worth approximately $13 billion through the first round of the federal government's Paycheck Protection Program," Gohmann said.
As mortgage rates have been at historic lows since 2020, Forcht Bank's Ballinger said many homeowners are opting for lower rate refinancing and in some cases for a shorter amortization period.
Cost increases and supply chain issues have plagued an otherwise strong new residential construction market, and most business clients are doing well staying afloat, Ballinger said.
"Many of our businesses, with the exception of a few industries—travel, restaurants and entertainment—have fared well navigating unknown waters created by COVID-19," he said.
FNBM's Greer also pointed to the real estate market as a good example of pandemic-era growth in Central Kentucky.
"Homes have been selling at or over asking prices and within a few days of going on the market," she said.
For that reason, she said the bank's largest growth sector right now is in commercial real estate, which holds the largest portion of the bank's loan portfolio in its markets.
Fifth Third has seen significant refinance activity, said Mary-Alicha Weldon, city president and commercial banking sales manager in Lexington.
"Mortgage interest rates remain historically low," she said. "Fifth Third is very effective at retaining our current loan customers by proactively reaching out to them when they could benefit from refinancing. This allows us to preserve those very important relationships."
Tech innovations increasingly useful
Over the past decade or so, in-person banking volumes have been affected by the advent of new electronic services, said Community Trust Bank Central Region President Larry W. Jones.
His bank's website touts the availability of mobile e-statements, mobile banking services, remote deposits, Apple Pay, Google Pay and other mobile payment and digital wallet services.
"In a fast-paced world, people like 'doing banking' in the most convenient way possible," he said. "However, I believe there will be a continuing need of the branch location. There are times when the customer just wants to 'see' who takes care of their money and to ask questions relating to the finance world."
Harbin said CCU has upgraded its digital banking platform to allow more seamless switching between mobile app and online banking options, with more updates scheduled for this fall and early next year.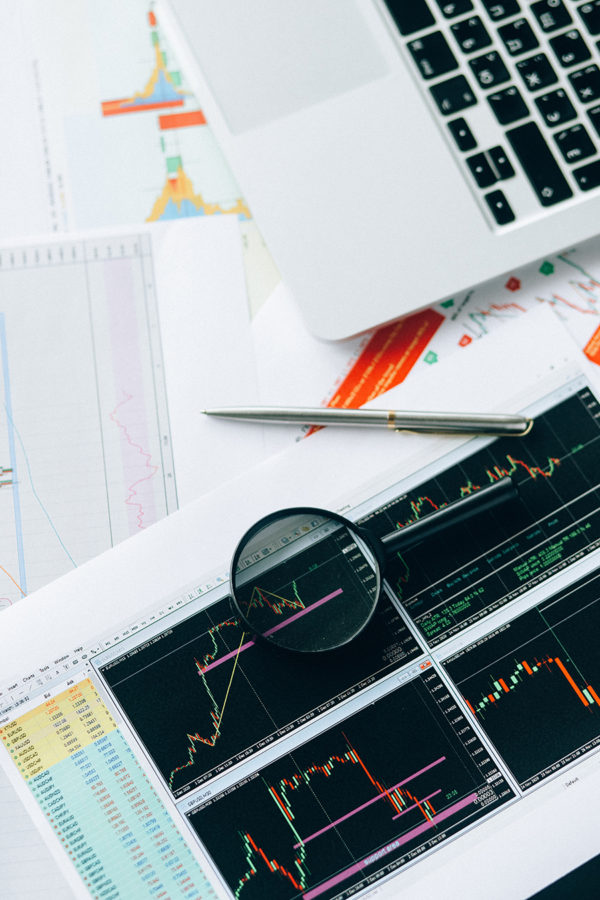 Use of CCU's live video tellers in its drive-thrus increased more than 200% in 2020, Harbin said. Still, she doesn't expect virtual interactions to completely replace in-person banking.
"Whether you consider yourself techy or not, sometimes you just need a smiling face to interact with," she said. "Providing the right mix of both allows us to provide an extraordinary experience for all."
Technology has also allowed Fifth Third to be more innovative in its product offerings, Weldon said.
"Our new Momentum Banking product is a perfect example of Fifth Third leveraging technology to meet customer needs with features like Early Pay, allowing customers to get their direct deposit paychecks up to two days early, and Extra Time, giving customers who overdraw their account up to an extra day to bring their account positive."
Even before the pandemic, there had been a significant reduction in foot traffic at financial centers, Weldon said. Online and mobile banking are convenient ways for customers to manage their accounts.
Consumers will continue to drive innovation. They want the convenience of being able to conduct banking transactions anytime from anywhere, and those platforms will continue to grow, she said.
"We believe that technology will continue to have a transformational impact on the banking industry in years to come," Weldon said.
Ross said at SCB, digital banking services allow customers to conduct any type of transaction from wherever they are without having to visit a branch.
"The days of having to go to an office to sign documents are behind us," he said.
New virtual tools enable a more tailored experience for banking customers, so that they can do everything online they once had to do in person, he said.
Ballinger said at Forcht, interactive teller machines, or ITMs, are similar to ATMs but with video screens enabling real-time interaction between bankers and customers. They are now available in every drive-thru lane 7 a.m. to 7 p.m., Monday through Saturday.
"When we made the decision to close our lobbies as a protective measure for our staff to limit contact, the ITMs allowed us to still deliver banking with a very personal touch through video conferencing," he said.
Financial institutions foster community ties
Banks and credit union associates pride themselves on actively helping to better the communities they serve through volunteerism, fundraisers and direct contributions. They're also proud of the accolades they've received for industry achievements and keeping operations running smoothly during a trying time.
Harbin said in addition to numerous other affiliations, sponsorships and contributions communitywide, CCU has partnered with nearly two dozen area high schools, middle schools, colleges and organizations to deliver a financial education program accessible inside and outside of the classroom.
Craycraft said CNB is "proud to support the Bluegrass community through several organizations such as Commerce Lexington, Kiwanis, Rotary, the Red Cross and our local market Chambers of Commerce to name just a few."
Gohmann said the PNC Foundation works with nonprofit organizations to better understand and address issues relating to early childhood education and community and economic development, exemplified in a recent investment in Lexington's East End.
"The investments from the PNC Foundation were allocated to three non-profit organizations who are helping end systemic racism and support economic empowerment of Black and low-and moderate-income communities," he said. "I feel dedicating time and financial resources is vital to building a strong community."
During 2020, Traditional Bank donated over $44,000 to public schools, senior citizens centers and local agencies, including YMCA, Salvation Army, Community Action Council and Prevent Child Abuse Kentucky.
A $15,000 grant to Food Chain enabled the group to purchase a delivery van to transport meals to Fayette County children who were going without school-provided meals during pandemic school closures. An additional $15,000 was allocated to nine local food banks and another $5,000 to the Fayette County Public Library system earlier this year to purchase hotspot devices that provide internet to low-income families.
Baker said he's also proud that full banking services were maintained throughout the pandemic without downsizing staff, as digital and drive-up banking services were quickly enhanced.
"I am so proud of all our people, and none more than those who put in extra hours when their coworkers were unable to come to work," he said. "Their character and resilience are the reason our bank remains strong and successful."
FINANCIAL INSTITUTIONS
Bank of Lexington
Bank of the Bluegrass & Trust Co.
Bankers' Bank of Kentucky
Central Bank & Trust Co.
Century Bank of Kentucky Inc.
Chase Citizens Guaranty Bank
Citizens Commerce National Bank
City National Bank
Community Trust Bank Inc.
Cumberland Valley National Bank & Trust Co.
Farmers National Bank
Field & Main Bank
Fifth Third Bank
First Southern National Bank
Forcht Bank
German American Bank
Guardian Savings Bank
Limestone Bank
Old National Bank
Peoples Exchange Bank
PNC
Republic Bank & Trust Co.
South Central Bank
Stock Yards Bank (formerly Kentucky Bank)
Town & Country Bank and Trust Co.
Traditional Bank
Truist (formerly BB&T)
US Bank
WesBanco
Whitaker Bank
CREDIT UNIONS
Commonwealth Credit Union
Greater Kentucky Credit Union
Kentucky Employees Credit Union
KUE Federal Credit Union
Lexington Postal Credit Union
Members Heritage Federal Credit Union
Metro Employees Credit Union
Park Community Federal Credit Union
The Health and Education Federal Credit Union
University of Kentucky Federal Credit Union
LOAN AGENCY
ACCOUNTING FIRMS
Baldwin CPAs
Blue & Co.
Crowe Dean Dorton
Duncan, Smith & Stilz
Fister, Williams & Oberlander
Hisle & Co.
The Livesay Group
Miller, Mayer, Sullivan & Stevens
MCM
PwC (formerly Price Waterhouse Coopers)
Radwan, Brown and Co.
RFH
Ross, Sinclair & Associates
Click the image below to see the full story, photos and advertiser messages.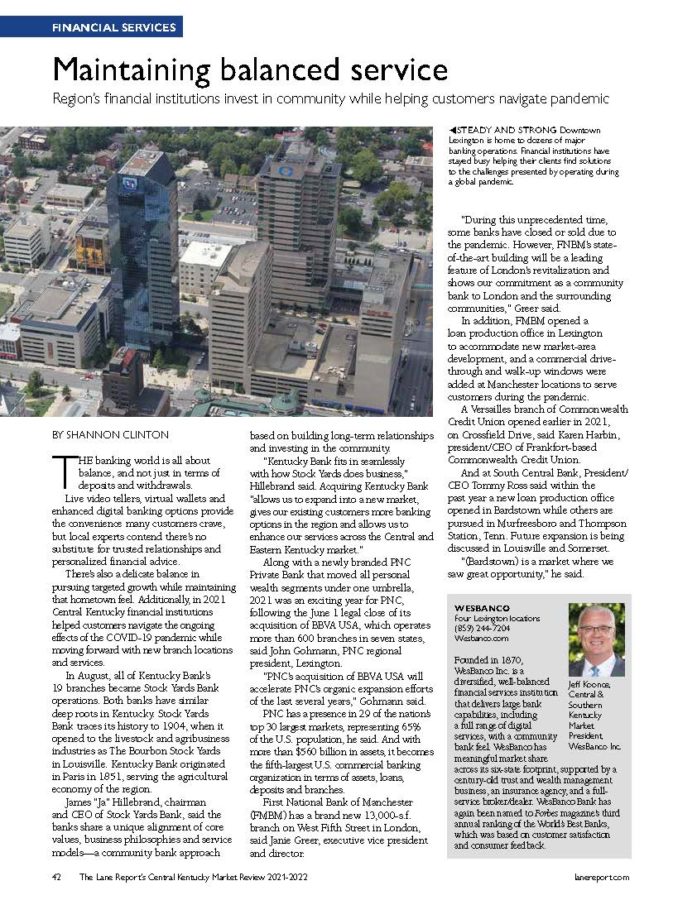 Click here for more Kentucky business news.