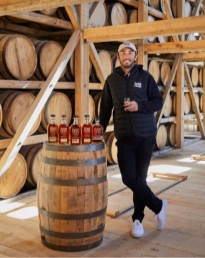 Elijah Craig Bourbon today announced a new partnership with PGA TOUR professional golfer Max Homa for a multi-year sponsorship deal. Homa's success both on and off the course since turning pro in 2013 will now be supported by Elijah Craig as the "Official Bourbon of Max Homa."
PGA TOUR pros strive for greatness every day, a mindset shared by the master craftspeople who use a lifetime of experience and years of aging to develop the signature balance of flavors in Elijah Craig Bourbon. The three-time PGA TOUR winner will continue to elevate the golf experience for fans through integrated marketing campaigns, social media collaboration, public appearances, and the Elijah Craig logo prominently displayed on the shirt of Homa's caddy and longtime friend, Joe Greiner.
"When you see a great golf swing or take a sip of an expertly crafted Bourbon, you can appreciate the years of patience and perseverance required to arrive at that moment. Whether you're a pro inside the ropes, the occasional golfer, or a fan that follows along on Twitter, the golf community doesn't settle for less than greatness," said Max Stefka, Elijah Craig Senior Brand Manager. "Together with Max Homa, we look forward to celebrating wins big and small with golf fans everywhere over a glass of Elijah Craig Bourbon."
"I'm excited to join the Elijah Craig team as their first-ever golf brand ambassador. Golf is a game that doesn't come easy, and I'm learning the same is true for making their award-winning Bourbon," said Homa. "Elijah Craig is made for those who strive for the best – in their game and in their glass. And from what I've tasted so far, their commitment to excellence is obvious. We've got lots of exciting things planned in the coming months, and I'm looking forward to sharing many memories at the 19th Hole with them and golf fans everywhere."
The company will also debut its 19th Hole campaign to extend the fan experience beyond the course this spring and summer. The 19th Hole campaign will include premium media placements in golf publications, digital and social media, consumer contests, and Elijah Craig-branded golf ball on-packs and in-store displays rounding out the 360-degree program.
Click here for more Bourbon Flight news.
Click here to sign up for The Bourbon Flight Newsletter.