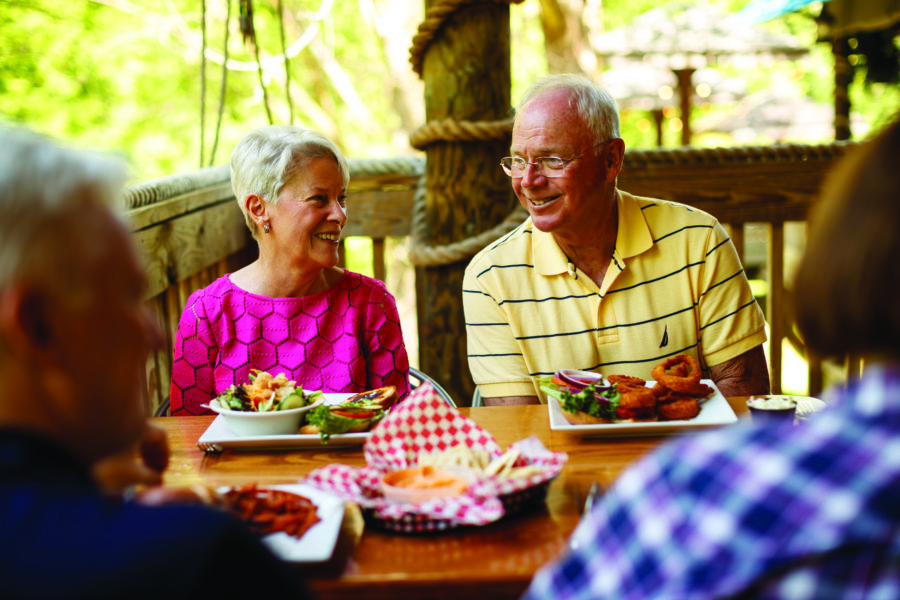 From the famous hot brown to tangy beer cheese, visitors to the Bluegrass State are frequently blown away by Kentucky's traditional foods and dishes. You'd think residents would have tried them all and perhaps serve them often at their own tables, but the old saying about missing things in your own backyard applies—I was born and raised in Hopkinsville, yet had never tasted a hot brown until way after I'd graduated from UK.
Made famous in the 1920s by Chef Fred Schmidt at Louisville's Brown Hotel for hungry hoofers at the hotel's nightly dinner dances, the hot brown is hearty enough for a famished farmhand. Now the state's signature sandwich, the original featured a stack of turkey and bacon topped with Mornay sauce on bread, all run under the broiler. Variations today include ham, pimiento, parmesan cheese and sliced tomatoes.
If you've yet to experience one, the Brown still serves 'em at both the English Grill and J. Graham's Café. Your taste buds will thank you.
Following are several more famous Kentucky specialties. See if you've tasted each one, or—heaven forbid!—if you might have missed any. If so, get busy. February is a great time to treat your palate to a few new delights along with some that are already familiar.
Tuck in your napkin and let's go.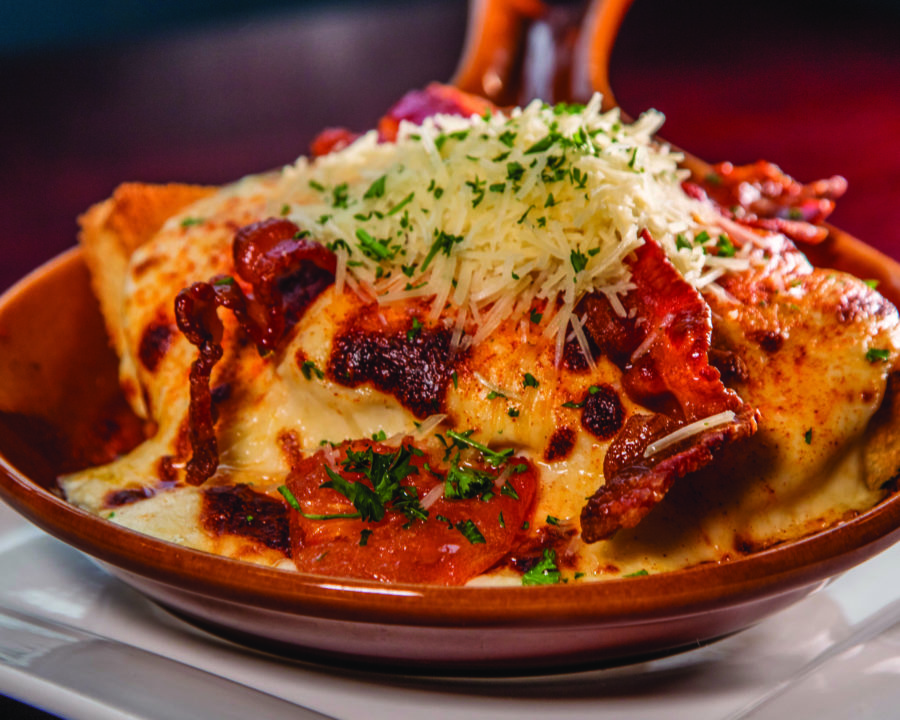 A Winchester creation that's become wildly popular, beer cheese was created in the 1930s at the historic Driftwood Inn, where Johnny Allman served his cousin Joe's Snappy Cheese Dip. Today, you can indulge in this luscious appetizer to your heart's delight on the Beer Cheese Trail. Among its 14 restaurants is Hall's on the River, an area icon set to reopen soon after being closed for flood repairs last year. Soon you'll be able to dip crackers and veggies in Hall's Snappy Beer Cheese and dive into their specialty, fried catfish. Be sure to call before making the trip to the river. Check out the trail here.
Originally, burgoo was a stew made in an old black cauldron over an open outdoor fire with "whatever didn't make it across the road." That included squirrel, possum or raccoon. These days chefs prefer to use chicken, pork or mutton, combined with vegetables such as corn, lima beans, cabbage, potatoes, okra and tomatoes. Ideally, you can stand a spoon in the end product.
You can sample this soupy treat at almost any Kentucky barbecue joint or at Keeneland Race Course in Lexington. Burgoo has been served at livestock sales since the 1800s. It's just the thing for warming your belly during the track's spring or fall race meets or any of its annual Thoroughbred sales. (Click here for Keeneland's recipe.)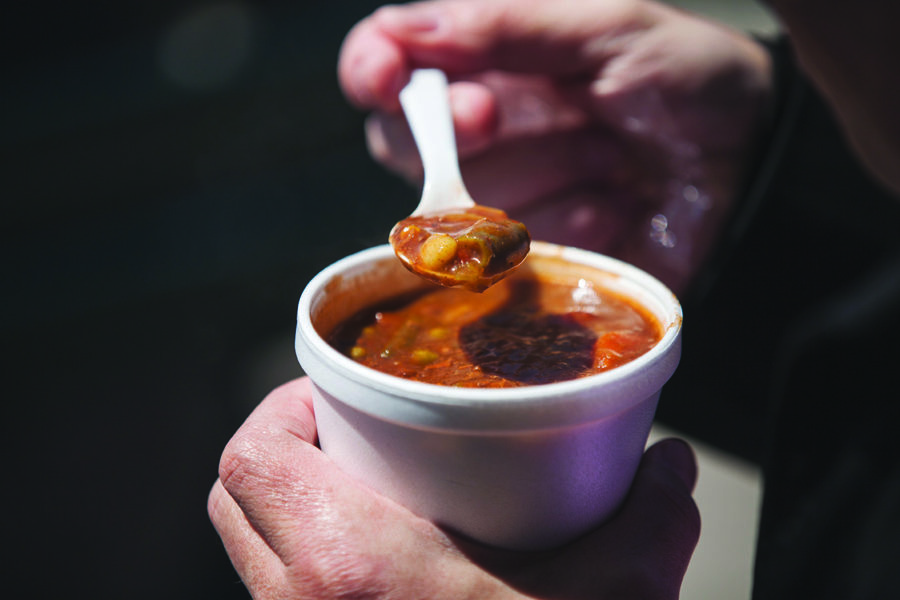 Spoonbread is believed to have originated as a traditional Native American dish. The first written recipe surfaced in 1847. Berea, Kentucky's Folk Arts and Crafts Capital, is also the Spoonbread Capital. Opinions vary on whose is the best but in my book, you can't beat the version served up by the historic, award-winning Boone Tavern, located on the town's College Square. The idea to build the inn was birthed in 1909, when the wife of Berea College's president provided lodging and meals at her house for some 300 visitors to the college. Afterwards, she insisted that the time had come to build a guest lodging.
Boone Tavern is now a LEED Gold-Certified Green Hotel and its restaurant serves spoonbread at lunch and dinner. Berea even hosts an annual late summer Spoonbread Festival. For the real deal spoonbread, head to Berea…and be sure to slather on the butter.
Truly a classic Kentucky sweet, the bourbon ball was created in 1919 by two schoolteachers in their mid-twenties, Ruth Hanly (Booe) and Rebecca Gooch. The two decided to form a candy business, which became an instant success. At the suggestion of Frankfort suffragette and Democratic dignitary Eleanor Hume Offutt, Booe worked for two years to perfect the still-secret process of blending bourbon and candy to create the original bourbon ball. The confection features a creamy bourbon center with the kick of real bourbon, covered in dark chocolate and topped with a Southern pecan.
Even today, the candy remains Rebecca-Ruth Candies' most popular. Order online or visit Rebecca-Ruth's Second Street location in Frankfort for a tour and a peek into the museum that reveals the history of this pure-Kentucky company.
In areas known for barbecue, everyone thinks where they're from has the best. Every summer of my childhood, the Hopkinsville Golf and Country Club held a barbecue on its lawn with huge trays piled high with barbecued pork, chicken and mutton. The latter was always my fave.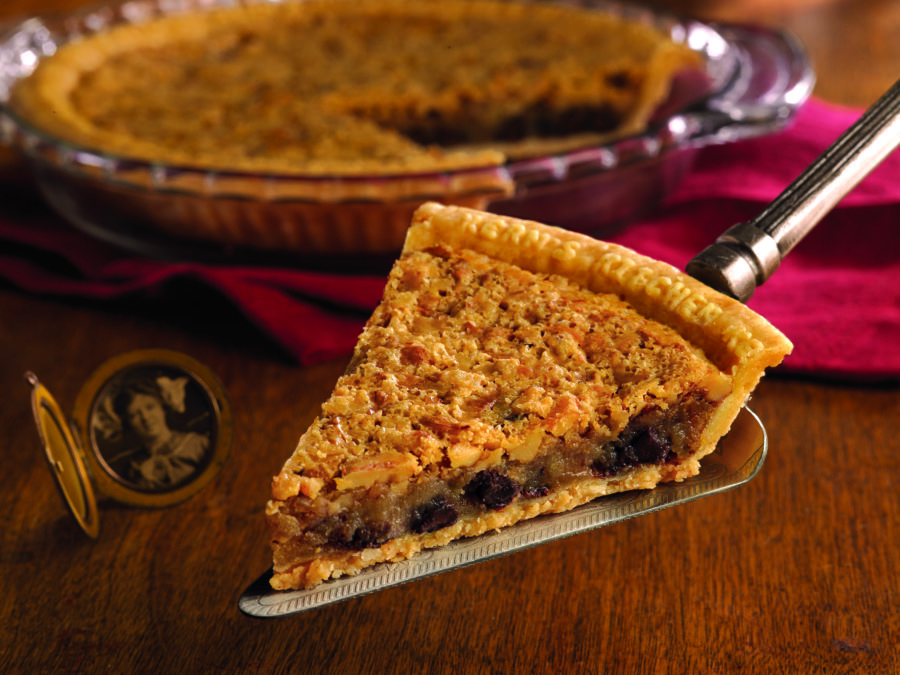 In Daviess County, Welsh settlers brought sheep with them and when a ewe aged out of lambing, she morphed into mutton, a tough meat until it's cooked low and slow. (Many barbecue aficionados who are not from around here think eating mutton is beneath them. I believe that the same people who won't eat catfish because it's a bottom-feeder turn their noses up at barbecued mutton. It's lamb, for heaven's sake, and once it's cooked and sauced, it's pure heaven. By the way, Catfish Kitchen in Benton has the best fried catfish. But I digress.)
If you're looking for some mighty fine mutton, you can't beat Owensboro's Moonlite Bar-B-Q Inn and their famous all-you-can-eat barbecue buffet. Begun in 1963, Moonlite is family-run and cooks all their barbecue in custom built, hickory-fired pits. This destination restaurant is worth a trip to Owensboro, no matter how far you have to drive.
Derby-PieTM, created by George Kern at the Melrose Inn in Prospect in 1950, is a chocolate-walnut pie with a pastry dough crust to die for. Kern's Kitchen—yes, production is still in the family—owns the trademark on this slice of goodness. You can order it online from Kern's at derbypie.com. Or, if you're afraid you might eat an entire pie by yourself, it's on the menu at such fine eateries as Bristol Bar & Grille in Louisville and any of Kentucky's State Resort Parks' restaurants.
Click here for more Kentucky business news.