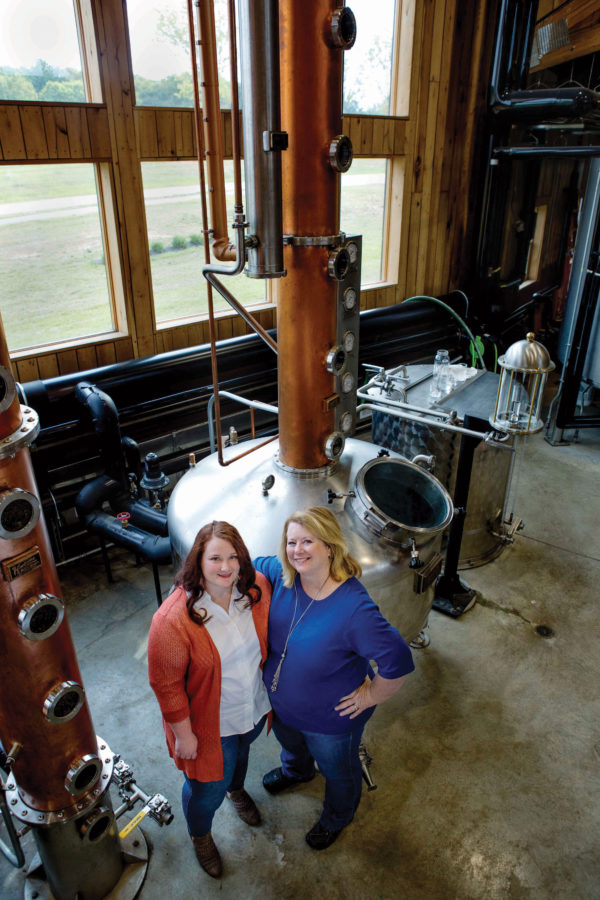 (Editor's note: The March issue of  The Lane Report features our semi-annual list of the Top Women in Business. At lanereport.com, we're shining the spotlight on one of the honorees each day. Day 4: Joyce Nethery, founder, owner and master distiller at Jeptha Creed Distillery in Shelbyville, Ky.)
Our occasional feature, Top Women in Business, highlights some of the women in and around Kentucky who are making an impact in business, the professions, politics and economic development. The feature recognizes women in key roles whose work ethic and body of work are making important contributions to commerce—and life—in Kentucky.
Top Women in Business has grown to become one of The Lane Report's most popular features. Over the years, we've profiled nearly 115 women who shatter stereotypes, encourage other businesswomen and help their Kentucky companies reach new heights. The women featured in this issue are no exception. From president of the Kentucky Hospital Association to executive director of the Rubicon Institute, and the founder of Jeptha Creed Distillery to regional president of PNC bank and others, these women are forging their own paths, proving that hard work, perseverance and creativity pay off.
Joyce Nethery is the founder and owner (along with her daughter) of Jeptha Creed Distillery, located on 64 acres of farmland in Shelbyville, Ky. She's also the master distiller. 
Joyce Nethery
Title/company: CEO and master distiller, Jeptha Creed.
How long at company/position: Jeptha Creed opened its doors to the public in November 2016. There were about four years of planning and prep done before our opening day. I was along every step of the way.
Previous jobs/positions: My career consisted of 15 years as a process engineer in industrial-scale distillation. I then spent about a decade as a high school chemistry teacher before moving into a CFO position at my husband's company.
Education/training: I attended the University of Louisville's Speed Scientific School, where I received my Master of Chemical Engineering. Prior to opening the distillery, I attended courses at Moonshine University to brush up on my skills and understand how they could be applied to distilling a beautiful bourbon.  
My top accomplishment: I am a mother as well as a business owner and have had both of my children working in the business with me at times. The thing I am most proud of is getting to watch my children grow and develop as adults and business leaders themselves.  
The person(s) who most influenced or mentored me: I was very blessed to have an aunt who blazed the women-in-engineering trail before me. She was a chemical engineer who showed me how she made her product, which was Mylar used in hot dog packaging and helium balloons. I fell in love with the thought of making things that people would use in their everyday lives.    
My biggest challenge and how I overcame it: The COVID shutdowns have been one of biggest challenges recently. We were allowed to stay in production, but we switched from distilling bourbon to distilling hand sanitizer. Now, COVID-19 is still causing supply-chain challenges, such as glass bottle shortages, that we are adapting to in various ways. 
My advice to younger women in business: Don't get too hung up on following a straight-and-narrow career path. Life can take you in different directions and cause you to make unusual career decisions. My advice is to go with it. Those unusual career choices could be uniquely preparing you for your future. 
Something new I learned during the pandemic: I learned how hugely satisfying it is to have a pantry full of homemade canned vegetables. I went into gardening full force during the pandemic and canned/preserved what we didn't eat right away. Having all that canned and ready to eat during the winter was a wonderful feeling—though, it was a ton of work. 
When I was a child, I wanted to be: A jockey. I absolutely loved horses and wanted to make a career riding them. Unfortunately, typically jockeys are a certain height and build, and as I grew up, I had to change goals since I didn't fit the bill.  
If I had to delete all but three apps from my smartphone, I would keep: I would like to delete the whole phone! The three apps I would keep are the flashlight app, the calculator and the clock.
Day 2:  Nancy Galvagni of the Kentucky Hospital Association
Day 3: Jeanne Schroer of Catalytic Development Funding Corp.
Click here for more Kentucky business news.