FRANKFORT, Ky.— It's now the Kentucky Senate's turn to consider a House bill on charter schools after the measure advanced off the House floor on Tuesday.
House Bill 9 would make changes to the appeal process if a charter school application is denied by a local school board. It would also codify the funding mechanism for charter schools and authorize two pilot charter school projects.
House Majority Whip Chad McCoy, R-Bardstown, is the primary sponsor of the bill. He said HB 9 builds on charter school legislation from the 2017 legislative session.
Under current law, local school boards hold the power to authorize a charter school, and charter schools may appeal that decision to the Kentucky Department of Education (KDE). McCoy said HB 9 does not change that. Instead, the bill requires the department to explain its decision.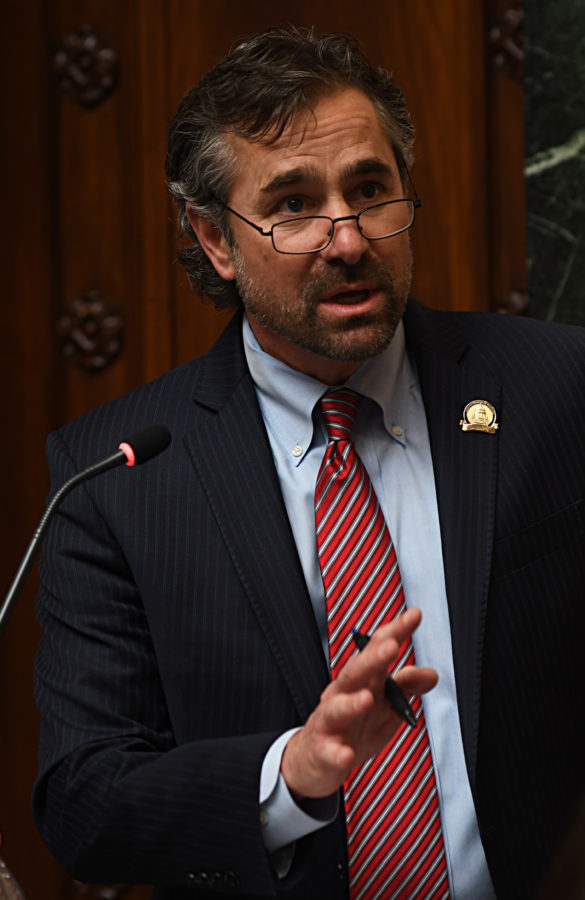 "(The bill) says that the KDE has to tell you why they're denying you or approving you and say why this is or is not something good for the local community," McCoy said. "In addition, we've changed and asked the KDE to offer technical assistance to an applicant."
According to McCoy, another provision of HB 9 would give school districts with less than 7,500 students a way to "veto" a charter school appeal.
"If you are a school district with less than 7,500 kids, part of the application process requires that you submit a memorandum of understanding with your application from the local school district. If you can't get that, then your application is deemed incomplete, thus you don't have an appeal," McCoy said.
Under HB 9, two charter school pilot projects would be authorized to open by 2023 in the West End of Louisville and in Northern Kentucky. McCoy said the hope is the pilot projects will reveal to the legislature what changes need to be made, if any, to how charter schools operate in the commonwealth.
Rep. Tina Bojanowski, D-Louisville, who is a public school educator, spoke in opposition to HB 9 on the House floor. She also proposed five floor amendments to make various changes to the measure. All five of the amendments failed to gain enough votes to be eligible for consideration.
In a House floor speech, Bojanowski criticized the charter school industry and said she believes "using public dollars to fund charter schools in Kentucky is unconstitutional."
"The driving force here is not innovation. It is profits, and selling our children's education for a profit is wrong," she said.
Rep. Timmy Truett, R-McKee, who is a public school principal, said while school choice sounds "great," he has also concerns.
"I'm all for parents having a choice, but I'm not for giving certain schools unfair advantages," Truett said. "In my opinion, House Bill 9 is a vote against public education, and I encourage you to think about that before you make that vote."
In a nearly two-and-a-half-hour debate, many legislators spoke against HB 9 on the House floor, including Rep. Cherlynn Stevenson, D-Lexington. In her speech, she cited data that showed out of 116 charter schools in Tennessee, only five have a success rate of more than 20%.
McCoy said he does not think the claim that charter schools have a high failure rate "holds water." He cited data that shows the charter school failure rate at 2.8%. He also said he does not believe local school boards would allow a charter school to come in to a community and do the "horrible things" some lawmakers expressed concerns about.
"Look, I'll be the first to tell you that there are bad charter schools out there, and I think everybody would agree with me that there are bad public schools out there too," McCoy said. "That's not an indictment on the whole process one way or another. This is about parents. Parents need choice, and this bill gives choice in our public school system."
Rep. Kevin D. Bratcher, R-Louisville, joined several voices speaking in favor of HB 9 on the House floor. He said parents want a choice when it comes to their child's education, and he believes the legislature should "give them a little bit of choice."
Rep. Scott Sharp, R-Ashland, agreed HB 9 is a bill about giving parents a choice.
"I've got to do what I think is best for the parents of my district to give them an option of something different, to give them more options than what they have," he said.
The House approved HB 9 by a 51-46 vote. It will now go before the Senate for consideration.
The Legislative Research Commission Public Information Office assists members of the Kentucky General Assembly in communicating with their constituents.
Click here for more Kentucky business news.