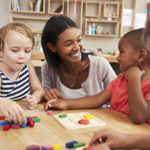 FRANKFORT, Ky. — The number one issue facing Kentucky employers continues to be workforce development finding qualified workers. And many Kentuckians struggle to find and afford child care which would allow them to continue employment or join the workforce.
A bill seeking to help alleviate this issue saw final passage Wednesday and now goes to the governor.
House Bill 499, sponsored by Rep. Samara Heavrin, establishes the Employee Child Care Assistance Partnership, which encourages non-profit and for-profit employers to offer child care assistance as a benefit of employment by matching employer contributions with state dollars.
Under the program, each partnership will submit a contractual agreement to the Cabinet for Health and Family Services, and if approved, the state will match the employer contribution up to 100% of the cost of care. The amount of the match is tied to the workers' household income.
$15 million in funding for the bill was included in the state's next two-year budget and the program would begin in July 2023.
Kentucky Chamber President and CEO Ashli Watts released the following statement about the bill's passage:
"The Kentucky Chamber thanks the General Assembly for honoring and supporting our working families with the overwhelming bipartisan passage of House Bill 499. Especially as we observe Women's History Month, it is critical to recognize the detrimental impact that lack of child care has had on our workforce.
"Thanks to House Bill 499, fewer Kentucky parents and guardians will have to choose between working and ensuring their children receive care and education. The bill also gives employers another tool to help attract and retain talent. On behalf of the business community and working families, we thank Rep. Samara Heavrin for her dedicated work on this issue and celebrate its passage," Watts said.
Click here for more Kentucky business news.