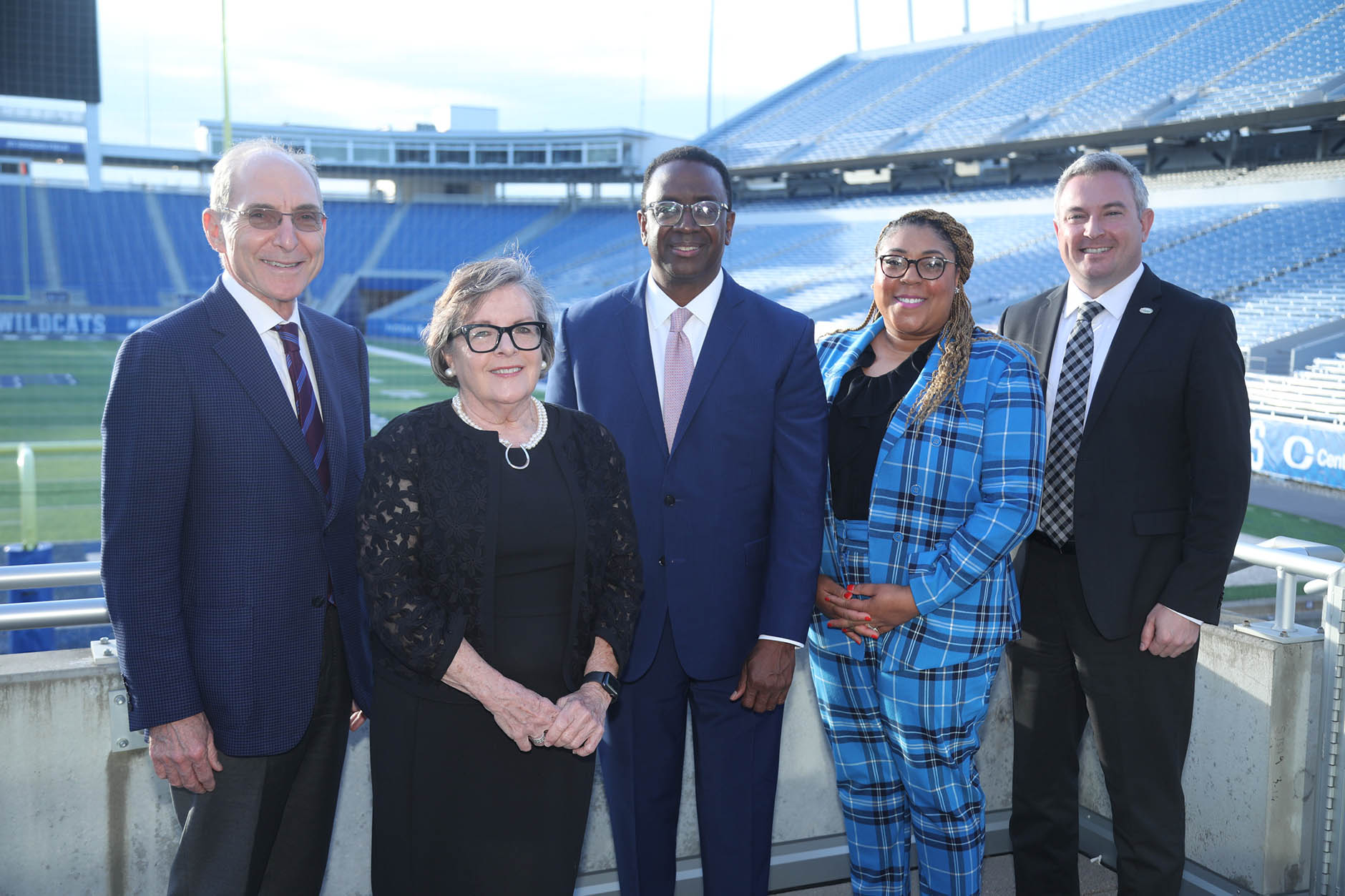 LEXINGTON, Ky. — To Jim Coleman, everyone has three options when faced with overwhelming challenges and life decisions—give up, leave and start again somewhere else or seize the moment. As a Kentucky native and descendent of enslaved people, Coleman said he prefers to seize the moment. He wants young people to learn how to do the same, so he's funding a scholarship program for minorities pursuing agriculture, natural resources and related sciences degree paths at the University of Kentucky College of Agriculture, Food and Environment.
"You have to focus on the controllables, and not what you can't do," Coleman said. "It's saying to yourself, 'How do I go about accomplishing my mission when I'm faced with so many unimaginable roadblocks and barriers?'"
In honor of his late wife Cathy, who was his college sweetheart at Howard University in Washington, D.C., Coleman is giving $3 million to fund scholarships at UK and Howard University, with $1.5 million going to UK to fund Cathy and James Coleman Scholarship Fund. Coleman didn't graduate from UK, but he feels a strong personal connection to the university because of the college's responsiveness and commitment to his farm's success. Coleman said he was moved by College of Agriculture, Food and Environment Dean Nancy Cox's visit to Coleman Crest Farm when he launched the restoration of the farm in 2020.
"Dean Cox runs one of the largest colleges of agriculture in the United States, but she found time in her busy schedule to be there with me right from the start," he said. "I had my first meeting with her and UK CAFE Associate Dean for Diversity, Equity, and Inclusion Mia Farrell to discuss the future of Coleman Crest while touring my farm's cemetery where my ancestors are buried. It was so amazing to me to see how Dr. Cox and her team immediately demonstrated their commitment to my farm's success and my family's legacy."
Coleman Crest Farm, located just eight miles from UK in Fayette County, has been a source of sustainability and economic empowerment for the Coleman family for more than 134 years. Coleman Crest was purchased by Jim's great-grandparents, James and Lucy Coleman, on March 27, 1888, for $1,200.
As a result of owning the farm, Jim's grandparents, John and Mollie, sent five of their seven children to college during the Great Depression.
"My parents, Sam and Cleo, raised five children at Coleman Crest and all of us were able to go to college as a result of using the proceeds from the sale of tobacco, produce and livestock, combined with taking out notes on the farm," Coleman said.
Jim's sister, Ruth, was the first woman and first African American to graduate from UK's College of Civil Engineering.  Coleman Crest financed Jim's college education at Howard University where he graduated in 1983 with a degree in Economics and married Cathy on June 2, 1984, at Rankin Chapel on campus.
The "Cathy and James Coleman Scholarship Fund" will benefit students who are members of the Minorities in Agriculture, Natural Resources and Related Sciences Program. When fully endowed, it will provide more than $75,000 annually and in perpetuity for scholarships. "Cathy will always be alive and relevant through this scholarship program," said Jim.
"We are pleased that Jim is choosing to honor his late wife Cathy and the legacy of his family's farm in this way," said Dean Cox, who also serves as the University's vice president for land-grant engagement. "He's inspiring our MANRRS students and showing them they can accomplish anything they set out to do."
Through the years, the Coleman family has had many opportunities to meet and work with some of America's most influential barrier breakers through their pursuit of higher education. Jim's uncle, Stanford Coleman, was a Lincoln University classmate of former U.S. Supreme Court Justice Thurgood Marshall. When Jim decided to pursue politics at Howard University and run for Liberal Arts Student Council president, it was now-U.S. Vice President Kamala Harris helped him pass out campaign flyers in the women's dorms. Coleman said Harris' help contributed to his decisive win on election day.
Coleman said these relationships were formed because his great-grandparents planted the seed by seizing the moment and purchasing the land they had tilled as enslaved people.
"When Cathy passed away on April 3, 2020, the grief was so overwhelming that I didn't know if I could go on with my own life. I could have given up and lived a life of total depression for the rest of my days," he said. "I could have left New York and went on to retire in Florida and just walked the beach every day because of the success that Cathy and I have had by investing in the U.S. stock market, but I decided not to retreat. Instead, I decided to seize the moment, so I sold our house in Scarsdale, New York and moved back to Coleman Crest Farm and to my hometown of Lexington, Kentucky."
Coleman embraces the teachings of Mother Teresa, who said, "If you want to change the world, go home and love your family."
"I grew up within the hamlet of Uttingertown and the residents of Lexington are my family; we share the same values. Coming back home has been the best decision I've made since I've experienced the terrible loss from Cathy's passing."
Coleman said when his great-grandparents purchased Coleman Crest Farm in 1888, they and other African Americans had no access to local banks, public education or the chamber of commerce, and no right to vote in elections until 1920. During that time, African Americans purchased a combined 14 million acres of farmland representing 15% of the farmland in the United States. Today, African Americans own less than two million acres representing less than 1% of all farmland. He sees his scholarship as seed money to help increase that percentage over time.
"I want to help UK's agriculture students to acquire the knowledge and practical skills to be successful leaders in agriculture," he said. "I want them to be able to go into a bank and have an educated conversation with a lender about why they should be able to get a loan to buy a farm, raise livestock and produce crops to support their families and produce generational wealth the same way my great grandparents did for more than 300 of their descendants during the last 134 years. I want our students at UK to enjoy full access to the American dream by becoming successful farmers and leaders in the agriculture sector."
Beyond his financial gift, Coleman established an aspiring farmer incubator program at Coleman Crest, focused on teaching women and disadvantaged youth about farming and land ownership. He said this program is in honor of all the women of Coleman Crest, including his wife, Cathy; his mother, Cleo; his grandmother, Mollie; and his great-grandmother, Lucy, who were all instrumental in preserving the farm for future generations. The first candidate accepted into the Coleman Crest Farm Incubator Program was Ginger Watkins, a descendant of John Darnaby, the original owner of the Coleman Crest land who later sold the property to Jim's great grandparents.
"Through the resiliency and growth of the U.S. stock market and free enterprise system, this gift to UK will live in perpetuity, far past the time Cathy and I have lived here on Earth," Coleman said. "Cathy and I will be making an impact from heaven for hundreds of years into the future. I want to do everything in my power to help UK prepare these bright young students to seize the moment in agriculture and to achieve financial independence and generational wealth as leaders in agriculture and through land ownership."
UK CAFE Associate Dean for Diversity, Equity, and Inclusion Mia Farrell said that many students will benefit from Coleman's scholarship.
"We are honored in CAFE to accept a gift that will impact the future of agriculture," she said. "The college will vow to continue to produce the best and brightest students who have a love and passion for agriculture just like Mr. Jim Coleman."
Click here for more Kentucky business news.