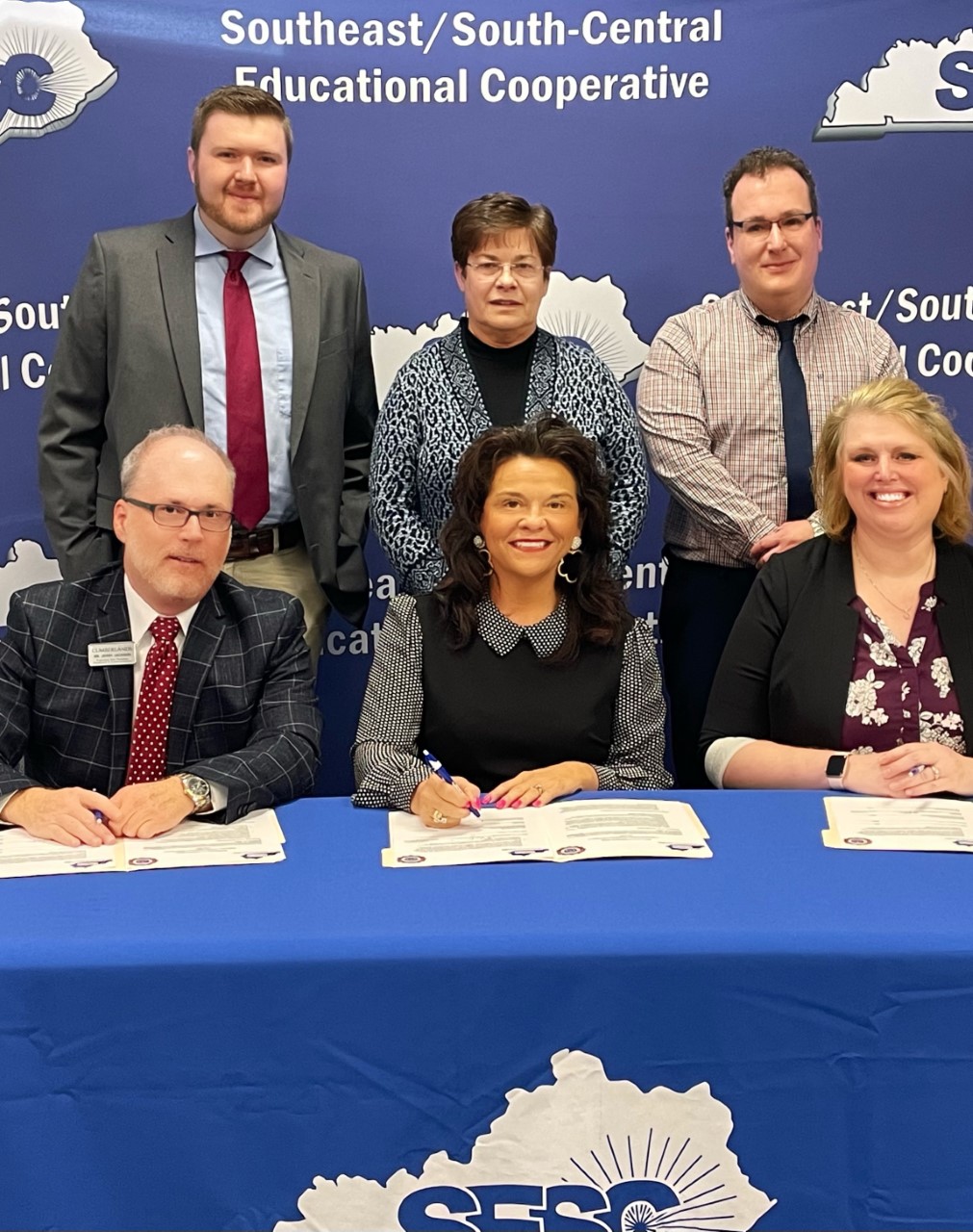 WILLIAMSBURG, Ky. — Through a Memorandum of Agreement, the Southeast/South-Central Educational Cooperative (SESC) and the Department of Education at University of the Cumberlands have joined forces to bring new, cost-effective Rank II and Rank I change options for Kentucky educators.
SESC is in the final stages of receiving approval for its Continuing Education Option (CEO) Program from the KY Education Professional Standards Board (EPSB). The course duration is one year, with job-embedded coursework and instruction, as well as mentorship from veteran master teachers. For more information about the program, please contact Dr. Jason Reeves, CEO Program Lead at [email protected].
The CEO Program allows educational cooperatives like SESC to offer a program of study focusing on the individual needs of educators and their employer school districts, with a dual purpose: to enhance the abilities of educators to lead P-12 student achievement for all learners and to provide educators with opportunities to immediately impact their classroom and school districts through job-embedded coursework and instruction. Another unique feature of the CEO Program at SESC is the use of veteran master teachers who serve as mentors to each student in the program as they progress through their program of study over the course of a year. The mentor provides support, access to learning resources, and in collaboration with the student's employer school, continuous improvement of the student's teacher leadership abilities.
Upon completion of the CEO Program, educators can pursue additional certification and/or degree options with colleges and universities in Kentucky. University of the Cumberlands, the first university to enter into an MOA with SESC, will accept up to nine (9) hours of transfer credit from the CEO Program toward selected certification and degree programs in their Department of Education. This agreement allows educators to save both time and money toward adding more credentials to their original teaching certification.
Director of the Department of Education, Dr. Shannon Deaton, said, "The School of Education is honored to partner with SESC in this important endeavor. One of our departmental goals is to meet the needs of students by providing innovative methods for earning course credits that can be applied toward degrees and certifications. This partnership with SESC provides new options for certification that are both flexible and affordable. We are excited by this opportunity to expand our transfer offerings and better serve the students in our region."
Executive Director of SESC, Mrs. Kay Dixon, explained how the opportunities offered with the CEO Program and MOA with UCumberlands will benefit area educators, saying, "The mission of SESC is to empower and elevate the P-16 education profession in our area. The design of the CEO program is a natural extension of this mission because it truly takes a deeper learning approach to an educator's next step in their career."
CEO Program Lead, Dr. Jason Reeves, believes that the CEO Program will open new doors of collaboration between public education and colleges/universities. He remarked, "All of SESC's partner colleges/universities have been so willing to be collaborative in bringing the CEO Program to life. They understand both the need and opportunities that the CEO Program addresses for local educators and their school districts. It has been an absolute pleasure to work with institutions like Cumberlands on this initiative."
Click here for more Kentucky business news.