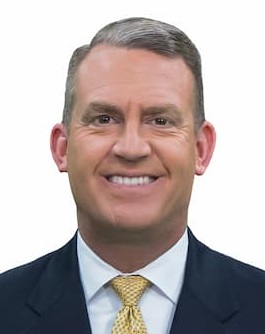 LEXINGTON, Ky. — Longtime central Kentucky meteorologist makes his return to Lexington this week. T.G. Shuck will join ABC 36 as chief meteorologist of the weather department effective Monday, April 18.
Shuck's name is very familiar to central Kentucky viewers. Many viewers will remember him from the 16 years he spent at WKYT from 1996-to 2012 concluding his successful tenure there as chief meteorologist.
ABC 36 General Manager Chris Aldridge said, "T.G. is someone with deep roots in the Bluegrass. He's been with viewers through every type of weather event, good and bad. Central Kentuckians trust him, and we're honored to have him."
"We promised big changes and that's exactly what we're doing," explained the station's news director Miranda Combs.
Shuck is a four-time Emmy award winner and won "Best Weather Anchor" from the Kentucky Associated Press 5 years in a row. Shuck was also the first Lexington TV meteorologist to earn the prestigious "Certified Broadcast Meteorologist" certification when it was instituted back in 2005. Shuck will be the only chief meteorologist in Lexington to have this certification.
Lexington is home to Shuck. He attended Lafayette High School and graduated from Georgetown College with a degree in communications where he also played on the football team. Shuck obtained his Broadcast Meteorology degree from Mississippi State University.
Shuck said, "I've been asked on social media and in-person by hundreds of viewers the same burning question, 'When are you coming back to Lexington?' After 10 years, I can finally say that time is now!"
Shuck joins us after spending the last 5.5 years at WHAS-TV in Louisville, where he was the morning meteorologist during most of his tenure.
Click here for more Corporate Moves.