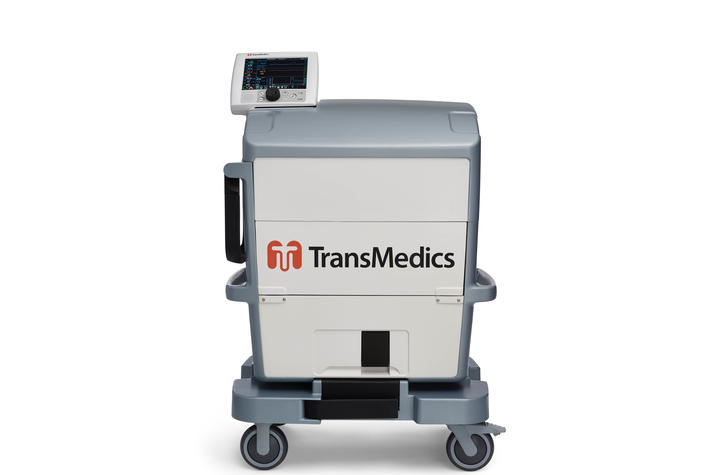 LEXINGTON, Ky. ­— The UK Transplant Center entered into an agreement with TransMedics to utilize the Organ Care System (OCS), an innovative machine capable of transporting donor lungs long distances for transplant. With this machine, the pool of suitable donor lungs expands significantly, good news for the Kentuckians on the lung transplant waiting list and for those who are being evaluated for new lungs.
The OCS, colloquially known as a "lung-in-a-box," creates a natural state that mimics human body systems to allow the lungs to continue "breathing" while being transported to the patient. Blood is pumped through the vessels and the box maintains a comfortable temperature.
"There is critical organ shortage, and 20 to 30% of patients die while on the waiting list for a new set of lungs, said Sravanthi Nandavaram, M.D., medical director of the Lung Transplantation Program at the UK Transplant Center. "This unique transport process will allow for us to travel farther and wider in search of viable lungs and help ensure that lungs arrive to us in better shape for transplantation into their new home."
In March 2022, the machine was first used by UK HealthCare to transport a pair of lungs over 300 miles to Albert B. Chandler Hospital where they were transplanted into a waiting patient by Suresh Keshavamurthy, M.D., surgical director of the Lung Transplantation. A representative from TransMedics accompanied the machine on a plane, where the health and status of the lungs were continuously monitored. Once the machine arrived at Chandler Hospital, the lungs were again inspected and tested before being transplanted into the patient. While the first lung was being implanted, the other lung was still being ventilated and perfused on the OCS device.
Traditionally, lungs, like other organs destined for transplant, are transported in cold static preservation. Kidneys and livers can easily be transported this way, but lungs are far more delicate. Prolonged exposure to cold can damage lung tissue and blood vessels and because of this, lungs that could be transplanted are rejected simply because they can't withstand long journeys. Using this device, the donor pool expands by using donations after cardiac death and lungs that may be transplantable but do not meet the criteria for ideal donor lungs. These are called marginal donor lungs.
Patients who receive lungs that were transported by the OCS have better outcomes than those that were in cold storage. Studies on transplanted lungs showed a 50% reduction in primary graft dysfunction, a severe complication that can occur within 72 hours of transplantation and is the major cause of early mortality in lung transplant patients.
Kentucky has one of the highest rates of lung disease in the nation – 50% higher than the national average. To help reduce the organ shortage, sign up to be an organ donor today. https://registermeky.org/.
Click here for more Kentucky business news.