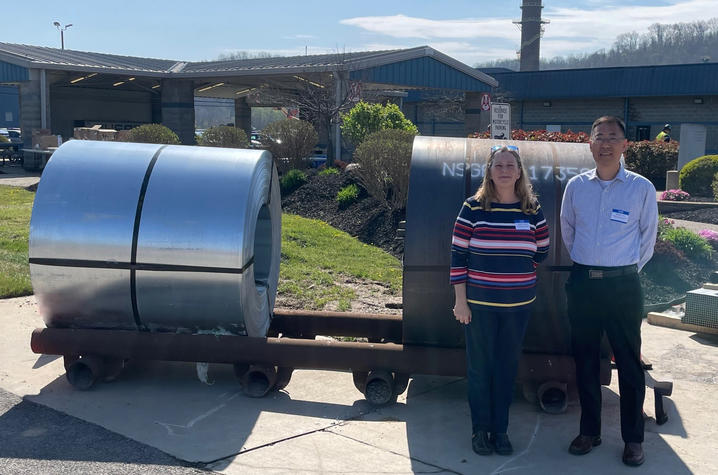 LEXINGTON, Ky. — The University of Kentucky (UK) has received $4.9 million in funding from the U.S. Department of Energy's (DOE) National Energy Technology Laboratory (NETL) to provide its carbon dioxide (CO2) capture system with a new challenge: to capture carbon dioxide at a low concentration from the Nucor Steel Gallatin process flue gas stream.
The project is titled "Application of Transformational UKY 3 Tonne/day CO2 Capture System at A Steel Process Plant," and is supported by NETL.
"Nucor teammates along with researchers at the University of Kentucky recognized that to reach specific carbon reduction goals at industrial facilities, technologies like carbon capture and sequestration need to become economically feasible," said Nucor Steel Gallatin General Manager Scott Laurenti. "That is why we are excited to work with the experts at UK and DOE-NETL to pilot and evaluate carbon capture technology at Nucor Steel Gallatin."
Led by Associate Professor Kunlei Liu, Ph.D., in the UK College of Engineering's Department of Mechanical Engineering, this project will leverage technology previously developed between the UK Center for Applied Energy Research (CAER) and Louisville Gas and Electric Company and Kentucky Utilities Company (LG&E and KU).
For seven years, CAER has operated a pilot CO2 capture facility (0.7-megawatt electric) at Kentucky Utilities' E.W. Brown Generating Station near Harrodsburg, Kentucky. This new project will deploy that technology in Gallatin County, home of Nucor Steel Gallatin.
"We have successfully demonstrated this technology at a coal-fired power plant with CO2 concentration greater than 10% by volume for over 8,000 hours, thanks to our long and proud partnership with LG&E and KU," said Liu. "We are excited to deploy our technology to an industrial process."
Testing the carbon capture technology at Nucor Steel Gallatin presents the research team with a set of new challenges. The steel process produces a lower concentration of CO2 (less than 2% by volume), which will require a series of process intensification techniques and a new process control strategy.
"These will be exciting new challenges for our team to analyze," said Heather Nikolic, research program manager at CAER. "We will be looking at absorber packing, controlling temperatures, and a feed-forward process control strategy. There is a need to develop cost-effective approaches to capture carbon dioxide from point sources with lower CO2 concentrations, and we look forward to providing solutions for the industrial sector."
Click here for more Kentucky business news.