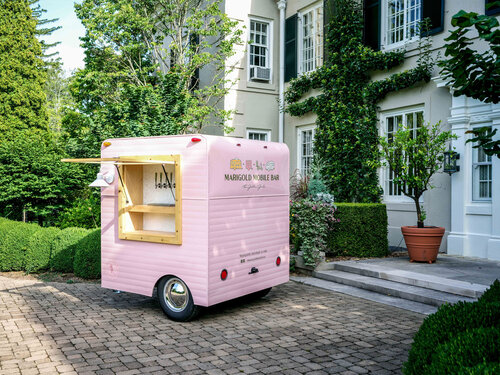 LOUISVILLE, Ky. — Marigold Catering Co. is expanding its offerings with the opening of the Marigold Mobile Bar Showroom, a multi-purpose event space located in Louisville.
Marigold operates Louisville's first luxury mobile bar fleet, which can be booked for events. Rose is a quirky tap trailer no doubt filled with bigger-than-life stories. Sophia is a sweet and sassy custom-made electric Vespa-inspired tiny tap whose converted sidecar features two taps and a cute little table perfect for a charcuterie board or cocktail fixins. Dorothy is a  fully-converted 1967 Airstream Overlander that brings the actual bar to you. Blanche, a Southern-style camper, will join the cast in 2022.
"I needed a space for our Golden Girls that was also accessible to the public. It was also an opportunity to utilize the space as a small event venue as well," Adrienne Cole, owner of Marigold Catering Co.
This event venue at 498 N. English Station Road, #104, 105, in Louisville can accommodate up to 40 people and features Wi-Fi access, a private bar, and tables & chairs for a variety of event setups.
"This space is perfect for baby showers, bridal showers, birthday parties, corporate events, and so much more," Cole says.
Marigold Catering Co. is inviting the public to come celebrate the grand re-opening of its Marigold Mobile Bar Showroom and event space on Wednesday, July 13 from 4 p.m. to 7 p.m. This event will include hors d'oeuvres, cocktails, swag bags, giveaways and a chance to meet owners, Adrienne and Kris Cole.
Marigold Catering Co. is a woman-owned and Black-owned business spearheaded by husband and wife, Kris and Adrienne Cole. Together, the Coles have more than three decades in the hospitality industry, including some of the finest dining establishments across the country, including Louisville's own historic Jack Fry's and Lily's Bistro.
Visit marigoldcateringco.com for additional information.