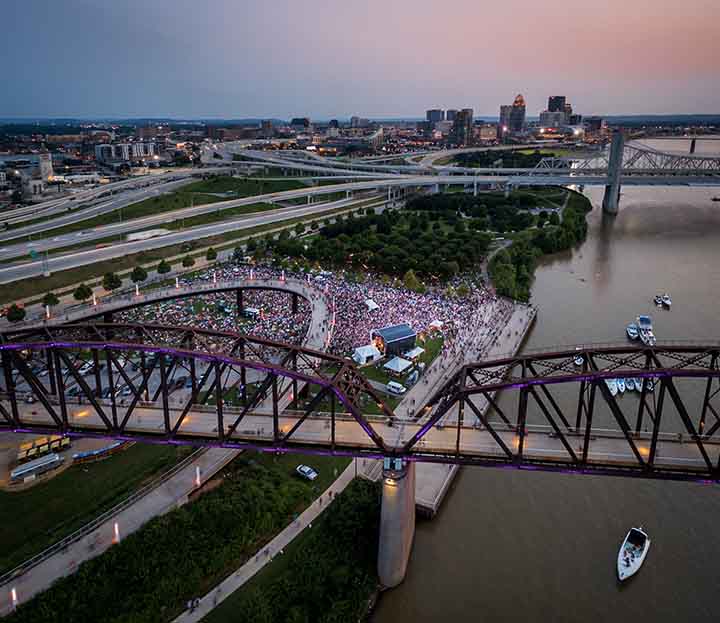 In 2016, Greater Louisville Inc. (GLI) brought together the 15 counties that make up Greater Louisville to create and market one, centralized regional economy. Since then, the Greater Louisville Regional Partnership has launched a unified brand and vision for economic growth that sells each county's unique assets and ensures every project considers the region as a whole.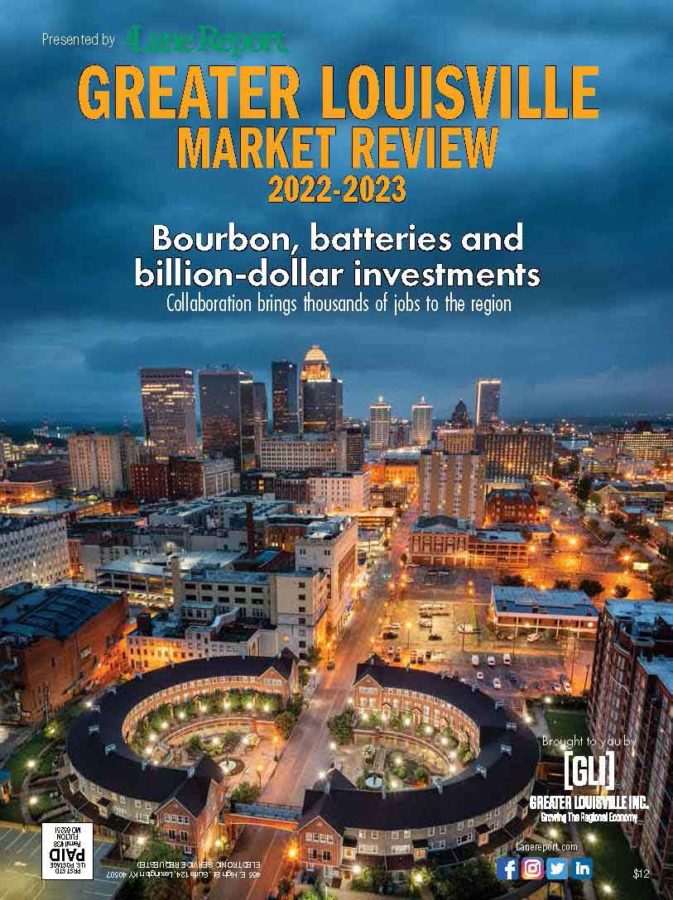 GLI is a presenting sponsor of the Greater Louisville Market Review. Read more about the 15 counties of the Greater Louisville Regional Partnership in the 2022-2023 edition. 
As the regional chamber of commerce, GLI has represented the interests of more than 1,800 businesses for more than 25 years. GLI members span a variety of industries and locations, each with their own distinctive needs. The regional partnership was initially created to coordinate marketing and business attraction practices, with the goal of increasing high-quality economic growth. Since its inception, it has helped bring more projects to the area and boosted the reputation of Greater Louisville across the nation.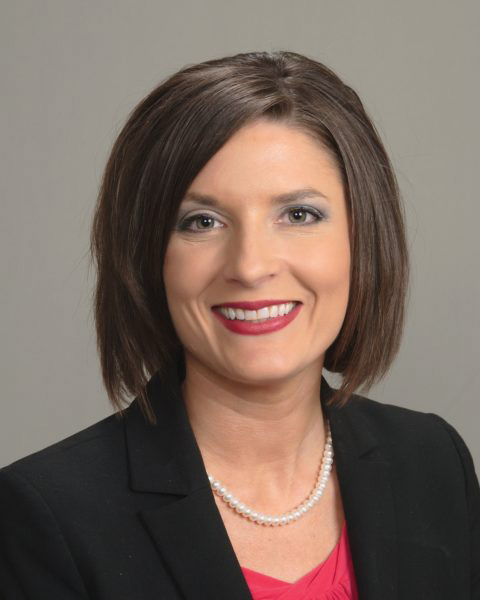 GLI serves as the manager of the regional partnership and through its strong relationships with each of the constituent partners, has built a well-respected regional economic development organization that has been the recipient six years in a row of Site Selection magazine's Mac Conway Award. Regionalism is a national best practice, and Greater Louisville is proof of its impact on local economies.
As the convener of the partnership, GLI works with national site selectors and consultants to market the region, showcasing both the aggregate assets as well as the unique offerings of each county. Through detailed needs assessments, real estate searches coordinated across brokers and regional partners, and coordinated site visits, GLI helps consultants narrow down their decision to a single county then refers the project to the local county partner to close the deal.
Since 2016, GLI has worked on 223 projects that have created more than 30,000 jobs. Operating as a partnership makes Greater Louisville more competitive with peer markets like Nashville and Indianapolis, which have reaped the benefits of regionalism for many years. Like any strategy, this approach requires fluidity to ensure the work is following trend data and best practices. GLI continues to advocate for appropriate changes to ensure it creates a streamlined process externally and gives prospective investors a single point of entry into the region.
Resources for success
GLI is well-equipped to lead economic development because of its close ties to the business community and deep understanding of businesses' evolving needs and desires. The chamber works with businesses, industry leaders, elected officials, and consultants each day to understand their expansion opportunities, regulatory, staffing, and growth-related challenges.
With a dedicated advocacy arm, GLI is the voice of the regional business community at every level of government. The chamber advocated for the passage of the historic federal Infrastructure Investment and Jobs Act, which is now bringing much-needed funding to modernize the region's infrastructure. GLI also championed legislation to incrementally decrease and eventually eliminate Kentucky's personal income tax. This tax reform will not only help Greater Louisville keep up with surrounding markets but is also a major selling point to prospective talent and businesses.
The availability of pre-zoned and prepared parcels of land has set the region apart from competitors in recent years. Due to explosive growth of the economy, demand is currently outpacing supply of these "shovel-ready" plots. During the legislative session, GLI successfully advocated for expansion of Kentucky's Product Development Initiative (PDI) to allocate funding to county partners to create more develop-ready parcels of land.
Combating the global workforce shortage remains a top priority for businesses. In addition to advocating for policy solutions to address underlying causes of lagging workforce participation, GLI mobilizes its workforce department and Talent Central hub of resources to help existing and new businesses retain, develop, and attract talent. Through its Live in Lou initiative, which is being replicated in markets across the U.S., GLI markets the quality-of-life assets of the region and attracts emerging and established talent to Greater Louisville.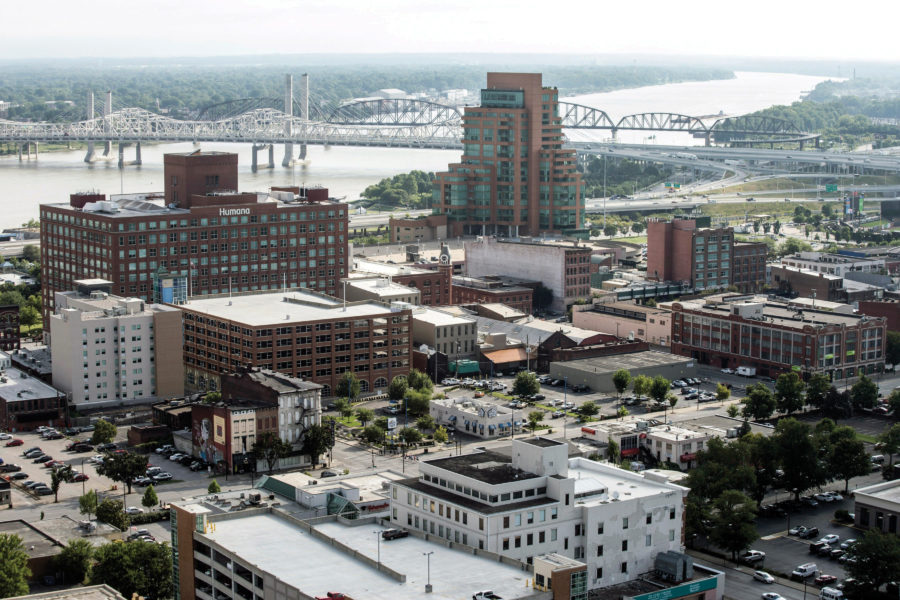 Innovative industry clusters
GLI's economic development strategy remains focused on industries that have long-term growth potential and the ability to differentiate Greater Louisville's competitive advantage from peer markets. GLI focuses its business attraction and expansion efforts on four main industries, which were identified through thorough analysis of existing industry presence, and the regional assets and competitive advantages that already exist. The industries of focus include:
Digital health
Life sciences logistics
Electric vehicle and battery manufacturing supply chain
Biomedical manufacturing
These four fields build on the region's traditional strengths in health care and advanced manufacturing/logistics, weaving in the region's recent expansion as a hub for technology. The targeted clusters also represent areas of overlap between each of its three industry networks: Health Enterprises Network (HEN), Advanced Manufacturing and Logistics Network (AML), and TechFirst. While each network supports niche industries, GLI's economic development team oversees a unified strategy to maximize collaboration between the three networks.
A bright future
By embracing regionalism and a spirit of collaboration, Greater Louisville's economy is soaring to new heights. In the years ahead, GLI will continue working directly with existing and prospective businesses to prepare the region to keep up with rapid innovation and advancements. Utilizing the regional strategy, Greater Louisville is aligned for unprecedented and accelerated growth in the decade ahead.
Greater Louisville Inc. is the region's chamber of commerce. Find out more about GLI and all of its initiatives at greaterlouisville.com.
Click here for more Market Review of Greater Louisville.