Whether you're on the finance team of a corporate giant, running a small business or just a household, the Greater Louisville region has banks to meet your needs, from national institutions to community lenders and everything in between.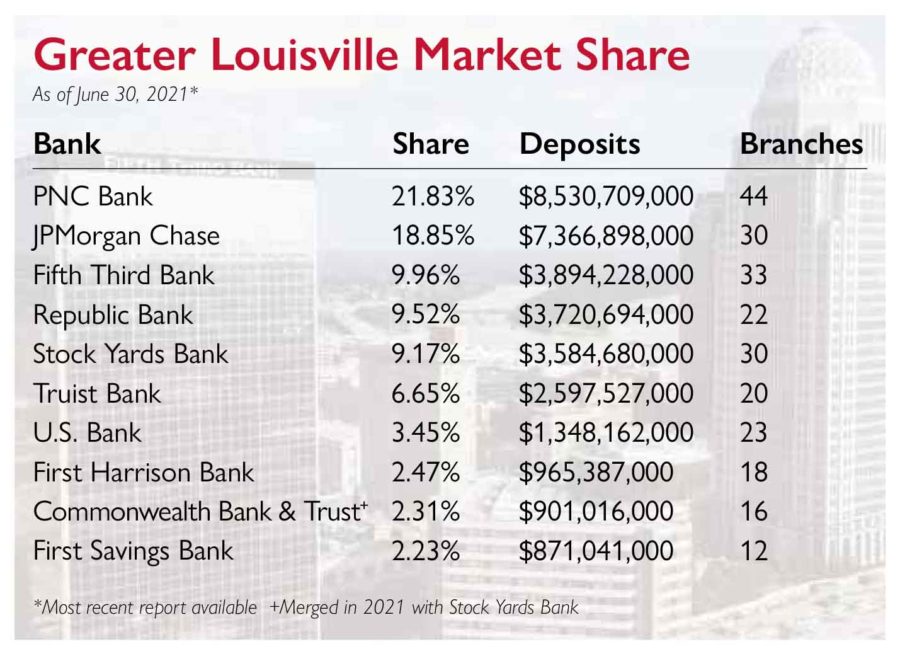 Companies from all over the world choose to locate in Greater Louisville because of its business-friendly environment. With the uncertainty COVID-19 caused and ever-changing business landscapes, companies need banking partners to offer both large bank amenities and small-town personal attention.
As the region attracts new employers and explores new economic development opportunities, local banks are well positioned to support those endeavors. 
PNC Bank
PNC Bank has 21.8% of the Greater Louisville region's deposit market share—and nearly 3% of U.S. market share. The Louisville PNC team led the company in organic growth across several lines of business in 2021, said PNC Regional President Kristen Byrd. Byrd took the helm as regional president for Louisville in March 2022 from Chuck Denny, who retired after 13 years in the role and more than 40 years at PNC and legacy companies.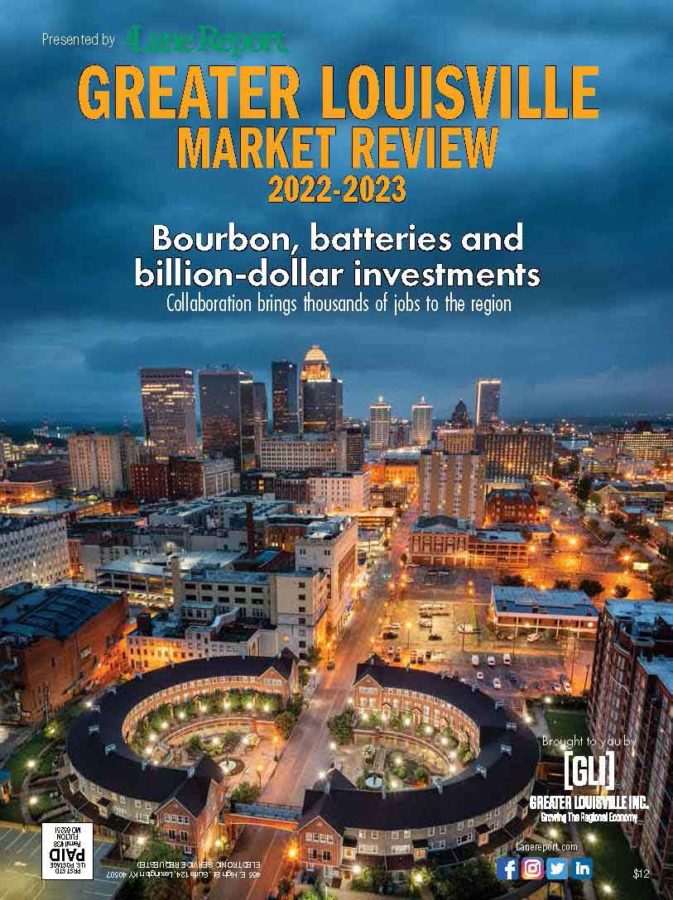 Over the past year, PNC saw its share of growth in mergers and acquisitions, thanks to "renewed economic optimism, low interest rates, high valuations for sellers and intense interest from private-equity investors," Byrd said.
Though mergers and acquisitions slowed a bit in 2022, the bank continues to see business owners and investors pursue long-term strategic transactions, she said. 
Now that pandemic concerns are waning, PNC is seeing increased activity from the health care sector.
"Health care organizations are shifting their focus from mitigating the impact of COVID-19 to rebuilding financial strength and preparing for the future," Byrd said. "Access to capital and credit remains widely available and will only help facilitate the continued evolution of this essential vertical."
Interest in technology-enabled solutions is helping companies in all sectors streamline essential business processes, she said. The banking industry has been deliberate in its tech investments to meet those demands, creating unique applications and online solutions.
German American
Bank customers will continue to use technology for convenience and efficiency, said Adrian Brown, senior regional president for German American Bank, which has grown to 24 banking offices in the Greater Louisville area. 
"We believe this technology will be a prevalent driver that will continue to shape the future of the client experience," Brown said. "German American is committed to continually investing in top-rated technology while also maintaining and enhancing the human element of community banking. We believe community banking is local people helping local people, whether face-to-face or through technology."
German American expects the accelerated growth in mobile and online banking it sees to continue. It has also seen a rise in commercial and small-business loan activity. 
The bank's lenders are working with local businesses to navigate higher wage and material costs and rising interest rates, Brown said. 
In 2021, German American strengthened its commercial banking, treasury management and wealth management teams. It also took ownership of Citizens Union Bank in Shelbyville, Ky., in January 2022.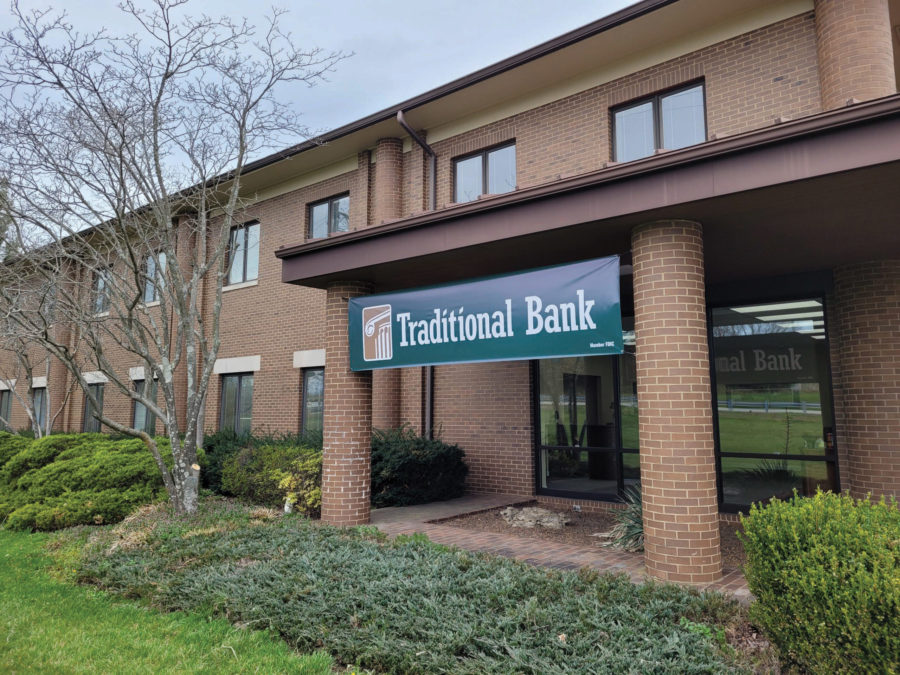 Traditional Bank
Traditional Bank has seen tremendous growth over the past five years, said CEO Andy Baker.  
Headquartered in Mount Sterling, Traditional Bank has 17 Kentucky locations. The community bank expanded into Franklin County in 2018 and opened a loan production office in Louisville in 2020. In April 2022, the bank opened a branch on Taylorsville Road in Shelbyville.
"As we looked toward continued growth opportunities, the next strategic/logical location was Shelbyville for several reasons: It's the bridge between Frankfort and Louisville. Shelbyville is a market very similar to others we already serve," Baker said. "Expanding into Shelbyville presented an opportunity to hire a local, seasoned team, which is important to our bank culture. And the growth they're experiencing is something we are excited to be a part of."
The Shelbyville banking center includes personal deposit, commercial cash management, business lending services and a full-service, in-house residential mortgage team. 
Traditional Bank has seen a significant increase in loan demand in 2022, especially in the commercial real estate sector, Baker said. 
"Areas of major focus continue to be residential development and construction along with multifamily construction," he said. 
More than 80% of transactions are being performed electronically through online and mobile banking, Baker said, providing a clear message about customers' desire for convenient digital banking options.
Traditional Bank has enhanced its debit card experience by allowing customers to add it to their mobile wallets. It also introduced a chat feature in its online banking platform that is driven by a team of live professionals working from Traditional Bank's call center in Mount Sterling. 
Though the importance of mobile banking technology and its impact on the industry cannot be understated, Baker said the "next big thing" in banking may not be new technology or applications, but a reimagining of the banking relationship. It is important to consider how community banks can merge evolving customer expectations with their customer-service roots. 
"I think our bank is uniquely positioned to be a leader in that area, being in an exceptionally strong financial position, having invested in developing our people in equal measure to expanding our technology," he said.
Fifth Third Bank
Technology will continue to evolve the financial services landscape, said Kimberly Halbauer, Kentucky regional president for Fifth Third, which has the third-largest market share in the Louisville region (9.96%). It has 33 branches in the region.
"We want our clients to be able to bank whenever and wherever they want. We also have invested in companies like Provide, which gives rapid access to capital to finance medical offices with an easy application completed on a smartphone," Halbauer said. 
Fifth Third's payment-solutions area in the Louisville region continues to see significant increases, experiencing 20% year-over-year growth, she said. That trend is expected to continue as investments in technology solutions advance.
"While I don't think any of us can fully predict what the next big thing is, I am sure that it will include increased access, speed to the market and transparency," she added.
Independence Bank
Most banks will likely integrate more digital solutions that "bridge the gap between personal and digital," said Louis Straub, president of Independence Bank. 
"We may see more live camera interactions and online chat, more businesses using AI (artificial intelligence) for client service needs, along with screen-sharing of information," Straub said. "The challenge will be as these options expand, to ensure that the customer experience remains intact."
Some banks have replaced people with tech and closing branches, he said, but Independence Bank is opening more brick-and-mortar locations. 
"We recognize that technology is necessary, but it will never replace that human interaction and relationship that customers still expect from their financial institution," Straub said.  
Independence Bank opened a second Louisville location in 2021 with a branch inside Yum! Brands' Louisville headquarters campus. It also opened a branch in Shelbyville. The bank has three locations and 29 employees in the Greater Louisville region.
Much of Independence Bank's growth over the past year has been from family-owned companies or investors seeking tailored solutions to business opportunities, Straub said. 
"Compared to the nation, Louisville is considered a great value, so we are seeing a significant amount of out-of-town investors looking for real estate or business investment in the area," he said. 
Forcht Bank
Forcht Bank has three Louisville locations with 19 full-time employees. In 2019, it opened a unique-style loan production office in St. Matthews designed to provide a casual and inviting workspace for clients and business owners who may need a quiet space outside of their office to work, said Jason Stuecker, Forcht's Louisville market president. 
"We continue to use it as a model for the future of community banking in the Louisville market. We are actively seeking another location for 2023 and will use a similar model to focus on increasing our commercial lending footprint within the Louisville market," he said.
Years of historically low interest rates resulted in a mortgage refinance boom that created a very busy loan year for Forcht's Louisville market. Though rates are rising in 2022, loan demand remains high, Stuecker said.
"The housing market remains red hot, and we continue to see significant commercial growth in multifamily, industrial property and overall traditional commercial and industrial lending," he said. 
Forcht customers have taken great interest in banking technology solutions, a trend Stuecker expects will stick around as customers come to expect quicker payments, more access to information and shifts toward online and mobile options and away from traditional banking.
Stock Yards Bank
Stock Yards Bank employs over 900 people in its 42 Louisville-area banks. It has the fifth-largest market share in the region, with just over 9% of deposits. 
Stock Yards Bank, headquartered in Louisville, has expanded its footprint over the past two years, acquiring Kentucky Bank in 2021 and Commonwealth Bank and Trust in March 2022. Bank President James "Ja" Hillebrand calls them "transformative partnerships (that) allow Stock Yards Bank to continue its longstanding commitment to community banking values while adding strength and security" for its customers. 
"Customer service is at the core of our relationship-based banking model and this added strength through new team members is prime to make 2022 a fantastic year," Hillebrand said. 
Investing in infrastructure and technology has allowed Stock Yards Bank to give its customers the technology, speed and efficiency they want while still keeping the community bank service model alive, he said. 
"We are watching a number of trends, including blockchain technology, to see how advanced decision-making systems could help our business," Hillebrand said. 
Truist
Truist has 20 retail locations in the Greater Louisville area, and it has the sixth-largest market share. SunTrust merged with BB&T in December 2019 to become Truist. The combining of the two banks' systems and operations was completed in February 2022. The signage atop its downtown Louisville offices and all area branches now reads Truist. 
In addition to its new name and brand, there were significant changes in leadership, according to Calvin Barker, Truist regional president (Kentucky/Ohio region). Louisville native John Thurman, a longtime banking executive, was named market president for Louisville in April 2022.
In addition to robust growth in individual and business deposits, Truist has developed products to support the growth of Kentucky bourbon and whiskey distilleries. 
"There is a bourbon boom happening, and Kentucky is 'ground zero,' " Barker said. "We have new product offerings specifically tailored to assist distilleries holding greater barrel inventory and to supplement their cash flow so they can more easily hold the barrels longer while they age. These same products support new and growing brands without distilleries in the acquisition of barrels and can also benefit wholesalers."
Technology continues to transform banking, driving innovation, client services and security, Barker said. Those trends played a role in the merger of SunTrust and BB&T, he added.
Click here for more Market Review of Greater Louisville.
---
ADVERTISING PARTNERS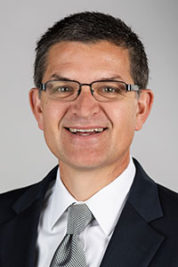 TRADITIONAL BANK
49 W. Main St.
Mt. Sterling, KY 40353
(800) 498-0414
traditionalbank.com
In 2022, Traditional Bank is celebrating its 120th year anniversary as an independent, community bank. 
"We're excited to celebrate this milestone anniversary and immensely grateful to all of the customers who continue to put their trust in us. At the heart of our growth and sustainability are extraordinary people, working hard every day to make sure our customers are taken care of in the best possible ways," said CEO Andy Baker. 
Traditional Bank is a closely held company guided by local decision-makers who are paving its path forward. Founded and headquartered in Mt. Sterling, Ky., it offers 17 full-service banking centers in seven Kentucky counties and a loan production office in Louisville. 
---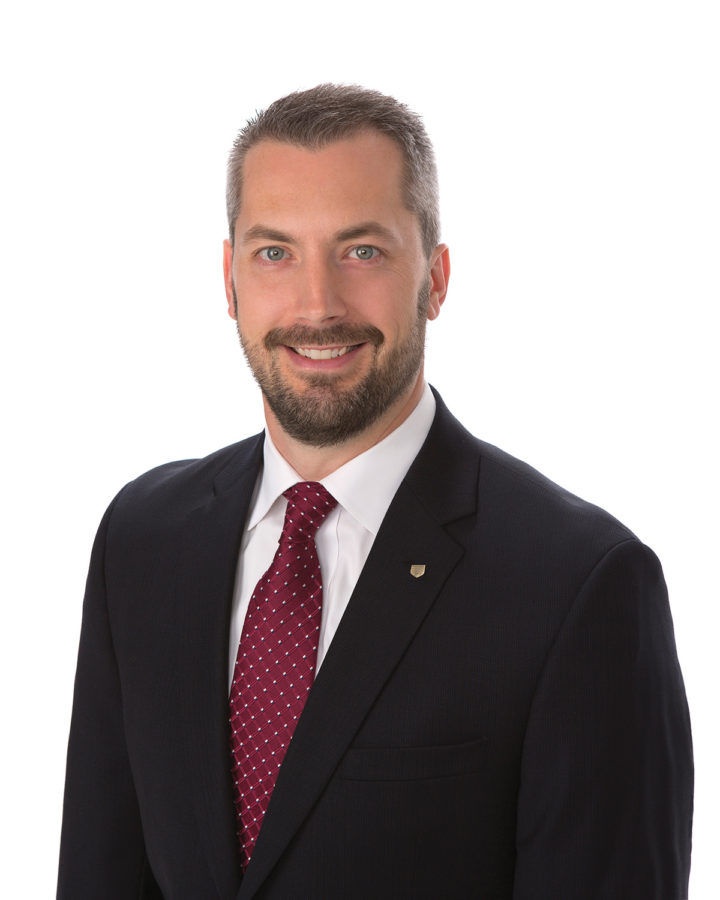 GERMAN AMERICAN BANK
11601 Bluegrass Parkway
Louisville, KY 40299
(502) 267-3500
germanamerican.com
German American Bank experienced significant growth in the Greater Louisville area market and surrounding counties in early 2022. The bank now offers 24 banking offices in the market area, which is served by 202 full-time financial professionals who are dedicated to helping businesses, individuals and families achieve greater prosperity and quality of life. The company serves clients with full-service banking, lending, wealth management and insurance expertise. Core commitments include continually enhancing technology, providing responsive and local decision making, and supporting the local communities it serves to help communities thrive so its people can prosper.