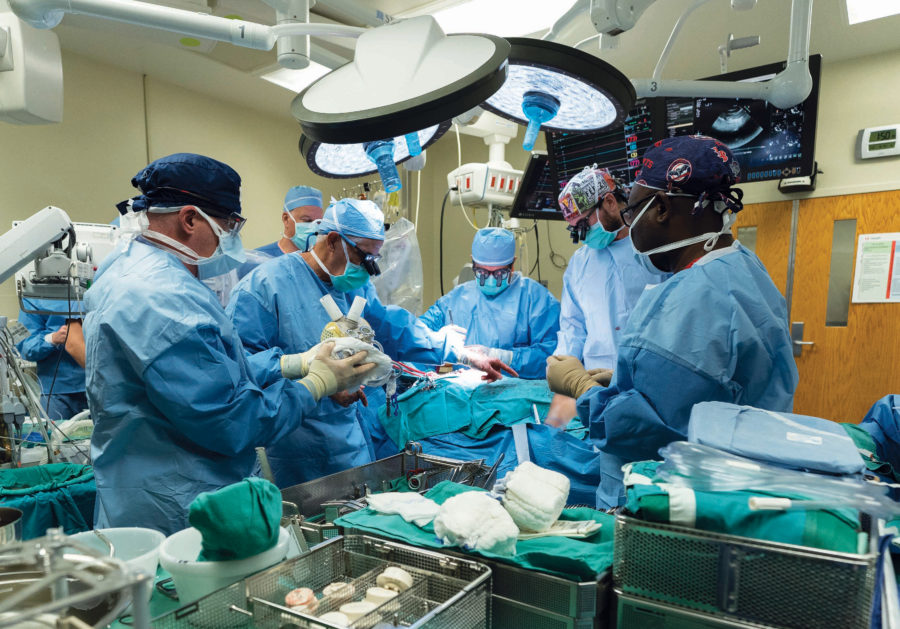 Even while battling COVID-19 the past two years, Greater Louisville health care organizations pressed forward with building projects and integration of new technologies to improve patient access and thus outcomes.
The ongoing struggle to maintain experienced staff amidst labor shortages is impacting nearly every industry, making the difficult pandemic scenario more challenging. Health care systems in the region are making creative improvements to workplace culture and work-life balance, offering incentives and extending appreciative gestures.
To bolster employee numbers at University of Louisville Health, its competitive wage structures, tuition reimbursement and retention bonuses are now augmented by the offer that current and future employees and their dependents can pursue UofL undergraduate programs free of charge, said CEO Tom Miller.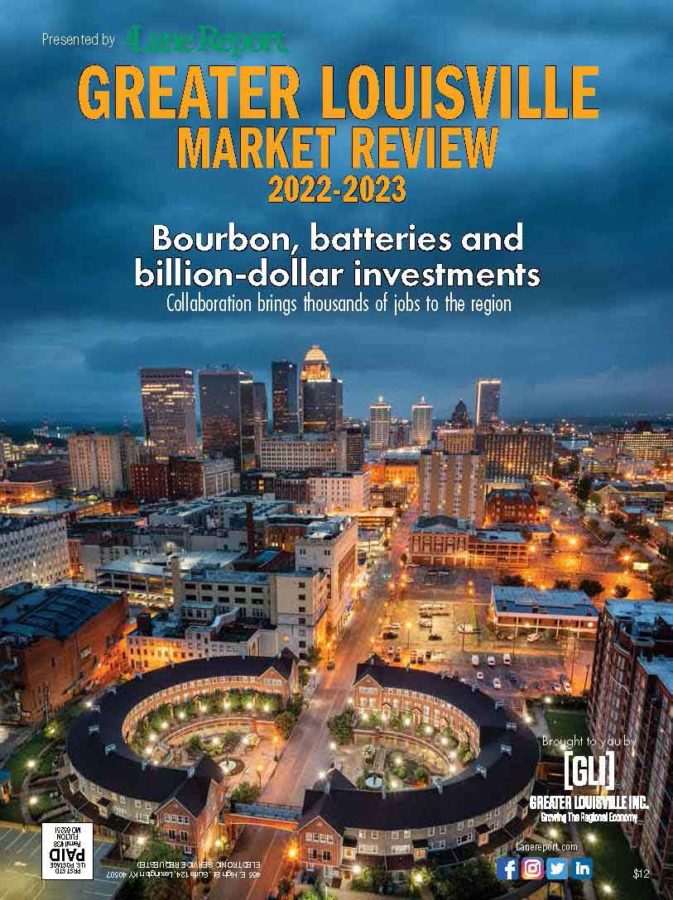 UofL Health maintains a presence in local schools to encourage students to pursue health care careers and work there as adults. Meanwhile, UofL Health hired 350 skilled international nurses who were interested in relocating to the U.S., Miller said. 
At facilities systemwide, morale-boosting events are being held, with ongoing recognitions and gestures to show employees they're appreciated, he said, "because they truly are health care heroes."
Norton Healthcare President/CEO Russell F. Cox said his organization is thinking creatively when luring new—and sometimes younger—talent to work there. Norton, named to the 2022 Forbes list of America's Best Employers, has relationships with more than 75 schools, colleges and technical colleges, working with them to provide financial support, expertise and clinical rotations, while also forging connections with a new generation, he said.
A benefits-and-rewards system includes educational reimbursement and family-centered benefits like family and parental leave for both parents and for birth and adoption. An employee recognition platform enables colleagues to recognize each other for jobs well done.
The day after Thanksgiving 2021, Norton held A Day of Thanks and encouraged employees to take a paid day off to spend with family; those who did work could take a different comp day, and 65% of employees took advantage of this bonus, Cox said.
"We've asked so much of people during the pandemic and even after it. Anything we can do to say, 'We appreciate you and we want to give you a break,' is appreciated," he said.
Some new college graduates report a desire to be paid via Zelle or Venmo, perhaps more often than just bi-monthly or monthly, Cox said, and Norton officials are looking at ways to be more responsive to preferences like these.
"We've got to be open to new ways of thinking," he said.
UofL Health:
New facility construction
In addition to opening five more area urgent care centers, many in underserved locations, UofL Health has major construction underway. In Bullitt County, a year-long construction project has commenced for a new $60 million, 100,000-s.f. facility that includes increased inpatient and outpatient capabilities, more providers, enhanced emergency care, an ICU, cardiac/vascular lab, increased surgical capabilities, cafeteria and gift shop.
In late 2021, UofL Health and Kindred Healthcare broke ground on a $21 million 40-bed inpatient rehabilitation hospital in east Louisville called UofL Health – Frazier Rehabilitation Hospital, Miller said. It is scheduled to be open in spring 2023.
UofL Hospital in downtown Louisville is undergoing a $144 million modernization and expansion project, complete with a new seven-story tower that will increase operational space and improve patient experience. It includes eventual phase-in of more than 360 all-private patient beds, 20 operating rooms, a 24-bed observation unit and other improvements, he said.
"The new tower will reduce capacity constraints and increase access to UofL Hospital's specialized care, progressive academic research and innovative treatments," Miller said. "As Kentucky's largest academic health care system, UofL Health is building the future of health care, to transform the health of the communities we serve, the commonwealth and the region."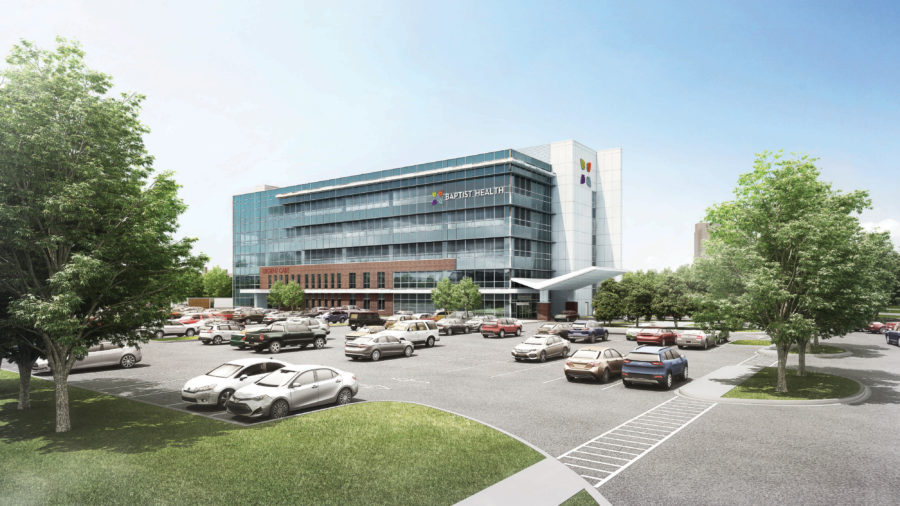 Baptist Health: new campuses
With COVID numbers on the decline, Baptist Health is pursuing projects that were in planning before 2020 and are again an active part of the organization's future, said Larry Gray, president of Baptist Health Louisville.
Those include the major renovation and expansion of Baptist Hospital Louisville's surgical and cardiac services, a project started pre-pandemic and continued through to its construction, Gray said.
As the hospital site is "landlocked," to accommodate needed expansion some departments and services were relocated to enable creation of a 32-bed observation unit—16 beds are open now with the remainder coming in phases—that was completed in September 2021. 
The surgery expansion program included a new family/caregiver waiting area, and the education center moved across the street to enable expansion of surgery suites and support services, including hybrid operating rooms, Gray said. 
Most pre- and post-surgery areas will be completed by late fall and new cath labs by next summer.
Baptist Health is building a new five-story outpatient medical center on a 6.5-acre site on the corner of Breckenridge Lane and I-264 in Louisville. That 126,800-s.f. facility, Baptist Health Breckenridge, will house an ambulatory surgery center, urgent care, physical and occupational therapy, imaging, laboratory services, and a retail pharmacy. It will include office space for an obstetrics practice and endocrinology and rheumatology practices.
The site of Baptist Health Breckenridge sits less than two miles from Baptist Health Louisville's campus. The project encompasses renovations to nearby existing medical office space on Kresge Way and Dupont Circle, following relocation of existing physician practices. When complete, Baptist Health Breckenridge will be a new primary care hub, with 144 treatment spaces for more than 50 providers.
An expanded cardiac critical care unit and more telemetry monitoring beds are planned too, he said. 
A new Baptist Health hybrid emergency department/urgent care center—a joint venture with Intuitive Health—is expected to open in Jeffersonville, Ind., by summer 2023. Baptist Health ER & Urgent Care, in the Jefferson Ridge development, will include a 24-hour full-service emergency room and an urgent care practice open from 7 a.m.-9 p.m., seven days a week. 
In September 2022, Baptist Health breaks ground on a freestanding 40-bed inpatient rehabilitation hospital in a joint venture with Encompass Health. Set for completion in late 2023, it will be near Blankenbaker Parkway and Bluegrass Parkway in Jeffersontown and replace Baptist Health's 29-bed rehab unit on the main Baptist Health Louisville campus. 
Just across the Oldham County line, Baptist Health also will build a next-generation inpatient hospital and outpatient health care community in Crestwood as part of the planned Clore Station development located off I-71 and KY 329. Baptist Health Crestwood's campus will include a hospital with inpatient and surgical services, and a health care community focused on wellness services. 
Baptist Health already operates the only hospital in Oldham County, Baptist Health La Grange; it serves Oldham, Henry, Trimble, Carroll and Shelby residents. In addition to the new health care community in Crestwood, Baptist Health will reimagine services of the future for the La Grange campus where a $5.8 million emergency department expansion was completed in fall 2021. 
In Elizabethtown, Baptist Health Hardin's new $225.6 million outpatient medical pavilion is set to open in 2024. This is Baptist Health's second major investment in the hospital since it fully integrated into the Baptist system in September 2020.
The new 282,000-s.f. pavilion is rising behind the hospital's existing facility. It will house a comprehensive cancer care center, 12 new surgical suites including a hybrid operating room, three cardiac cath labs, a multidisciplinary outpatient medical office building, and patient-centered spaces designed to promote emotional and spiritual wellness.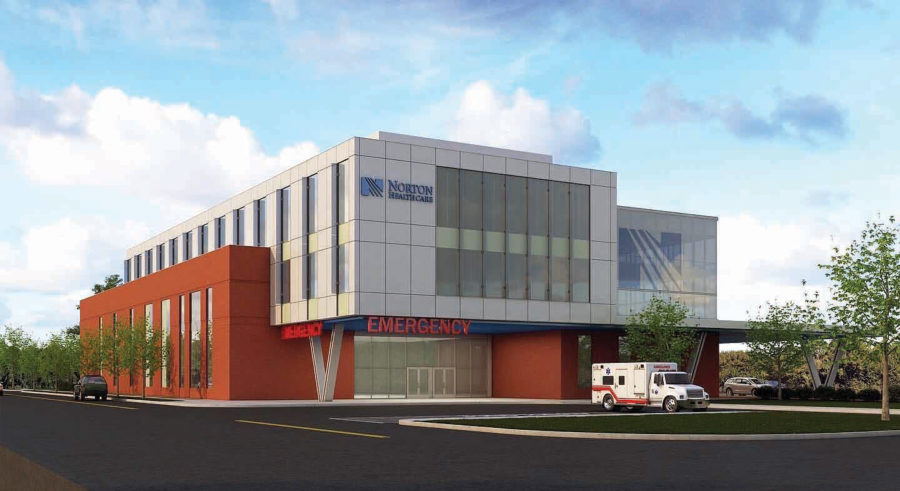 Norton: $70 million
West Louisville hospital
At Norton Healthcare, plans are moving forward for a new complex with a $70 million hospital, headquarters for Goodwill Industries of Kentucky and presence by several local social-service organizations in west Louisville on 20 acres at 28th Street and Broadway. It should take 24 months to complete, Cox said, and will encompass 90,000 s.f., with cutting-edge design and a progressive approach to health care. 
"We certainly want it to be a very special facility," he said.
Health data and community conversations will steer what services the hospital offers in this area with a historic lack of access and high incidence rates for certain health conditions, Cox said.
The Norton Healthcare Sports and Learning Center track and field facility, in partnership with the Louisville Urban League, has done "exceedingly well," Cox said, in addition to other partnerships with churches and community groups.
In January 2022, Norton announced Kings Daughters' Health in Madison, Ind., had joined Norton Healthcare.
In east Louisville, Norton Sports Performance opened this year in a 40,000-s.f. facility on Westport Road. It is designed to be an important part of people's wellness and self-care journeys, Cox said, helping train athletes, provide injury prevention and treatment programs and assist in managing healthy blood pressure, healthy weight attainment and more.
And a nonprofit Institute for Health Equity has opened at Village @ West Jefferson, Cox said, exploring ways to remove care access barriers such as transportation so that social determinants no longer dictate whether people can lead their best, healthiest lives.
In late 2021, Norton opened La Clinica Preston on Preston Highway, a practice staffed with bilingual providers to improve and encourage access to Spanish-speaking populations. 
Quality health vital
to economic growth
With more than 18,000 employees, Norton Healthcare is the second largest employer in the Metro Louisville region, illustrating the organization's importance as an economic driver, Cox said.
When companies are deciding where to locate or relocate operations, a robust, quality and comprehensive health care presence is part of the process, he said.
Capital investments that local health care organizations make can never be underestimated as a huge economic development stimulus, Cox said.
"The more we grow," he said, "the more opportunities are there for more people to be employed, more occupational taxes and growth.
Earlier this year, Baptist Health, Kentucky's largest system, was recognized as one of the nation's top 150 large employers by inclusion on Forbes magazine's list of America's Best Employers 2022. 
Baptist Health will hire additional staff for its expanded services and new rehab and ambulatory services center, and Gray said it's important for all health care organizations to continue working to grow the health care worker pipeline to meet future needs.
UofL Hospital's main campus expansion will create 325 new jobs, while its new rehab center will create 140 and its Bullitt County facility will create 100, according to UofL Health press releases.
Miller said UofL's acquisition in 2019 of former KentuckyOne Health properties, including Jewish Hospital, transferred about 6,000 jobs to UofL Health, with billing services and IT teams that had operated from other states moving to Kentucky. 
Last year, 143 physicians were recruited in this community alone, 100 of them in underserved areas. Currently, UofL Health has more than 12,000 employees.
"When you look at making a difference, health care is an economic development engine beyond the construction that's going on," Miller said. "It's in everything that goes on." 
Click here for more Market Review of Greater Louisville.
---
SPONSOR CONTENT
UofL Health investing nearly $250 million to
enhance care, access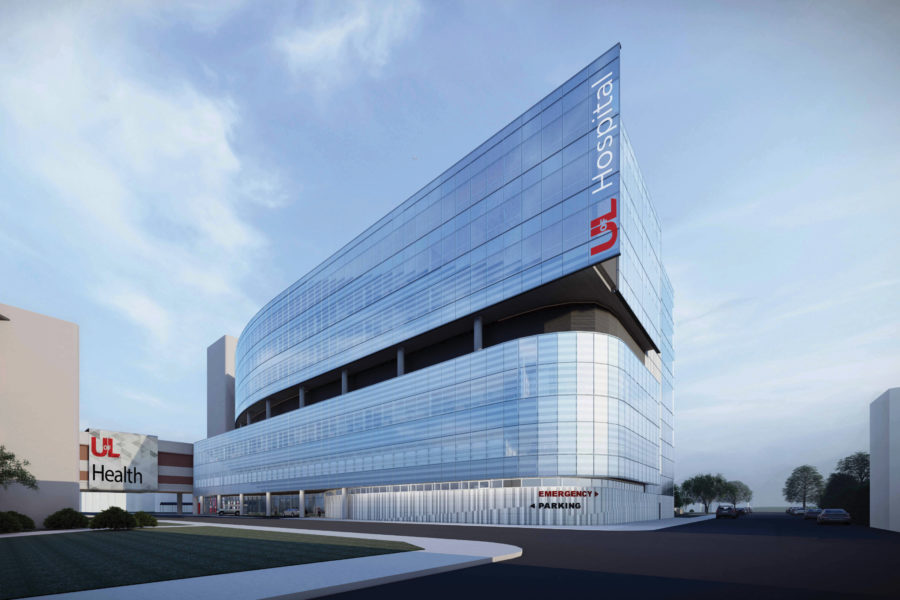 UofL Health is adding a $144 million expansion and upgrade to UofL Health – UofL Hospital in downtown Louisville. The seven-story tower will increase the hospital's operating capacity and facilitate a phased modernization of all private beds. When complete, UofL Hospital will offer more than 360 beds, each in a private room; 20 operating rooms; and a new 24-bed observation unit. The expansion also includes an enhanced visitor experience with a new lobby and waiting area, along with updates to the gift shop and coffee shop. 
In Bullitt County, UofL Health is evolving its existing medical center into UofL Health – South Hospital, a full-service acute care hospital. The $70 million investment adds two new floors atop the existing structure, with 40 acute care inpatient beds and shell space for 40 more beds. The new hospital will include expanded emergency room capacity, a cardiac cath lab, dedicated intensive care unit and additional surgery capacity. 
Construction is also underway on UofL Health – Frazier Rehabilitation Institute – Brownsboro, an inpatient rehabilitation hospital in northeast Louisville in partnership with Kindred Rehabilitation Services, a business unit of LifePoint Health. The two-floor rehabilitation facility will have all private rooms for rehabilitation of patients who suffer from stroke, traumatic brain injury, neurological disorders, complex orthopedic conditions, amputees and other injuries or disorders. The hospital will include a transitional living apartment, including a fully functional kitchen, living room, bedroom, bathroom and laundry facilities. It is designed to simulate a residential apartment, to prepare patients for their daily living tasks before being discharged home.
Combined, the projects are expected to create more than 400 new jobs. Positions will include nurses plus clinical and nonclinical support. UofL Health new hires and their dependents are immediately eligible for free undergraduate tuition (UofLHealth.org/Imagine), funded by UofL Health, to the University of Louisville.
To learn more, visit UofLHealth.org.