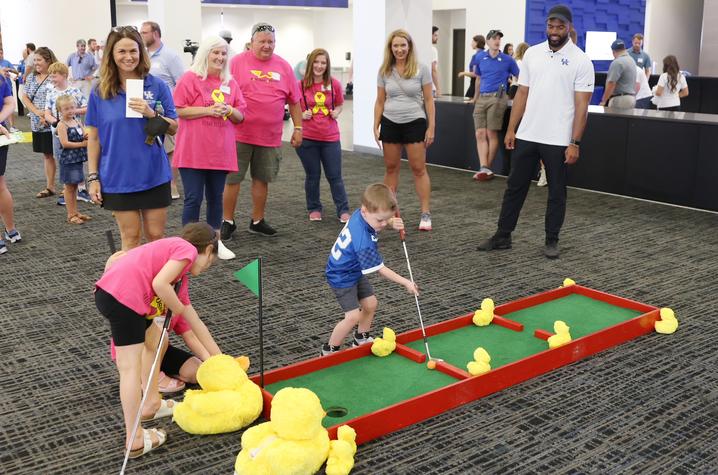 LEXINGTON, Ky. ­— Eight-year-old Wells Downing carefully lined up his shot, took a deep breath, and teed off.
The room erupted in cheers from pro golfers, UK athletes and spectators. Whether Wells made the shot or not doesn't matter. The thousand-watt smile is better than any hole-in-one.
This is the scene at the annual Mini Pro-Am tournament for patients of Kentucky Children's Hospital (KCH). First held in 2018 in association with the PGA Barbasol Championship played at the Keene Trace Golf Course in nearby Nicholasville, the tournament has become a favorite tradition for former patients and current outpatients of KCH.
Pint-sized putters, assisted by volunteer "caddies," tested their skills on a nine-hole course in the Central Bank Club of Kroger Field. Cheering them along were PGA golfers Derek Ernst, Fabian Gomez, Gavin Kyle Green, Michael Lorenzo-Vera, John Merrick, Niklas Norgaard Moller, Andres Romero, Joel Stalter and Oliver Wilson, as well as UK coaches and student-athletes.
"There's just so much energy," said pro golfer Oliver Wilson. "It puts things into perspective. They've been through a lot, and they're just here enjoying the day. It makes you feel good to give back."
Because of ongoing COVID-19 visitor restrictions, the tournament was held at Kroger Field for the second year. Current inpatients joined the fun at a course set up in the KCH playroom, where PGA golfers stopped by to offer putting tips and encouragement.
"Some of the kids are really good," said Wilson. "The great thing is, the score doesn't matter. We make it way too serious, and they're just having fun. We could probably learn more from them than they could from us."
"The Mini Pro-Am has become one of our favorite events, and it's such a fun opportunity for our patients and their families to interact with some of the biggest players in the game," said Scottie B. Day, M.D., physician-in-chief at Kentucky Children's Hospital. "To be one of the benefiting charities of the Barbasol PGA Championship is in itself an honor, but to have these golfers come out and spend the afternoon with our patients goes above and beyond their commitment to the children of our community."
KCH is one of the benefiting charities of the Barbasol PGA Championship being held July 7-10 at Champions at Keene Trace in Nicholasville. The tournament will be broadcasted live each day on Golf Channel and is one of only 45 regular-season tournaments before the FedEx Cup Playoffs. PGA Tour events generated more than $2.65 billion for charity, including more than $125,000 for Kentucky Children's Hospital.
Click here for more Kentucky business news.