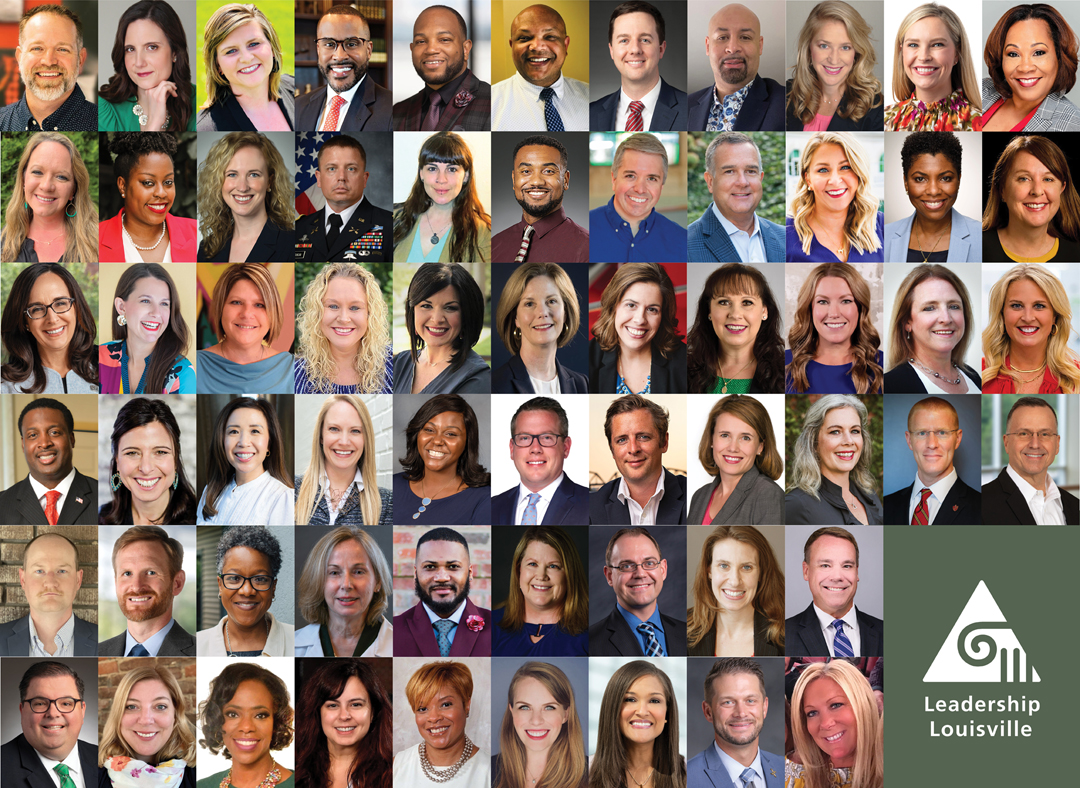 LOUISVILLE, Ky. — The Leadership Louisville Center has selected the Leadership Louisville Class of 2023 — the 44th class of the Center's signature program for established community leaders.
Since 1979, Leadership Louisville has ensured that the community's most influential and esteemed leaders are knowledgeable about issues, well-networked, and passionate about the success of the region.  These talented leaders will spend ten months immersed in an active learning experience, diving into our community's history, assets and challenges, emerging ready to create positive change alongside a network of fellow influencers and decision-makers.
Armed with new knowledge, connections, and perspectives, Leadership Louisville graduates are prepared to take their places as effective community leaders. See a list of over 40 years of Leadership Louisville graduates.
The 2023 Class includes leaders from the highest levels of organizations of all kinds, from all sectors. It also includes the first recipient of the Charles F. Herd Scholarship, recently created in memory of Charles F. Herd, a dedicated community leader and one of the founders of the Leadership Louisville Center. Lieutenant Colonel (Promotable) Kirk Duncan, Special Forces Branch Chief of the U.S. Army Human Resources Command, is the first recipient of the scholarship, designated for an outstanding public servant who demonstrates service to God, service to the country through honorable military service, and a desire to enhance the regional community.
The Leadership Louisville program is planned to begin in July 2022 and run through May 2023.
The sixty-two members of the Leadership Louisville Class of 2023 are: 
Shane Allgeier, Chief Operating Officer, HJI Supply Chain Solutions
Whitney Austin, Executive Director, Whitney/Strong
Kayla Batts, Director, Compensation and Workforce Analytics, Baptist Health
Brandon Bell, CEO, Bell Restaurant Group
Shaun Bishop, Senior Director Human Resources, Derby City Gaming
Maurice Brown, Vice President of Human Resources, American Printing House for the Blind
Bob Bumann, Vice President, Commercial Loan Officer, First Savings Bank
BJ Bunton, Executive Administrator, Jefferson County Public Schools
Kristen Byrd, Regional President, PNC Bank
Brittany Capito, Vice President, Chief of Staff, Heaven Hill Brands
Cynthia Clemons, Vice President, Finance & Administration, University of Louisville & Vice Dean for Finance, School of Medicine, HSC
Michelle Coomes, Senior Director, HR Operations, GE Appliances, a Haier company
Diane Courington, Ph.D., Adjunct Professor, Bellarmine University
Joanie Duckworth, Director, FORVIS
LTC/P Kirk Duncan, Special Forces Branch Chief, U.S. Army Human Resources Command
Emilie Dyer, Executive Director, Americana Community Center
Marc Ellis, Assistant Director, Procurement Diversity and Inclusion Program, University of Louisville
Rev. Dr. Trey Flowers, Senior Minister, Beargrass Christian Church
Clif Freeman, Managing Partner, Vaco
Katie Fussenegger, Vice President, Kentucky Derby Museum
Vanessa Garrett, System Vice President Compliance & Audit, Norton Healthcare
Karri Gerdemann, Executive Director, Pillar (formerly Apple Patch)
Kimberly Halbauer, Regional President – Kentucky, Fifth Third Bank
Vitale Buford Hardin, CEO, The Hardin Group
Melissa Hayden, Psy.D., Senior VP Behavioral Health, Home of the Innocents
Jennifer Hayes, Vice President of Operations, Boys & Girls Club of Kentuckiana
Lauren Hays, Chief Executive Officer, Day Spring
Caroline Roberts Heine, Chief Advancement Officer, Spalding University
Lauren Hitron, Director of the Jean Frazier Leadership Institute, Sacred Heart Schools
Ann Marie Holas-Dryps, System VP, Heart and Vascular, Norton Healthcare
Jenny Howard, Public Relations Supervisor, Bandy Carroll Hellige
Dodie Howlett, Vice President of Marketing & Creative Strategy, Kentucky Derby Festival, Inc.
Kristy Inmon, Business Development Director, Miranda Construction, LLC
Swannie Jett, DrPH, CEO, Park DuValle Community Health Center
Jenny Johnston, Vice President, PRG Commercial Property Advisors
Mina Kim, Vice President, Region Managing Director, Brown-Forman Corporation
Aleshea Martin, Director, Clinical Program Strategies, Humana Inc.
Ra'Shann Martin, Executive Director, St. John Center
Clint Mattingly, Project Manager, Calhoun Construction Services Inc.
Peter McCormick, President, McCormick Construction & Development, Inc.
Melanie McCoy, Member/Attorney, Frost Brown Todd LLC
Amy Meredith, Executive Director, Uniting Parnters (UP) for Women and Children
Jess Metzmeier, Ph.D., Government, Community & Strategic Partnership Officer, Bellarmine University
Chuck Millhollan, Ph.D., Chief Operating Officer, Farm Credit Mid-America | Rural 1st
Max Monahan, Director of Home Repair, New Directions Housing Corporation
Matthew Palmer-Ball, Partner, Wyatt, Tarrant & Combs, LLP
Lisa Powell, Chief Program Officer, Big Brothers Big Sisters of Kentuckiana
Patricia Purcell, M.D., GLMS President-Elect, Greater Louisville Medical Society
Javan Reed, Ph.D. (c), Vice President of Academic Affairs, Simmons College of Kentucky
Jodell Ford Renn, Director of Internal Audit, Jefferson County Public Schools
Eric Scott, Managing Director – Tax Services, EY
Karen Shadle, Director of Worship, Archdiocese of Louisville
Tom Sims, Senior Vice President, CBRE
Christopher Sizemore, Regional Vice President of Operations, Baptist Health
Ashley Smith, Director of Development, Waterfront Park
Monica Stewart, Director of Operations, AMPED Louisville
Emily Tarquin, Artistic Producer & Employee Advocate, Actors Theatre of Louisville
Kellie Stallard Watson, Chief Diversity, Equity & Inclusion Officer, Louisville MSD
Amy Weisenbarger, Marketing Director, Humana Inc.
Brandi Sweeney West, VP, Consumer Innovation, AdventHealth
Curt White, Director of Admissions, Saint Xavier High School
Kimberly Williams, Director of Sales, WHAS 11
Click here for more Kentucky business news.