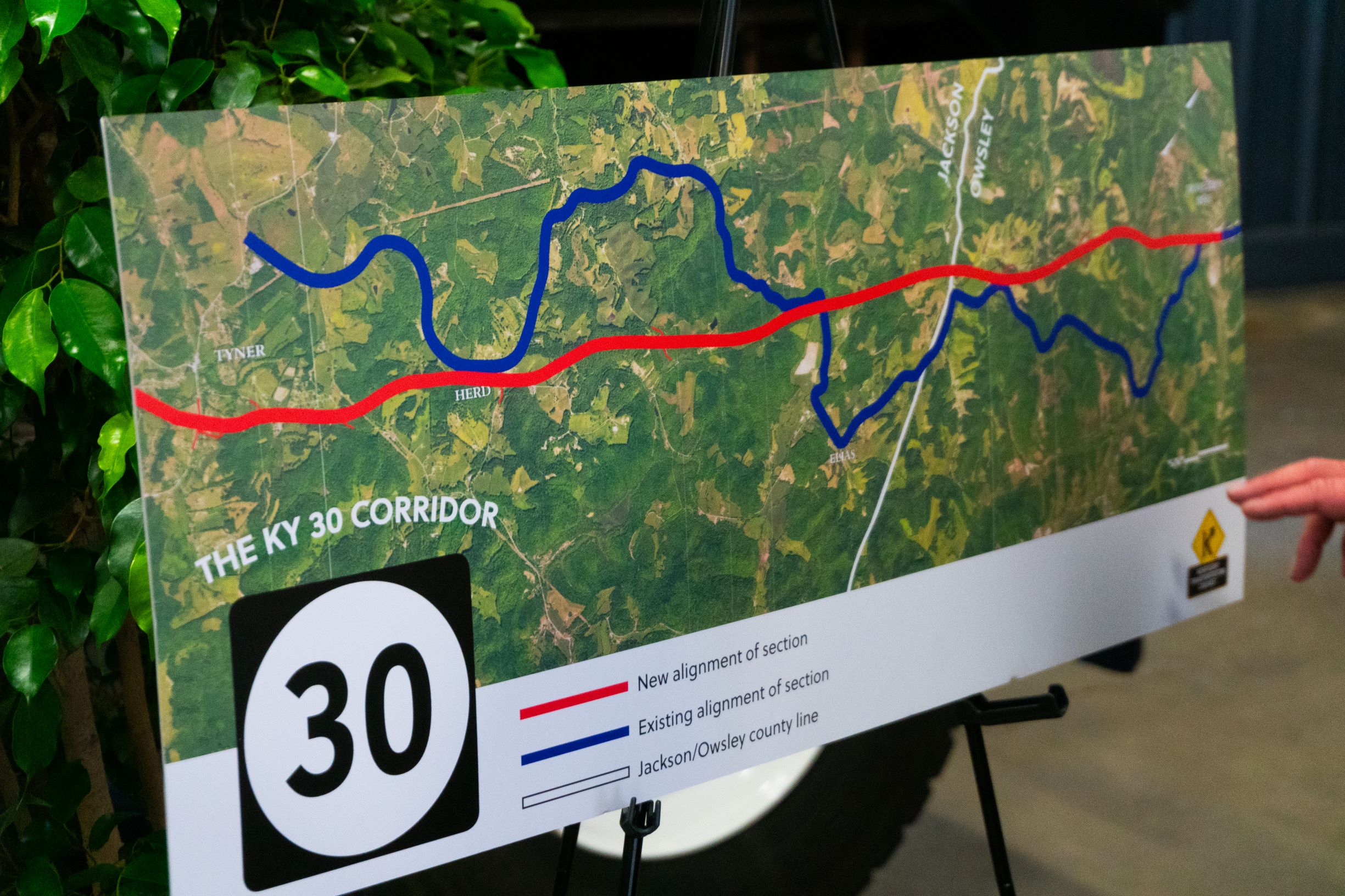 TYNER, Ky. — Gov. Andy Beshear joined state and local officials to celebrate the completion of a redefining 20-year transportation project that improves safety, connectivity and economic opportunities in southeastern Kentucky. The new, wider Kentucky Highway 30 stretches 33 miles from Booneville to London. Gov. Beshear unveiled honorary signage naming a portion of the final segment in Jackson County after former state representative Marie Rader.
The final piece of the new KY 30 began in 2019 to straighten the former 13.5-mile curvy corridor between Tyner in Jackson County to Travellers Rest in Owsley County. The shorter, straighter path shaved 3.5 miles off the route and cut drive times in half, from 21 minutes to 11 minutes, allowing drivers to cruise at the posted speed of 55 mph safely. KY 30 is the most direct route from Lee, Jackson and Owsley counties to Interstate Highway 75 and businesses in London. The old KY 30 remains in service for local traffic and is now named Kentucky Highway 3630. While the final segment has been open to traffic since the spring, in June, crews finished constructing three new roads connecting the old route to the new route in Owsley and Jackson counties. Final paving and striping along the final segment were also performed, marking the project complete.
The final section features 11-foot-wide lanes – one foot wider than before – and includes new eight-foot paved emergency shoulders to store disabled vehicles and plowed snow. The project includes several connector roads to both county and state roadways, making for multiple access points for local residents and businesses. The roadway was constructed with many safety features, such as 6-inch thermo striping, centerline rumbles, shoulder rumbles, new guardrail and roadway delineators.
Another portion of the regional connector, reconstruction of Kentucky Highway 11 from the KY 30 intersection in Owsley County to two miles south of Beattyville in Lee County, is underway, with completion scheduled for next year.
The $53 million final segment of the project was built by Bizzack Construction. KYTC used toll credits for the state match, making the final segment of the project 100% federally funded. The project's overall cost, including six previously completed segments, is $220 million.
A portion of Highway Honors Former State Representative Marie Rader spent two decades representing the 89th House District in the General Assembly. The Jackson County Fiscal Court passed a resolution in favor of naming a portion of the Jackson County section in her honor. Secretary Gray signed an official order designating a 6-mile stretch of KY 30 in Jackson County as the "Marie Rader Highway." Two signs were installed following the ceremony.
Click here for more Kentucky business news.