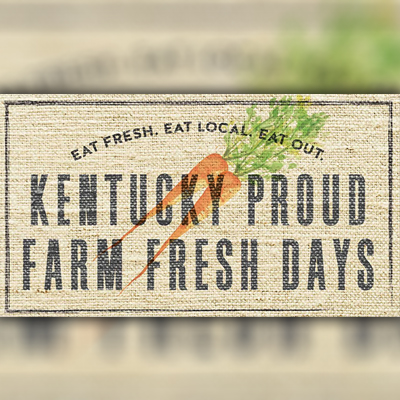 FRANKFORT, Ky. — Kentucky Proud Farm Fresh Days is a reminder to eat fresh, eat local, and eat out.
The 10-day culinary celebration, set for Aug. 13-22, will feature enticing dishes made with local farm ingredients at several of the best restaurants across the commonwealth.
"Farm Fresh Days was first introduced in 2021 as a way to help heighten awareness for Kentucky Proud restaurants trying to bounce back from the hardships of COVID-19," Kentucky Commissioner of Agriculture Dr. Ryan Quarles said. "The promotion was so well-received that we brought it back for 2022. These restaurants have a proven track record of using locally-grown and -raised ingredients from Kentucky farms. Highlighting those dishes is what sets Farm Fresh Days apart from other restaurant week promotions. Summer is the perfect time to get out and enjoy a delicious Kentucky Proud meal while supporting local businesses and our farm families."
The event promotes Kentucky Proud's Buy Local participants and encourages Kentuckians to support local restaurants, while at the same time raising awareness of the locally-sourced farm-fresh ingredients crafted into one-of-a-kind dishes offered at these small businesses.
For the 10-day event, chefs are getting creative by offering unique dishes that showcase the range of local seasonal ingredients. From pasture-raised meats to freshly harvested fruits and vegetables, appetizers to desserts, Farm Fresh Days celebrates ingredients from Kentucky's farms.
To learn more about Farm Fresh Days, the Buy Local program, and the full list of participating restaurants, visit kyproud.com/buylocal/farmfreshdays/.
Buy Local is a Kentucky Proud grant program for restaurants, caterers, schools, and other food service participants that source and support local farms. The program is offered by the Kentucky Department of Agriculture and funded by the Kentucky Agriculture Development Fund. Participants are rewarded for enhancing their menus with locally-sourced Kentucky Proud farm ingredients. To learn more, visit the Kentucky Department of Agriculture's website, https://www.kyproud.com/buylocal/.
Click here for more Kentucky business news.