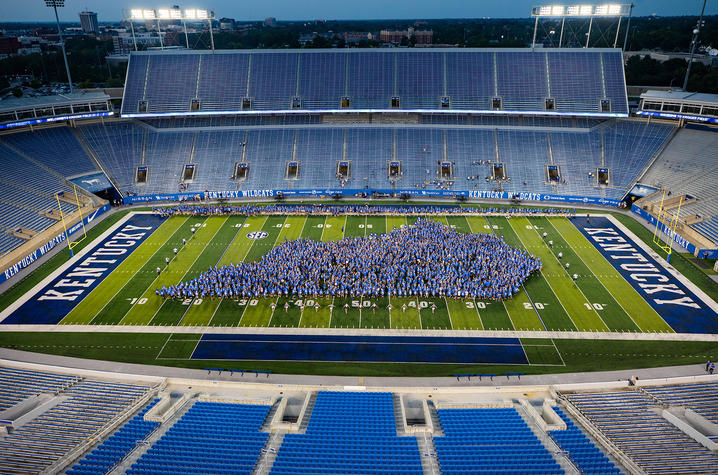 LEXINGTON, Ky. — The University of Kentucky welcomes its largest freshman class in history this fall. and while the UK community continues to exponentially grow, it is also bringing with it the creativity and passion of a new generation.
K Week begins on Aug. 17 to introduce these Wildcats to their new home.
The celebration was created in coordination with the Office for Student Success to help all students build a community from the very moment they step onto campus. ​In order to enhance the academic mission, the Office for Student Success collaborates with the university and beyond to create a supportive environment that provides opportunities for student learning, engagement and success.
New students are placed in K Teams, which allows them to get to know their neighbors and classmates and gives them people to attend K Week events with. Each team has a returning UK student to guide them through the experience and who is there to help answer any questions about the semester ahead. Students can learn which K Team they are on by downloading the UK Guides app.
Jackson Huse, a member of the K Board student leadership team, says there is no time like K Week to meet new people, connect with student organizations, win prizes and get a ton of free stuff.
"The tips and tricks I learned from my K Crew leader are ones that I constantly use as a student at UK," Huse said. "K Week is truly something I look forward to every year, and I am glad to be able to help with such a fantastic tradition."
Nancy Stephens oversees New Student and Family Programs in the Office of the First-Year Experience and has been head of K Week planning for 20 years. With each year comes a unique challenge.
"Every August UK student leaders, staff and faculty come together to welcome our newest Wildcats, and K Week could not happen without that collective effort," Stephens said. "I have the pleasure of working with a team of 250 student leaders all year long to prepare for K Week, and all of us are committed to providing an outstanding welcome week experience for our new students. Very few people get to see behind the scenes to realize that K Week isn't just a five-day experience but something we spend all year working on and preparing for."
This year's list of K Week events includes something for everyone. Below are some of the main events – but there are hundreds more to choose from on the full K Week schedule.
K Week Kick-Off: 8 p.m. Wednesday, Aug. 17, at South Lawn (behind The 90)
It's the first night of K Week, and we're so excited to get things started and meet you.  New students will gather to meet the others on their K Teams as well as their K Crew leader and learn more about what is going to be taking place during K Week. We'll have some fun and help you meet a ton of new people. You'll pick up your free K Week shirt, too. Attendance will be taken. K Team assignments will be posted in the UK Guides mobile app prior to K Week.
Campus Ruckus: 7-11 p.m. Thursday, Aug. 18, at Kroger Field
What better way to kick-off the new school year than getting involved on campus? Join in at the Student Activities Board annual back-to-school bash, Campus Ruckus, featuring nearly 200 current student organizations with a night full of free snacks, t-shirts and inflatables. Each organization will have a carnival game prepared to break the ice and share how to get involved.
Big Blue U: 7 p.m. Friday, Aug. 19, at Kroger Field
Join the Big Blue Nation for one of K Week's best traditions. You'll learn UK cheers and songs, hear from UK President Eli Capilouto and coaches, and get your class photo taken on the football field. Be sure to wear your new K Week shirt to show your Wildcat pride and comfortable shoes. K Teams will meet at 6 p.m. to head to Big Blue U together so that everyone will be in their seats for the program to start promptly at 7 p.m.
Cat-A-Palooza: 7-10 p.m. Saturday, Aug. 20, at the Gatton Student Center
Grab free food, listen to live music, play laser tag, recharge in our Chill Zone and meet all of the awesome people behind the amazing resources in the Gatton Student Center. Sponsored by the Counseling Center, DanceBlue, EMPOWER: Women's Leadership Program, Gatton Student Center Administrative Office, International Center, Martin Luther King Center, Off-Campus Student Services, Office of LGBTQ* Resources, Student Activities Board, Student Government Association, Student Organizations and Activities, Student Support Services, UK Credit Union, UK Dining, UK Police Department, Violence Intervention and Prevention Center, Visitor Center, Well-Being, and WRFL.
Click here for more Kentucky business news.