SOMERSET, Ky. — It's another one for the record books: Somerset-Pulaski County has once again posted a banner year in tourism revenue, generating $137.8 million in 2021 — $11 million higher than the previous record set in 2019.
According to figures released last week by the Kentucky Department of Tourism, visitors spent $7.7 billion — or $21 million daily — in the Bluegrass state in 2021. A $137.8 million economic impact in Somerset-Pulaski County means visitors saved residents more than $9.9 million in state and local taxes. The tourism industry also employed more than 2,000 people in Pulaski County alone.
Community and collaboration were the first two reasons that came to mind for the significant increase, said Michelle Allen, Lake Cumberland Tourism executive director.
"The next thing that came to mind was to call Leslie Ikerd with See Somerset Tourism to share the good news," Allen said. "The momentum we've experienced during the last three years is something to cherish and has proven to be successful with these numbers. Many folks discovered Lake Cumberland during the pandemic. Though outdoor recreation may be what brought them here, our festivals, unique events, downtown revitalization, and visitor experiences are what kept them here and coming back."
"I'm so excited to see what our future holds and can only hope these partnerships thrive so we may continue creating a better quality of life for our visitors and residents," Allen said.
See Somerset Tourism Director Leslie Ikerd said so much work has been put into building relationships and making sure everyone is moving in the same direction, and it's rewarding to see that work pay off in such a definitive way.
"Promoting our festivals, new small businesses and a revitalized downtown along with Lake Cumberland allows for a multitude of diverse marketing promotions and I think this shows we've been able to reach a much larger audience," Ikerd said. "It has been a dream come true to be able to execute Mayor (Alan) Keck's vision and work alongside Michelle Allen at Lake Cumberland Tourism and Chris Girdler at SPEDA. To have so many leaders in our community working together for the better good has not only proved beneficial for our residents, but our visitors as well. It is a privilege to be able to show that leisure, outdoor adventure, commerce, events, arts and agriculture are embodied here in Somerset and that is why we are considered the Spirit of Southern Kentucky."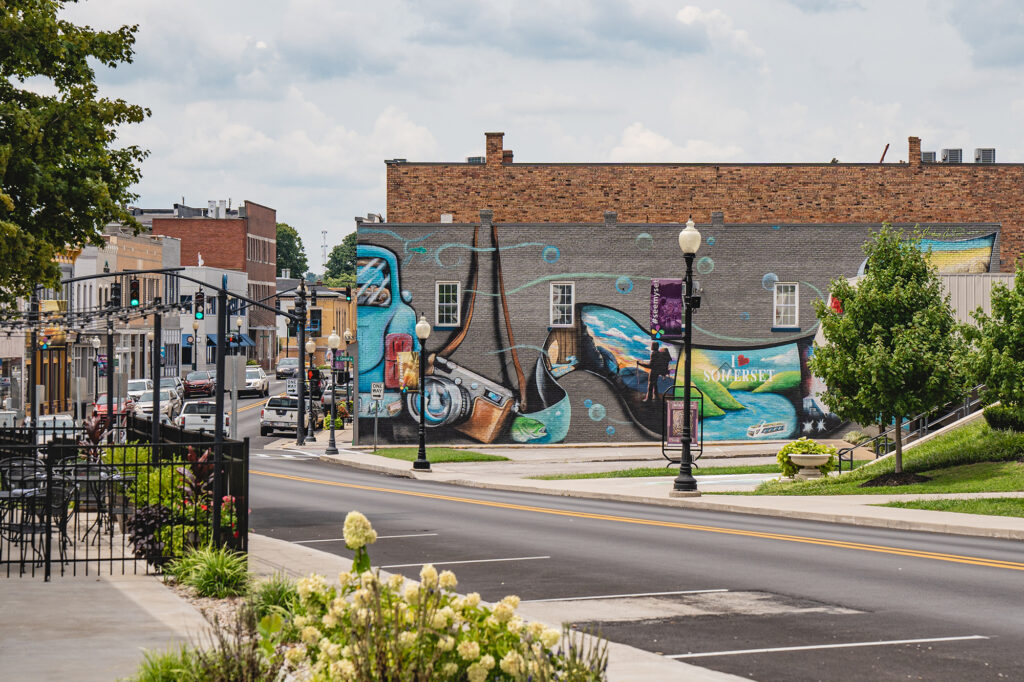 Somerset Mayor Alan Keck said he is proud of the community's efforts to lead with boldness and courage during the pandemic, which helped reopen businesses sooner than anyone thought possible and promoted Lake Cumberland as a safe place to travel.
"We worked diligently to advocate for our Main Street businesses, ensuring they would thrive and our visitors would continue to have an excellent experience in Somerset and on Lake Cumberland," Keck said. "We were one of the first communities in Kentucky to host outdoor public events safely, including the Master Musicians Festival, Somernites Cruise, and our own Moonlight Festival downtown. And we did so in tremendous fashion. Coupled with the outdoor adventure opportunities Lake Cumberland provides and the renaissance we are seeing in our downtown, it is clear we have shown people across the state and nation Somerset and Pulaski County are not only wonderful places to live and work, but also visit. Today's news is proof our efforts are working."
The importance of tourism to our regional economy can never be overstated, Pulaski County Judge Executive Steve Kelley said.
"I'm not surprised to learn of these new record-breaking numbers given the historic collaboration that has taken place within our community," Kelley said. "I commend our tourism and economic development team for the great work that has taken place. This type of success does not happen by accident."
SPEDA President and CEO Chris Girdler pointed to the community's focus on local and regional collaboration and quality of life initiatives as keys to its success in growing Somerset-Pulaski County's No. 1 industry.
Investment in projects like Horse Soldier Bourbon, Dream Big Burnside, The Virginia and local events and festivals, in addition to promoting all of the area's natural wonders and outdoor adventure opportunities — Buck Creek Blue Water trail, hunting, fishing, biking, boating and watersports — have helped build a thriving tourism economy, Girdler said.
Click here for more Kentucky business news.