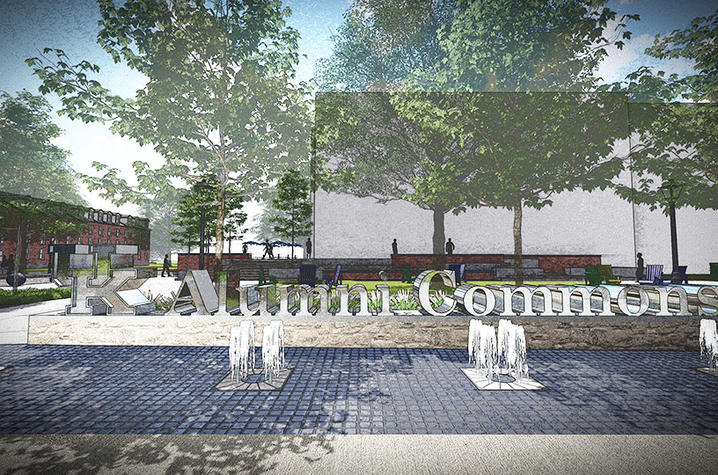 LEXINGTON, Ky. — A plan to name the Rose Street Redevelopment Park Project as Alumni Commons was approved by the University of Kentucky Board of Trustees.
The $9 million development project located between Columbia Avenue and Huguelet Drive is expected to be completed by July 2023 and will include outdoor classrooms, terraced lawn seating, a water fountain feature, patio and garden areas, and other installations.
"We are excited to announce the naming of this project that we believe will become a great focal point for faculty, staff and students on our campus as well as for alumni who return to their alma mater for events and celebrations," said Tom Harris, UK vice president for university relations and interim vice president for philanthropy and alumni engagement. "Rose Street funnels pedestrian traffic to and from some of UK's most iconic structures and the transformation of this space will elevate and enhance our campus."
At the June board meeting, the trustees accepted a $3 million pledge from the UK Alumni Association (UKAA) to establish a capital project fund to be named the "UKAA Rose Street Plaza Beautification Fund." The fund will support the design, demolition, construction, renovation, expansion and other costs related to the Rose Street Plaza corridor project on the university's campus.
"As an alumnus, it has been an honor to be part of this process and envision the potential of this space," said Antoine Huffman, president of the UK Alumni Association. "I'm looking forward to Alumni Commons becoming a destination where students and alumni from all over and from different backgrounds can connect and build new traditions that will emerge from the transformation of this space."
The Association's gift agreement provided naming rights to the new park and after extensive vetting with alumni, students and employees, the UKAA Board chose Alumni Commons as their preferred name.
"The UK Alumni Association is proud to be a partner in this transformational project for UK," said Jill Smith, associate vice president for alumni engagement and executive director of the UK Alumni Association. "Alumni Commons will be an exciting and welcoming space for all Wildcats, located right in the heart of our campus. The UK Alumni Association looks forward to collaborating with our campus community to engage students and alumni through this beautiful space."
The UKAA was established in 1889 and is a self-governed, nonprofit organization that serves UK and its many alumni, students, parents and friends. The association works to enhance the lives of the university's students and alumni by providing opportunities for increased engagement by current and future alumni in service to each other, to the university and to the communities the university serves throughout the Commonwealth and beyond.
Click here for more Kentucky business news.