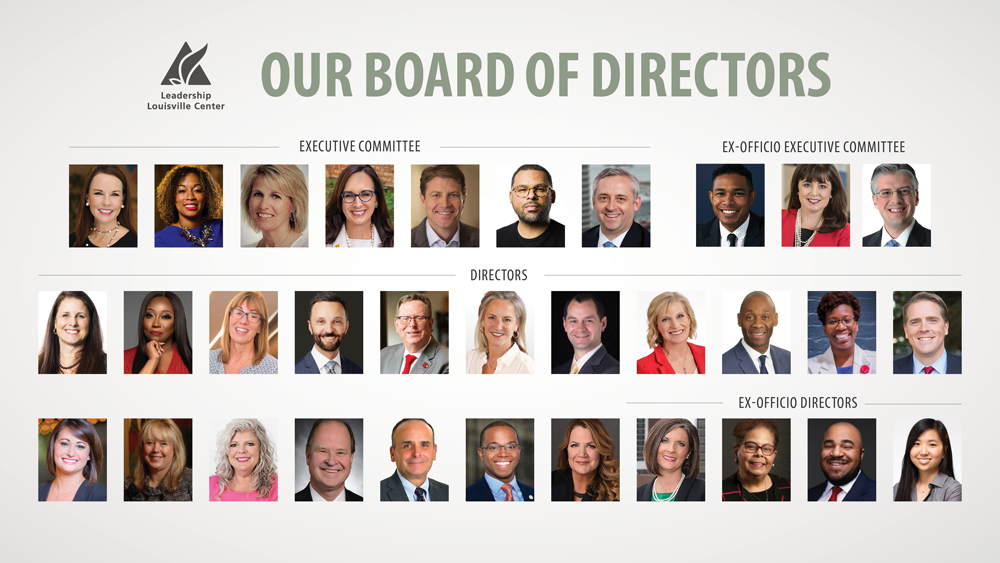 LOUISVILLE, Ky. — The Leadership Louisville Center is sharing the news of its fiscal year 2023 Board of Directors, including Jennifer Hancock, President and CEO of Volunteers of America Mid-States, serving as Board Chair, Executive Committee members, and nine new board members. The board is responsible for guiding the Center in achieving its strategic direction and fulfilling its purpose to inspire and equip leaders to be better and do better. The FY 2019-2025 strategic plan is focused on three strategic imperatives:
Equip more people to lead with confidence and courage
Foster connections that strengthen the social fabric of the community
Sustain the Center as a high-performance enterprise
View the Center's strategic vision at this link. The board is leading major initiatives set forth in the plan, including the launch of a new partner brand, LeadingBetter™, and the new Alice Houston Women's Leadership Program. View a photo listing of the Center's Board of Directors at https://www.leadershiplouisville.org/who-we-are/board-of-directors/
The fiscal year 2023 Board Chair is: Jennifer Hancock, President and CEO, Volunteers of America Mid-States
Other elected officers serving on the executive committee are:
Victoria Russell, Beam Suntory – Chair-elect
Julie Grunduski, GE Appliances, a Haier Company – Vice Chair
Kimberly Halbauer, Fifth Third Bank
Sean O'Leary, GoNow LLC – Vice Chair
Stacey Wade, Nimbus – Vice Chair
Greg Pope, EY – Secretary/Treasurer
Condrad Daniels, HJI Supply Chain Solutions LLC – Immediate Past Chair
Geoffrey White, Frost Brown Todd LLC – Counsel
Seven leaders joined the Board as Directors for a three-year term and two new Ex-officio Directors joined the board:
Greg Cornett, PPL Corporation, LG&E and KU Energy
Annie Edwards, Appriss
Mike Fine, Wyatt, Tarrant and Combs
Keturah Jenkins, Humana
Carly Launius, Brown-Forman Corporation
Tammy McClanahan, Norton Healthcare
Terrance Sullivan, Kentucky Commission on Human Rights
New ex-officio directors are Jimmy Ray as President of Louisville Urban League Young Professionals; and Woo Smith, President Young Professionals Association of Louisville.
 Members returning to the Board of Directors include:
Christy Ames, Republic Bank
Tawana Bain, TBAIN & CO.
Toni Clem
Dan Durbin, University of Louisville
Elaine Gravatte, DDW, The Color House – a Givaudan Company
DeVone Holt, Goodwill Industries of Kentucky, Inc.
Scott Jennings, RunSwitch Public Relations
Gretchen Leiterman, Baptist Health Louisville
Larry Myers, First Savings Bank
Brad Smith, MCM CPAs & Advisors
Megan Verret, Ph.D., Yum! Brands, Inc.
Returning as ex-officio directors are:
Sarah Davasher-Wisdom as President and CEO of Greater Louisville Inc. and
Diane Porter representing Jefferson County Public Schools (JCPS).
Click here for more Kentucky business news.