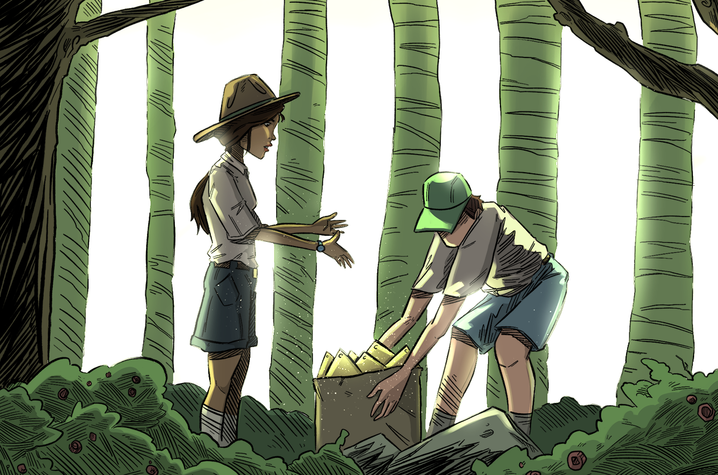 LEXINGTON, Ky. — The University of Kentucky Art Museum will host the launch of "Nitelite," a new comic book written by UK Department of Theatre and Dance alumnus and former museum gallery attendant Treyton Blackburn, 2 p.m. Saturday, Nov. 12. The launch event is free and open to the public and will include a conversation with the author led by Art Museum Director Stuart Horodner.
"'Nitelite,' in many ways, is my COVID creation," Blackburn said. "A lot of the narrative and thematic elements of the story are drawn from my own life experiences during the quarantine. I was working as a ranger at the Breaks Interstate Park and caring for my late grandmother simultaneously. You'll find in the first issue that these ideas directly informed Herbie's given circumstances. On a deeper level, as a performing artist who watched every theatre venue in the world shut down as soon as I got my degree, the aimlessness that infects all the characters in 'Nitelite' was something that had infected me at the time as well."
The launch is being held in conjunction with the museum's presentation of "The Life and Death of Charles Williams" exhibition. "Charles Williams is an Appalachian artist I very much admire. Though on different levels of scale, we have artistically attempted to express our identities through sequential art and especially through heroic figures. I think everyone desires to see themselves and their communities in heroic ways because we all see ourselves as the heroes of our own stories. I think it's beautiful that we're having this explosion of diverse identities in superheroic media. I am glad to be a part of that, representing Appalachia. I hope that publishers and producers continue the work by including more underrepresented people-groups and ideas in stories and art of all genres and mediums."
Blackburn is a comic writer and theatre artist originally from Pike County, Kentucky. As a creator, Blackburn is devoted to telling Appalachian stories to his community and the world beyond the mountains. His first comic, "Silver" was published by Shades of Vengeance Comics in their 2022 New Year, New Stories anthology. Alongside his writing on "Nitelite," Blackburn often directs with Artists Collaborative Theatre in Pike County and currently resides in Lexington with his wife Tara and their cat Luna.
The mission of the UK Art Museum, part of the UK College of Fine Arts, is to promote the understanding and appreciation of art to enhance the quality of life for the people of Kentucky through collecting, exhibiting, preserving and interpreting outstanding works of visual art from all cultures. Located in the Singletary Center for the Arts on the UK campus, the museum attracts approximately 25,000 diverse visitors per year.
Click here for more Kentucky business news.