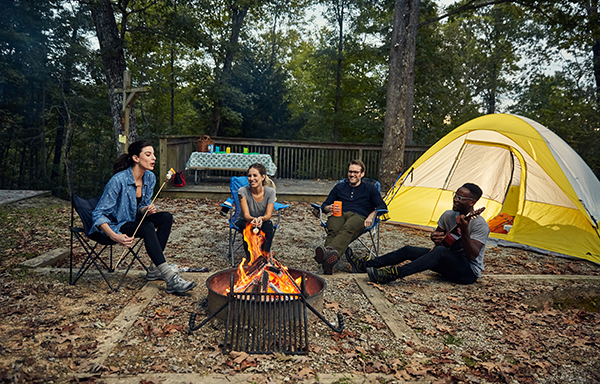 FRANKFORT, Ky. — Members of the House voted 94-0 to approve HJR 76, legislation sponsored by Rep. Jason Petrie, which would authorize the Office of State Budget Director to release $40 million in capital construction funds to Kentucky State  Parks for campground upgrades and $6 million for broadband expansion for high-speed internet and wireless capabilities across the entire park system.
HB 1 of the 2022 Regular Session set aside up to $150 million to be utilized by the Department of Parks. The funding was setup for them to make analysis, a report, and allow the General Assembly to review their findings.
"I appreciate what the department has given us back as far as their report in terms of the vision. I am hopeful that over the interim, we can continue to develop an overall visionary program of the future of the park system in the years to come," Petrie said. "Meanwhile, the $40 million for campgrounds and the $6 million for broadband are two independent modules that can stand alone regardless of the overall vision of the system as a whole."
The proposed projects for campground upgrades are the following, upgrades to the electrical power, renovations to bathhouses, additions to sewer connections, additions to camper cabins, and site leveling. The proposed enhancements to broadband are the following, improvements to high-speed internet and wi-fi capabilities at 22 campgrounds and two lodges.
According to recent presentation to the House Appropriations and Revenue Committee from the Department of Parks, the Kentucky state parks consist of 30 campgrounds. In those 30 campgrounds, they have 2,049 improved sites and 536 primitive (tent only) sites for a total of 2,585 campsites. Improved sites have electric and water hook-ups. Of the 2,049 improved sites, 317 sites or 15% are considered full-service due to having individual sewer hook-ups. 1,335 sites of the 2,049 sites have 50-amp electric, which is necessary for larger recreational vehicle (RV) units.
Presenters also shared that camping is the most profitable revenue generators in the Kentucky state parks system.
Additionally, in the recent presentation to the committee, they discussed the importance of upgrades to the broadband system. The Kentucky Department of Parks has been working with internet service providers for several years to provide broadband to state parks. Broadband is defined as high-speed internet. There is no set standard for high-speed internet; however, 100 Megabits per second (Mbps) is the minimum goal at the state parks. Now, all state resort parks except for Blue Licks Battlefield State Resort Park and Buckhorn Lake State Resort Park have access high-speed internet service.
"Having access to wi-fi allows park guests to connect to their phones, tablets, and laptops wirelessly. This is important for checking information and essential communication with family, friends, or business," Petrie said.
HJR 76 moves to the Senate for consideration. For more information about this legislation and other bills please visit legislature.ky.gov or click here.