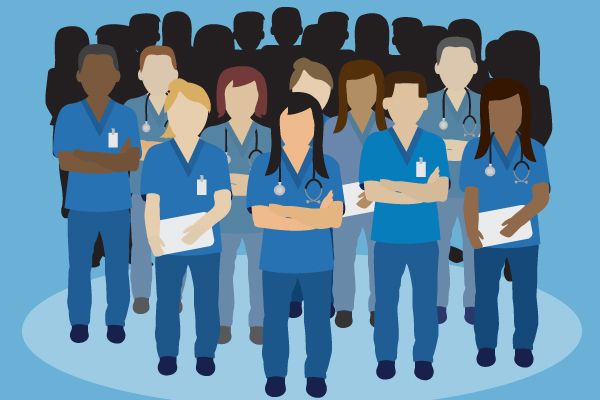 LOUISVILLE, Ky. — Leveraging technology to increase staff productivity, support students and nursing education programs, and improve public safety are at the heart of a push by the Kentucky Board of Nursing (KBN) to adopt several high-tech digital platforms this year that will transform its work and role in public protection.
Earlier this month the board completed its transition to a new, comprehensive online portal to streamline licensing and discipline functions for the more than 90,000 professionals licensed, credentialed or certified by KBN. The Optimal Regulatory Board System, or ORBS, is a proprietary software developed by the National Council of State Boards of Nursing (NCSBN) and offered free to state regulatory boards. Utilizing this licensing software also makes it easier for Kentucky and the other 38 states and jurisdictions signed onto the Nurse Licensure Compact to track license status and discipline, and monitor nurses working within the multistate jurisdictions.
Staff from every administrative branch have worked on the buildout over the last year to create the detailed customization required to tailor the ORBS platform for KBN needs. In addition to digitizing paper processes, the ORBS system reduces manual data input, offers features like automatic alerts and notifications, and ensures recovery in case of disaster.
"With rapidly changing technology, and a move toward remote work and education, ORBS is a game-changer for us and our licensees," said Kelly Jenkins, MSN, RN, NE-BC, KBN executive director. "Eliminating paper documentation and storage, having more flexibility to prioritize and automate workflow, and providing greater efficiencies to investigate and resolve complaints that come before the Board allows us to better fulfill our main mission of public protection."
Concurrently, KBN is also transitioning to the EDvera regulatory management system, which will automate and simplify oversight of KBN-approved pre-licensure and advanced practice (APRN) nursing education programs, dialysis technician and sexual assault nurse examiner (SANE) training program providers, and continuing education program providers.  Oversight of these institutions in the licensing and permitting process involves a substantial amount of ongoing documentation, reporting and time spent by both program faculty and KBN staff.
Finally, because continuing education is so critical to licensure, KBN now offers an official online tracking system available free to licensees, which completes the circle to making license management fully digital. CE Broker allows users to track and manage continuing education contact hours on an ongoing basis and includes a search function that lists courses needed for the applicant to fulfill license renewal.
"Implementing these electronic delivery systems brings KBN to the forefront in using technology to provide the most efficient service to Kentuckians and the professionals we license," Jenkins said. "Meeting the challenges of a dynamic and ever-changing healthcare environment, and pursuing excellence and quality in the delivery of services, are also integrated in KBN's core values and vision."
KBN is charged with protecting the public through the development and enforcement of state laws governing the safe practice of nurses, dialysis technicians, and licensed certified professional midwives. These include registered nurses, licensed practical nurses, and APRNs such as certified registered nurse anesthetists, clinical nurse specialists and nurse practitioners.