CLERMONT, Ky. — Bernheim Forest is excited to announce the return of RESTORE: Healthy Planet, Healthy You, an Earth Day Festival that celebrates the fact that the health of the planet and the health of humans go hand in hand.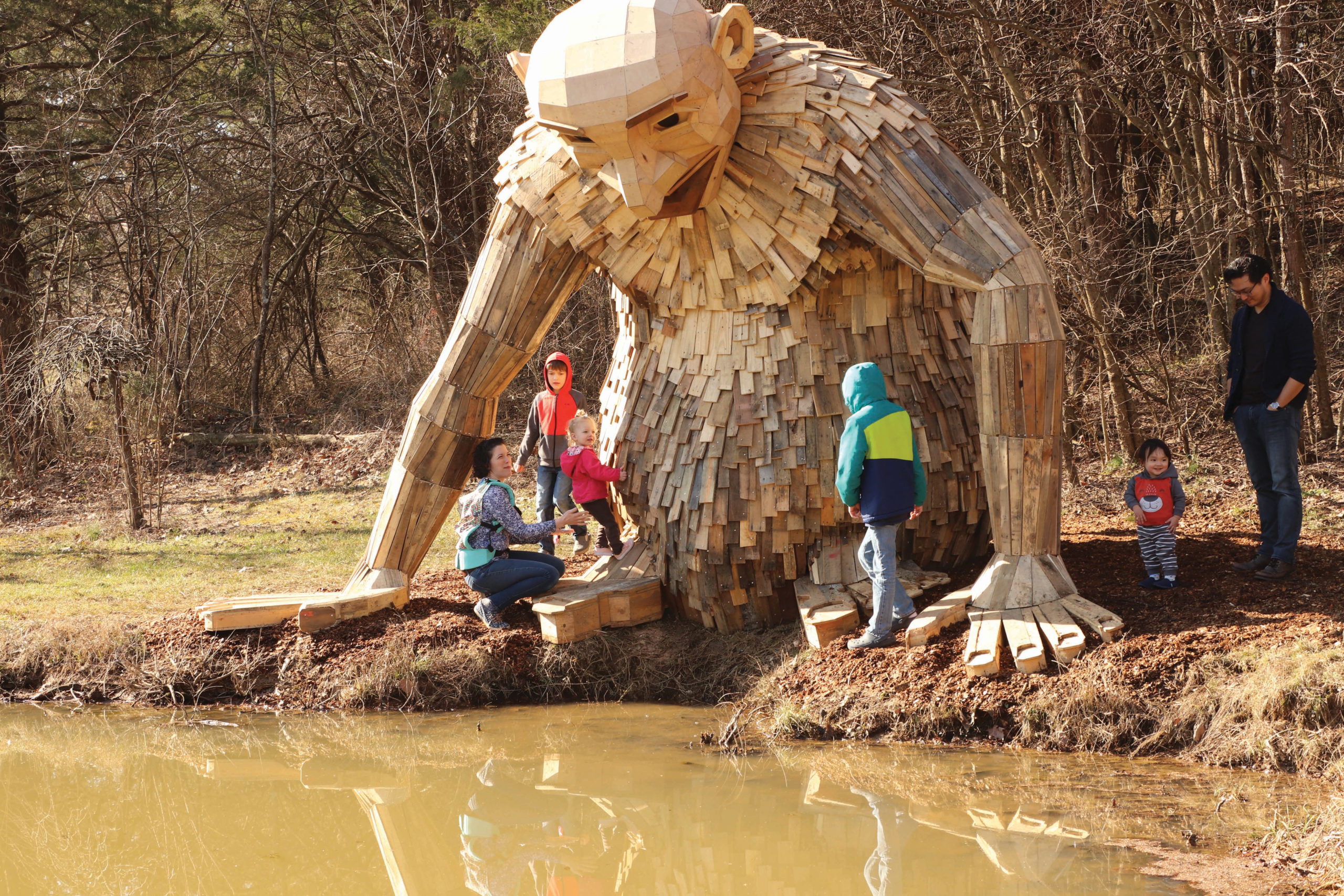 The festivities take place on Earth Day, April 22, 2023, from 10 a.m. to 4 p.m. to celebrate nature's healing powers and learn how conservation and protection of the Earth are at the center of everything we do at Bernheim. During RESTORE, visitors will not only witness the breathtaking beauty of spring at Bernheim. Still, they will also enjoy drop-in self-care activities and a variety of educational experiences that will inspire them to implement more sustainable practices in their daily lives.
So, take a deep breath of fresh air from a healthy forest, find peace in the sweeping views of natural beauty, and join in activities that move your body and spirit!
RESTORE will take place along a 1-mile walking path that meanders through some of Bernheim's most popular attractions, including the Edible Garden, Earth Measure, the newly-renovated Sensory Garden, and Playcosystem.  Along the way, you'll find activities like those listed below and much more. Most activities are drop-in, so pop by anytime along your adventure. The path will begin at the Visitor Center – walk as little or as much of it as you'd like!
Bernheim staff, along with partners from throughout the community, will be offering a wide variety of programs and activities including.
Adopt a Tree: Bernheim will offer native tree saplings to plant in your yard, where you can tend to them and watch them grow! The suggested donation is $1 per tree.
Milkweed planting in the Big Prairie is a primary food source for the beloved monarch butterfly, whose population numbers are declining. Join the Bernheim Natural Areas team to plant milkweed plugs to help maintain a healthy habitat for these beautiful creatures.
Earth Day Nature Concerts with Mr. Dan at 2 p.m. Mr. Dan will be performing nature songs for the whole family. Join in, sing along, and dance to your heart's content.
All ages yoga with Karma Yoga will be offered throughout the day. Drop in at any point for some guided poses with instructor Elizabeth McNeil.
Buddhist monks from Drepung Gomang Center for Engaging Compassion will create a sand mandala in the center of our Edible Garden. Visitors will have the chance to decorate and take home reusable bags inspired by the monks' creations.
Wisdom of Trees Walk with the Passionist Earth and Spirit Center will take place at 11 a.m., 1 p.m., and 3 p.m. and will encourage participants to look up and learn from the strong and stately trees throughout the landscape. They will also have drop-in mindfulness mentors on site for anyone who wants to learn more about mindfulness to support mental health.
Visitors are encouraged to bring cans of food for a good drive benefiting Change Today, Change Tomorrow. Cans will be accepted throughout the day and the following week.
Learn how to cook the best steak during Cooking demos with Foxhollow Farm's Maggie Keith, a 4th generation land steward and co-host of KET's "The Foodie and the Farmer" at 11:30 a.m. and 12:30 p.m.
The human body is a great source of energy! Move your legs and delight your taste buds with Bike-powered smoothies from Blossom Bar by Rainbow Blossom. Visitors use their pedaling power to run a blender making a delicious smoothie.
Learn how to establish a native garden at home with Backyard Botanicals, who will be on-site all day at a drop-in Q&A booth.
Bernheim will have two Artists in Residence on site throughout RESTORE! Join them for a Meet and Greet with Bernheim Artist in Residence, Sam Hensley and Environmental Artist in Residence, Colombian artist La Vispera, who create stained-glass windows using single-use plastics.
Bernheim is thrilled that we have purchased a GRIT All-Terrain Wheelchair that will allow more people to connect with nature, especially those with limited mobility. As we begin to loan it to our visitors, stop by Playcosystem and see how it works!
Thanks to a grant from Westrock, Bernheim will celebrate a new and improved recycling program. Westrock will be on site for a ribbon cutting to unveil new educational signage and improved recycle bins at the Visitor Center at noon.
Other activities include
Pollinator Obstacle Course
Birding walks
Spring house restoration site exploration
Beekeeping demos
Wildlife explorations: learn about a wide variety of animals that call Bernheim home, including  aquatic critters, herons, beavers, native bees, and more
Discovery Stations with Bernheim's Volunteer Naturalists
Meditative Stone Balancing with Local Artist Jenny Bell
Throughout the festival, visitors can also stop and talk with community partners to learn about their activities that support healthy living and a healthy planet. Community partners include
Along the way, you'll also find activities and information from community partners whose work focuses on a healthy planet and you!
Louisville Sustainability Council
Creasey Mahan Nature Preserve
Bullitt County Extension Office
Food Literacy Project
FEAT of Louisville
Dreams with Wings
Evolve KY
Louisville Compost Co-op
Original Molexit
RESTORE: Healthy Planet, Healthy You costs $10 per person for Bernheim members and $15 per person for non-members. Children 13 and under are free. Visitors may purchase tickets in advance at bernheim.org or day of at Bernheim's kiosk.
Bernheim is grateful for the support of the event sponsors, Westrock, Mortenson Family Dental, Kentucky Eye Care, and Solar Energy Solutions.