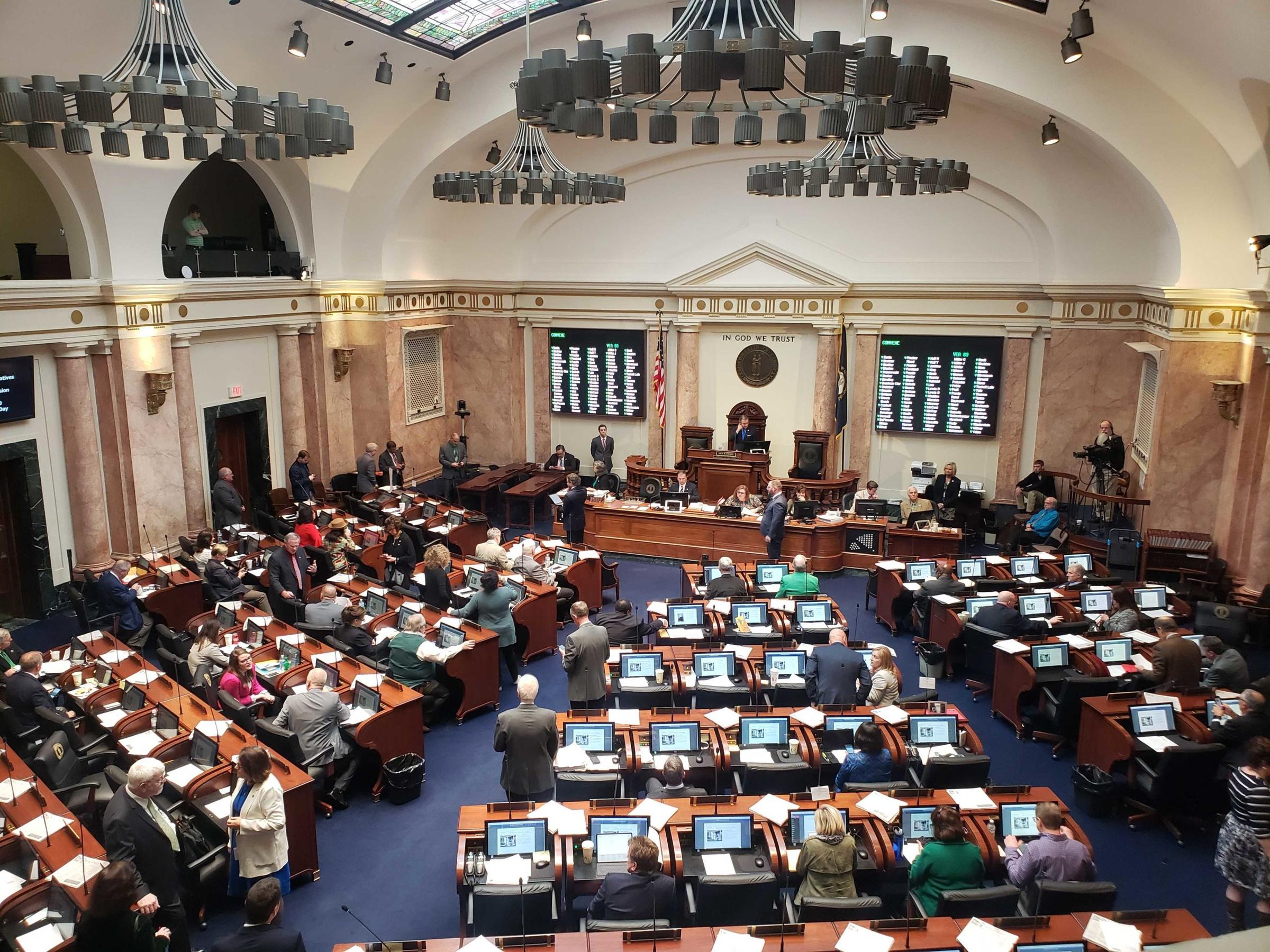 FRANKFORT, Ky. —  Gov. Andy Beshear today signed nine pieces of legislation that increase public safety by supporting law enforcement and better protecting victims of violent crimes and children while at school.
"We are building that better Kentucky we all want when we work to protect our law enforcement officers, crime victims and our children in school," Gov. Beshear said. "I am proud to sign bills that will help make our communities safer."
House Bill 401
The Governor signed House Bill 401, sponsored by Rep. David Hale of Wellington, which provides the Kentucky State Police (KSP) the organizational structure to align the resources and personnel needed to store, manage and retain the audio and video footage captured by their new body camera recording system.
"We appreciate the Kentucky State Police for their tireless efforts as the state's law enforcement agency, as well as their commitment to transparency and accountability," Hale said. "HB 401 provides the statutory authority to provide oversight over the use of body cameras as well as establishing a record-keeping process. The body camera initiative, funded by the legislature in the current budget, is the next step in ensuring the safety of our officers and the public."
House Bill 207
Sponsored by Rep. Kevin Bratcher of Louisville, House Bill 207 allows law enforcement agencies the ability to create their own wellness programs to support the mental health and wellbeing of both sworn and civilian personnel. All sessions and information discussed within wellness programs remain confidential under counselor-client privilege.
House Bill 115
The governor signed into law House Bill 115, sponsored by Rep. Bill Wesley of Ravenna, which makes an assault against a police dog or an electronic storage device detection K-9 a Class D felony. Electronic detection dogs assist with public safety by locating hidden electronic storage devices that may contain harmful materials, such as child sexual abuse material or evidence of other criminal activity. KSP leads the way with two electronic storage device detection dogs out of only 85 in the United States.
House Bill 373
Sponsored by Rep. John Blanton of Salyersville, House Bill 373 makes changes to peace officer professional standards (POPS). This bill expands on legislation from last year that made any felony or misdemeanor sex crime that has been expunged a disqualifying factor for certification as a police officer or court security officer. The Kentucky Law Enforcement Council is also provided the authority to subpoena, or to request a court to subpoena, records necessary to investigate the conditions of an officer's separation. Such information obtained during an active investigation remains confidential.
HB 373 requires that part-time telecommunicators and alcohol beverage control investigators appointed before April 2019 be certified by the Kentucky Law Enforcement Council. The bill strengthens recruitment efforts by permitting a public safety officer who has been on inactive status for less than one year to return to certification without additional training requirements.
House Bill 64
Sponsored by Rep. Wade Williams of Earlington, House Bill 64 allows law enforcement officers to be out of employment a full year before having to redo their POPS certification and attend the academy. The current time limit is 100 days. This bill makes it easier for retired public safety officers to reenter the workforce and helps local school districts and local police departments hire qualified peace officers.
Senate Bill 79
Gov. Beshear signed Senate Bill 79, sponsored by Sen. Julie Raque Adams of Louisville, which strengthens protections for survivors of domestic violence. This legislation will create the Safe at Home Program to allow victims of domestic violence, stalking, sexual assault, rape and human trafficking to conceal their addresses from public documents. This bill also removes the requirement that survivors must have an emergency protective order to hide their addresses on public records.
Senate Bill 282
Sponsored by Sen. Denise Harper Angel of Louisville, Senate Bill 282 benefits victims of violent crime in Kentucky by increasing crime victim compensation awards for lost wages, loss of financial support, medical and mental health counseling expenses and funeral/burial expenses. It also benefits victims of hit-and-run accidents, who now will be eligible for awards. Additionally, funeral homes, medical providers, pharmacies, mental health providers and any other providers of medically necessary treatment arising from a crime will be more fully reimbursed for outstanding bills or invoices owed to them by victims of crime.
"I am thrilled to see Senate Bill 282 signed into law by the governor, marking a significant victory for victims of crime across our state," Harper Angel said. "The award caps from the Crime Victims Compensation Fund have remained stagnant for far too long, creating undue financial hardship for those who have already suffered immeasurable loss. By increasing the caps for lost wages, funeral and burial expenses and medical and mental health counseling expenses, this bill provides much-needed relief and support to victims. This law is a vital step forward in ensuring that victims of crime receive the financial support they need to recover and move forward."
Senate Bill 268
Sponsored by Sen. David Yates of Louisville, Senate Bill 268 allows restitution in the form of child support to be ordered for a minor child if a defendant is convicted of driving under the influence that results in the death or permanent disability of the child's parent or guardian.
"As the sponsor of Senate Bill 268, I am thrilled to see Melanie's Law signed into action," Yates said. "This law will provide much-needed support for families who have lost a parent due to the reckless actions of a drunk driver. It ensures that those responsible for the tragedy will not only face criminal charges but also provide financial support for the children left behind. By allowing for restitution by child support, this law brings justice and relief to the families impacted by DUI accidents."
House Bill 331
The governor signed House Bill 331, sponsored by Rep. Ruth Ann Palumbo of Lexington, which requires all middle and high schools in Kentucky to have at least one automated external defibrillator (AED) and at least three staff members and all athletic coaches to be trained on the AED. The bill also ensures all coaches maintain CPR certification.
"Sudden cardiac arrest is an unexpected loss of heart function and a life-threatening emergency that must be treated within minutes," Palumbo said. "With access to an automated external defibrillator, and trained coaches and school personnel, the lives of young students in Kentucky will be saved under this law."