Happy Chandler famously said he'd never met a Kentuckian who wasn't going home. Of course, some Kentuckians still live in the commonwealth, where they can appreciate the generous bounty of travel opportunities within its borders.
Kentucky offers something to interest everyone: horses, bourbon, arts, history, nature, and miles and miles of hiking trails and waterways. In fact, Kentucky boasts more miles of running water than any state in the union besides Alaska and more coastline than Florida.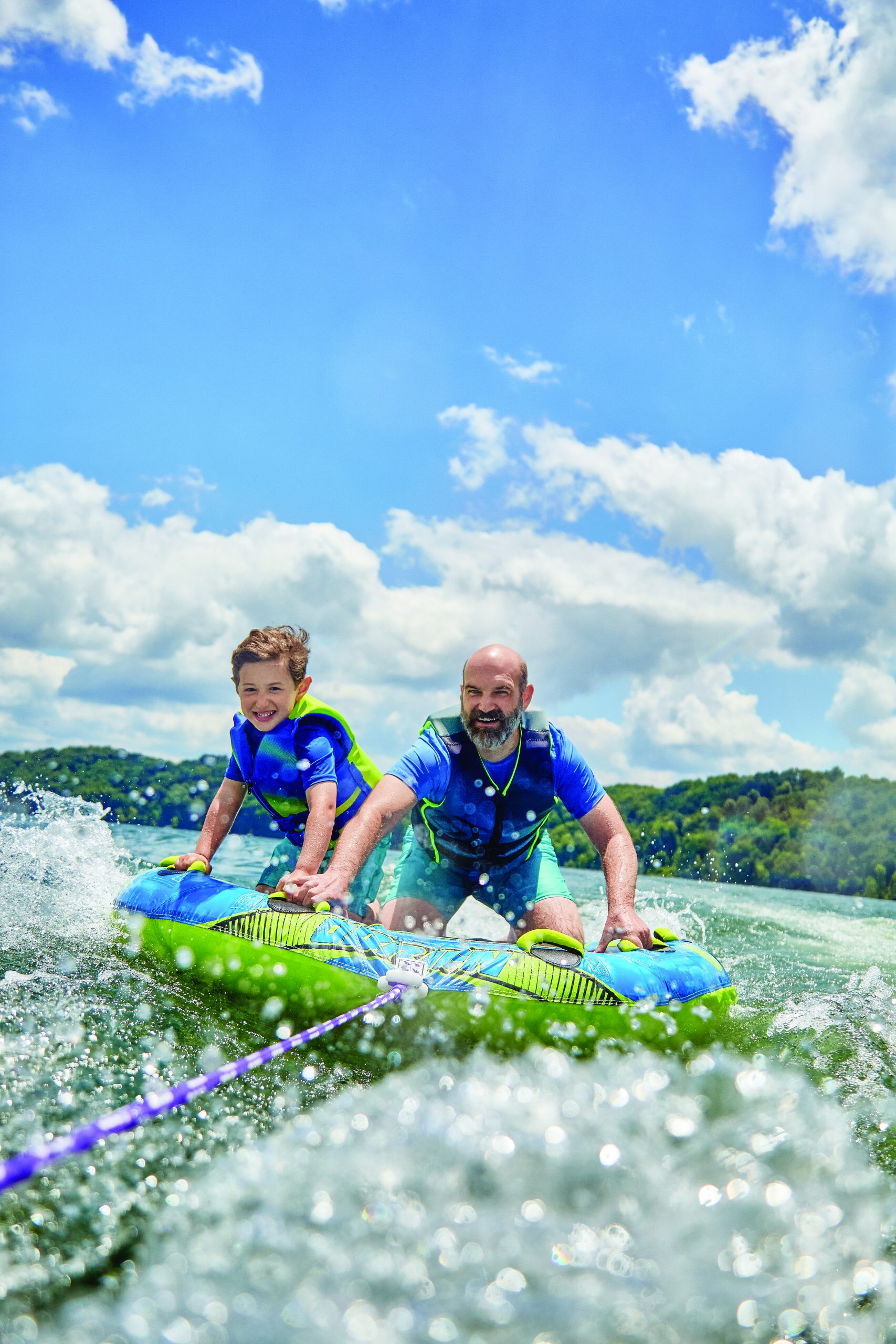 Kentucky's waterways
Explore the biodiversity of Kentucky's first national water trail on the Green River Blueway. There are 18 trips ranging from two to 29 miles in these 36 miles of navigable waterway on and near the Mammoth Cave National Park. You'll find more than 80 species of fish, more than 50 species of fresh water mussels, and about 350 macroinvertebrates in the river.
Or travel farther west to Land Between the Lakes, where you can enjoy sport-fishing, boating, skiing and wild eagle watching at Lake Barkley or Kentucky Lake.
"At Kentucky Dam Village, we offer access to the largest marina on Kentucky Lake and a plethora of exciting outdoor activities such as fishing, boating, mountain biking and golfing. Our breathtaking scenery and rejuvenating facilities provide guests with the best of both worlds—adventurous outings and relaxation," said Kentucky Dam Village Park Manager Scott Retzlaff.
In southeastern Kentucky, Lake Cumberland stakes its claim as the "Houseboat Capital of the World" with an incredible fleet of vacation rentals, full-time houseboat residents and vacation homes. And, of course, there's swimming, boating, water-skiing, fishing and other water sports. It's also home to a state resort park.
Kentucky also boasts the Western Hemisphere's only moonbow, one of only two naturally occurring moonbows in the world. On the full moon and the nights near a full moon, you can see a rainbow in the spray of Cumberland Falls at Cumberland Falls State Park.
Spectacular caves
Prefer not to get wet? You can still enjoy the great outdoors at Kentucky state parks, national parks and forests, and other recreational areas. Mammoth Cave, the world's longest known cave system, offers a number of tours, including one that accommodates wheelchairs. In April, five tours feature different aspects of the cave, from history to natural formations and geology. Mammoth Cave National Park recommends making reservations for your tour well in advance, as they can sell out.
In Bowling Green, Lost River Cave hides an underground river. You can tour in a boat and learn the cave's history as an ancient native hunting ground, a Civil War campground for both the Union and Confederacy, a hideout for the infamous outlaw Jesse James, and a swinging underground 1930s nightclub. Above ground, you'll find walking trails, including geocaching.
Eastern Kentucky is home to another cave system, Carter Caves, and Carter Caves State Resort Park. In fact, Carter County claims the highest concentration of caves in the state. Cascade Cave, named for the 30-foot-high underground waterfall inside, offers views of natural formations and large chambers, including a "cathedral" chamber where a previous owner held weekly dances. X-Cave refers to the cave's configuration, crossing passages that form an "X" in the limestone layers. Highlights of this cave include natural formations, including the largest formation of stalactites in the cave, called The Great Chandelier. Cascade Cave and X-Cave remain open year-round, while the other caves in the state park are open Memorial Day through Labor Day.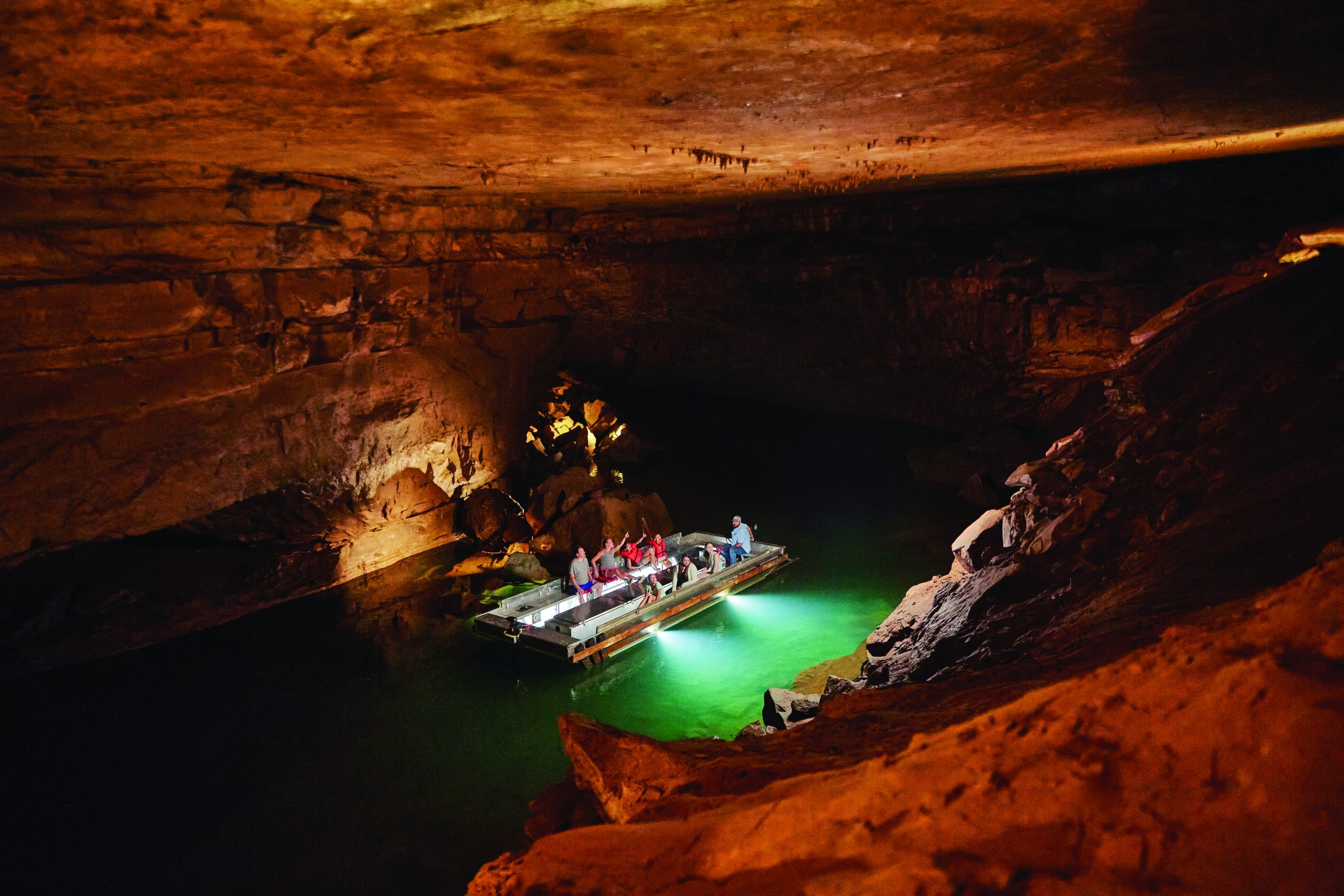 Hiking and rock climbing
Natural Bridge State Resort Park and Red River Gorge, near Slade, combine to create an outdoor paradise. Hike one of the trails or ride the sky lift to the top of the mountain, where you'll find Natural Bridge, a 30-foot wide, 78-foot long and 65-foot high natural sandstone arch. Once there, you can try to squeeze through Fat Man's Misery, a small section just under one side of the bridge. Don't get stuck!
Because of the status of the park as a nature preserve, no dogs are allowed on the trails except for the Whittleton Trail, which is managed by the U. S. Forest Service and accessible via the Whittleton Campground.
Red River Gorge is a rock-climbers paradise, with climbing areas that provide world-class resources, according to the Red River Gorge Climbers Coalition. Contact them for more information about guides and routes. In addition, the Red River Gorge boasts a five-zipline canopy tour adventure. You will fly 300 feet above the canopy at speeds as fast as 55 miles-per-hour. The longest is 1,900 feet. You can also kayak underground for a unique experience.
Exploring the forests
Bullitt County's Bernheim Arboretum and Research Forest delivers one of Kentucky's most unusual outdoor recreational areas. Bernheim sees itself as a living laboratory with special events and learning opportunities for both adults and children. The Forest Giant Trail, an out and back trail, features enormous sculptures by Danish artist Thomas Danbo. Mama Loumari, Little Nis and Little Elina beckon children to play with them.
The Children's Play Garden includes traditional equipment like swings and slides, but also nature-based play features such as rolling hills, fossil-filled rocks and a dry creek bed. This garden represents Bernheim's commitment to the Children at Play Network with a goal of nurturing the joy of exploration.
The Sensory Garden features five garden beds, one dedicated to each of the five senses. A meditation area allows you to pause and appreciate the sensory input. Or you may prefer the Canopy Tree Walk, a more adventurous boardwalk that extends 75 feet above the forest floor.
Horses, of course
You might also want to explore The Kentucky Horse Park—you are, after all, in the horse capital of the world.
Lee Carter, executive director at KHP, explains, "The mission at the Kentucky Horse Park is to celebrate our relationship with, and the history of, the horse. Every guest can meet past Derby winner Funny Cide at our Hall of Champions, learn about the American Saddlebred or Suffolk Punch breed at our Parade of Breeds, or just take in our beautiful landscape as they stroll the grounds."
The International Museum of the Horse offers special exhibits that dive deep into Kentucky's racing history like "Affirmed: The Making of a Champion" and "Calumet Farm: Five Decades of Champions." Others, like "Draft Horse in America" and "Buffalo Soldiers" tie horses to the history of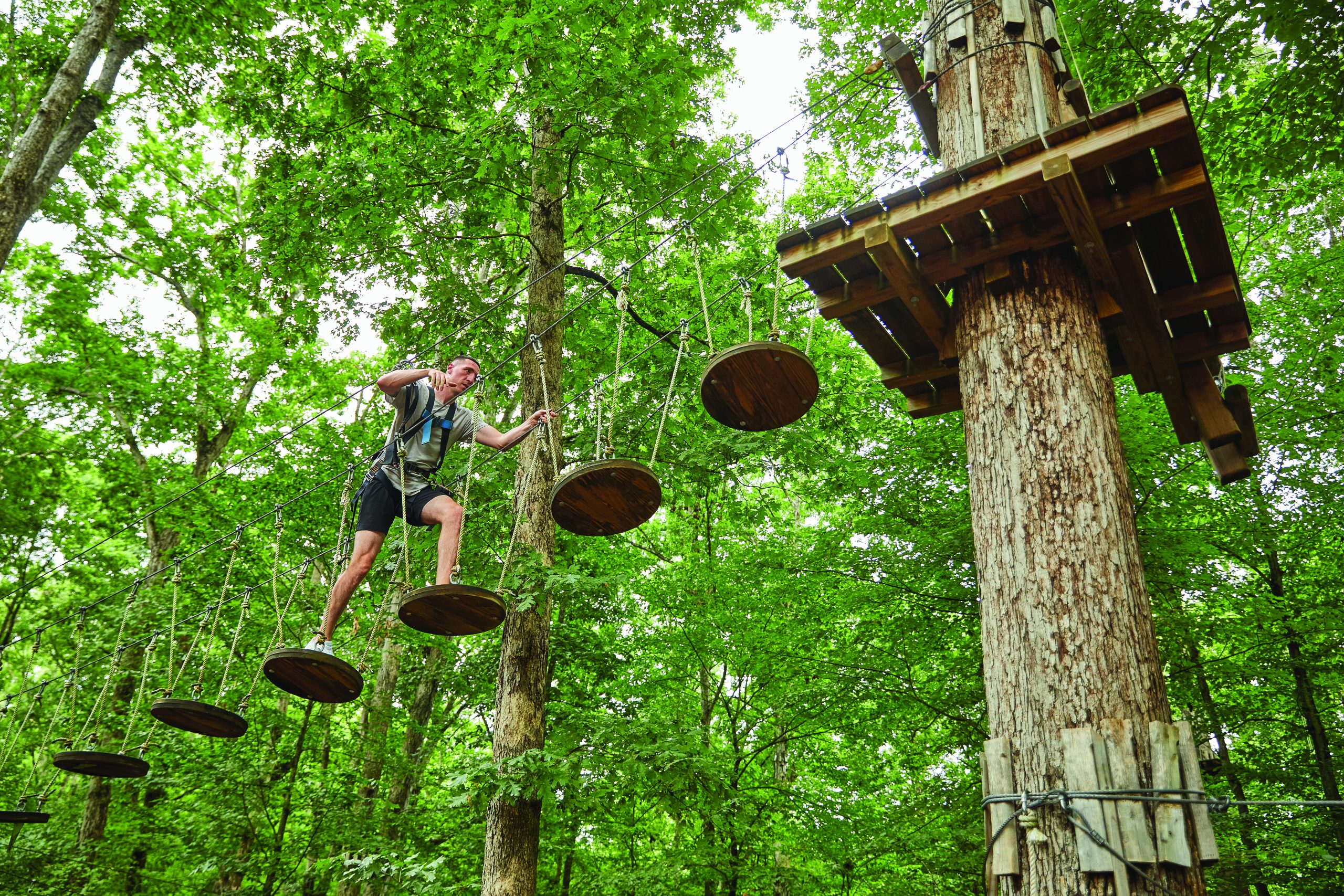 our nation.
Of course, you can't miss Keeneland in April. The spring meet runs April 7-28. The first post begins at 1 p.m. daily, Wednesday through Sunday, but the gates open at 11 a.m. You can visit the horses in the paddocks or even take a tour—just make sure to book in advance. Admittance to Keeneland ranges from $7 to $70, depending on how you want to watch the races.
The birthplace of bourbon
You'll find plenty of bourbon flowing and may want to check out the Oscar Getz Museum of Whiskey History in Bardstown, an area rich with bourbon distilleries. This collection documents the American whiskey industry from pre-colonial times to post-Prohibition years. You can see an actual moonshine still, antique and novelty bottles, medicinal whiskey bottles and advertising.
"Many destinations have joined hands with Bardstown, Kentucky to promote a booming bourbon industry," said Samantha Brady, executive director of the Bardstown Nelson County Tourist Commission. "However, there are few that can capture the authentic bourbon culture and heritage that only Bardstown can offer because it promoting bourbon long before it became a lifestyle brand for all ages."
Speaking of bourbon, you don't want to miss the Kentucky Bourbon Trail. Kentucky is the birthplace of bourbon and 95% of the world's bourbon is made right here in the commonwealth. The Bourbon Trail offers two separate experiences. The first is a tour of iconic distilleries around the state. The second features a tour of craft distilleries across the commonwealth. You'll visit 41 distilleries in all, using a passport and field guide to help you plan and keep track of the distilleries you've visited. Be sure to arrange for a designated driver on your Bourbon Trail journey.
Art and history
Looking for something entirely different? Way down in the west end of Kentucky you'll find Wickliffe Mounds, where the Mississippian Native American culture thrived between 1100 to 1350 AD. The people built earthen mounds around a central plaza overlooking the Mississippi River. This site achieved major importance as both a ceremonial and administrative chiefdom and at its peak, the population reached into the hundreds.
The mounds here include the large Ceremonial Mound, the Chief's Mound and the Burial Mound. The Burial Mound remains closed to the public but can be viewed from the outside in a walking tour of the area. Museum exhibits explore Mississippian culture, artifacts and the local area, as well as special education events.
While you're in Western Kentucky, make a stop in Paducah, a thriving center for the arts. The United Nations Educational, Scientific & Cultural Organization designated Paducah as a UNESCO Creative City in November 2013 in recognition of its vibrant arts culture. In addition to the National Quilt Museum, the largest museum of its kind in the world, Paducah is home to The Yeiser Art Centre, Maiden Alley Cinema, Market House Theater, Clemens Fine Arts Centre and Carson Centre. In these venues you can enjoy live theatre, art exhibits, film festivals and performances by the Paducah Symphony Orchestra.
You may also want to visit some of Kentucky's other fine arts centers and museums around the state, including The Owensboro Museum of Fine Art, The Arts Center of the Bluegrass in Danville, The Speed Art Museum in Louisville, The Headley-Whitney Museum of Art in Lexington, The Kentucky Folk Art Center in Morehead, The Appalachian Artisan Center in Hindman, the Appalachian Center for the Arts in Pikeville, or Berea, Kentucky's Folk Arts Capital.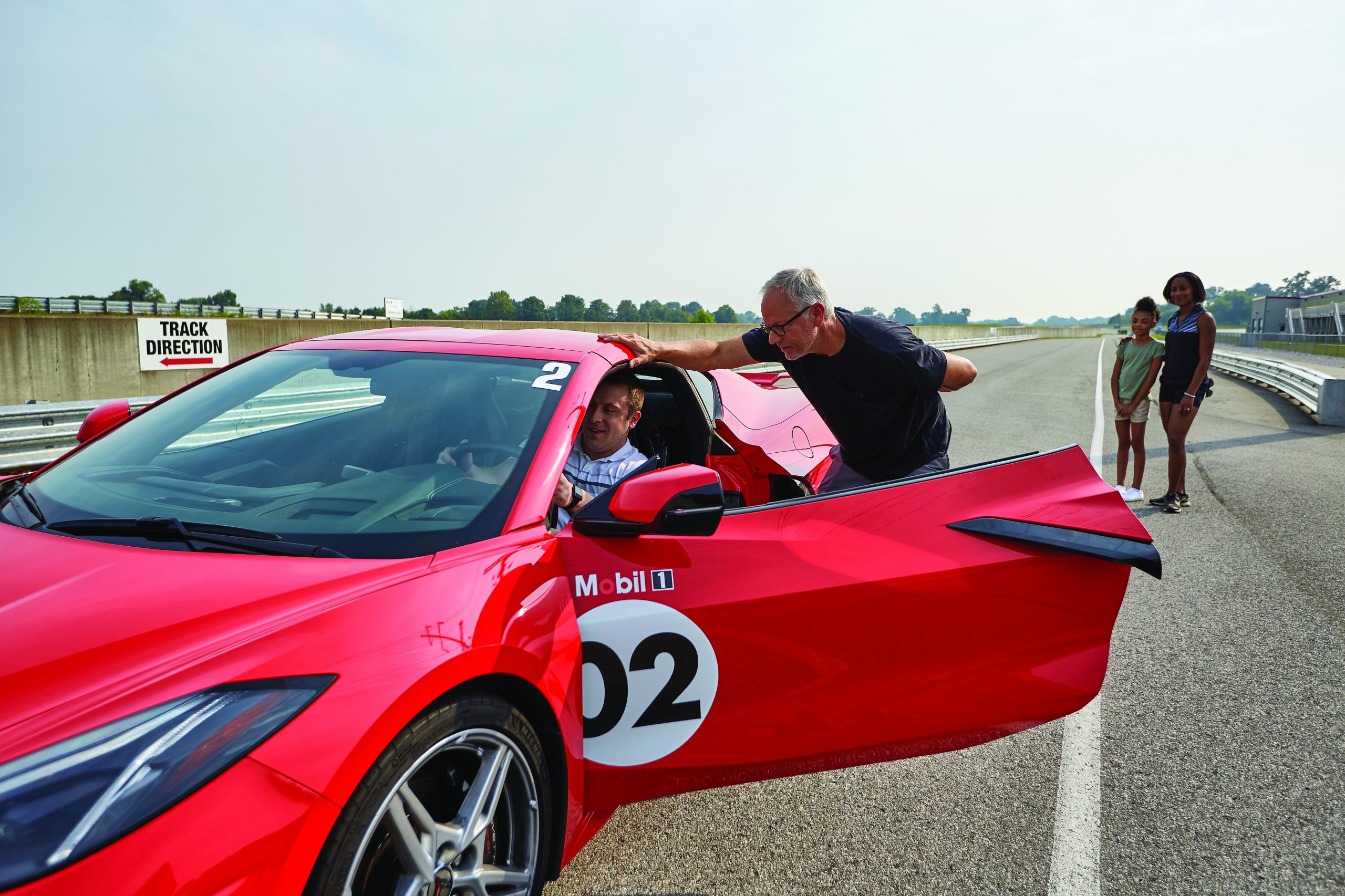 Heaven for auto enthusiasts
If you want a one-of-a-kind experience, try the National Corvette Museum in Bowling Green.
The museum features a collection of over 80 Corvettes, including some of the rarest models ever produced. Visitors can learn about the car's design and development through interactive exhibits and displays.
The Corvette Hall of Fame recognizes and honors the achievements of the most influential individuals in the history of the Corvette industry. You'll learn fascinating stories like that of Dan Yenko, the son of a Chevrolet dealer who bluffed his way into his first racing competition with his new V-8 Corvette back in 1957. This legendary champion paved the way for Corvettes in the racing industry before he died in a plane crash in 1987. The National Corvette Museum inducted him into the Hall of Fame in 2005.
Gangsters and fish?
In Northern Kentucky, the Newport Gangster tour offers something a little quirky. In the 1920s, the town of Newport declared itself an independent municipality free of federal and state laws. As you can expect, this led to some interesting characters and venues arriving in town. Add in the time period of Prohibition and you have a perfect set-up for nefarious goings-on. They've even opened up the tunnels under the city for this fascinating little tour into Newport's literal underworld.
While in Newport, check out the Newport Aquarium. You can walk across the first-in-the-world Shark Bridge. Cross inches above a tank full of sharks, more than 300 species of fish and a loggerhead sea turtle. Or visit the new exhibit "Shipwreck: Realm of Eels," where you can explore a sunken ship that has created an accidental reef.
"No matter which part of Kentucky you're traveling to, every community is full of rich arts, including performing arts and music festivals, shopping, handcrafted goods, museums and world-renowned culinary experiences," said Kentucky Department of Tourism Commissioner Mike Mangeot.
If you can't find a reason to vacation in Kentucky, you're not looking hard enough.