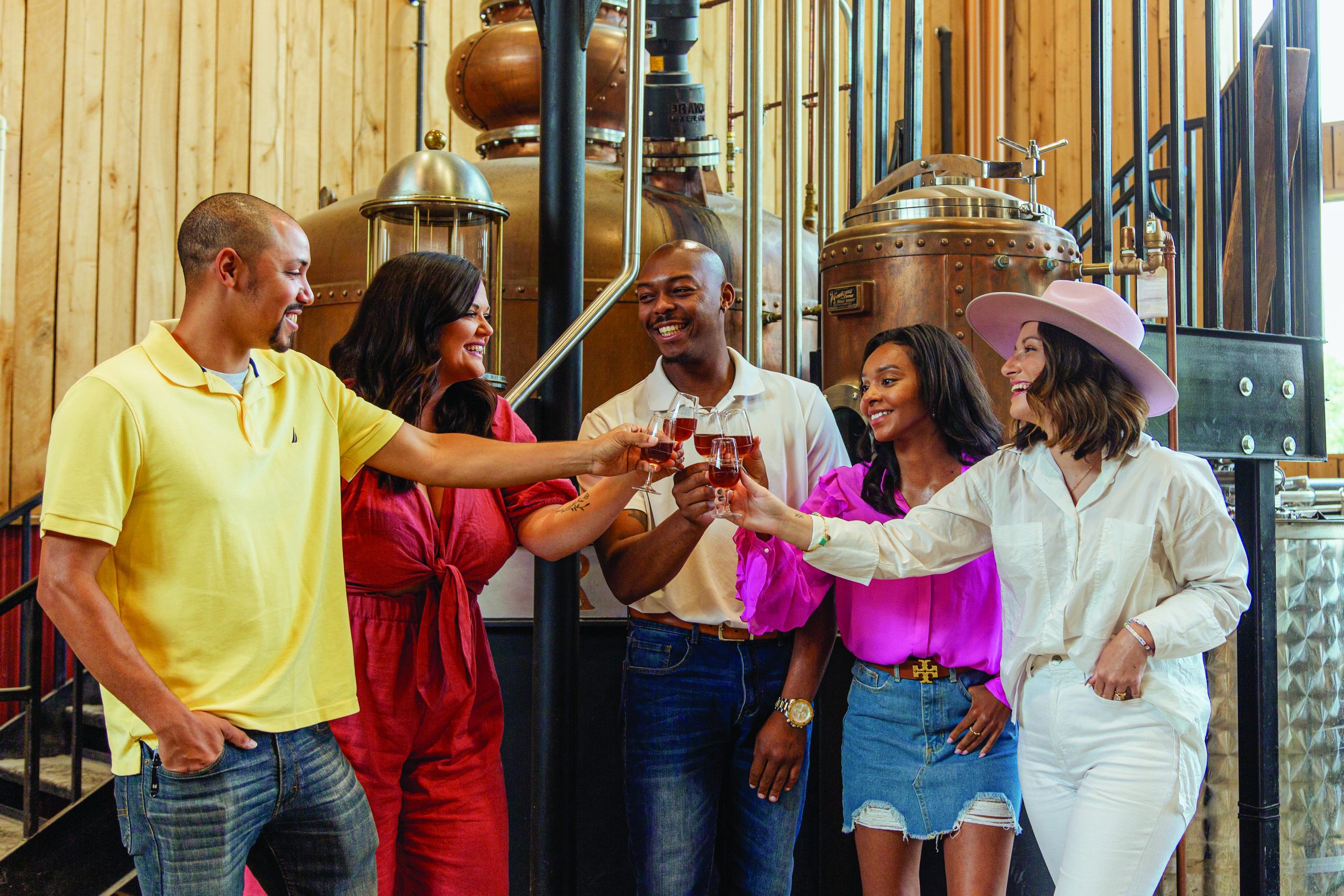 The Kentucky Bluegrass doesn't get more authentic than bourbon and horses, and Shelby County, with its charming small towns of Shelbyville and Simpsonville, has stepped right up to that plate. In fact, the county—located 30 miles east of Louisville on I-64 and known as ShelbyKY—is the American Saddlebred Capital of the World. In addition, it's living up to its moniker of "Your Bourbon Destination," thanks to the presence of two world-class distilleries—Bulleit Distilling and Jeptha Creed Distillery—and the county's central location on the Kentucky Bourbon Trail.
A stop on the Kentucky Bourbon Trail, Bulleit began in 1987 and is now one of the fastest-growing whiskeys in the country. Embracing the frontier spirit, this bourbon is distilled and aged using a distinctive high-rye recipe. To celebrate its 30th anniversary, Bulleit opened the state-of-the-art distillery in Shelbyville in 2017, built with a focus on sustainable practices, including natural habitat protection, water conservation and local ingredient sourcing.
Its visitor center, retail store, cocktail bar and outdoor patio are open to the public. In addition to distillery tours and tastings, Bulleit offers a variety of classes, including how to mix and muddle various cocktails, infuse your own bourbon, and use your senses in tasting bourbon. Be sure to reserve ahead. Rentable corporate and social meeting spaces are available.
Jeptha Creed was the first distillery to open in Shelby County since the end of Prohibition and is run by a dynamic mother-daughter duo, Joyce and Autumn Nethery. Located on land that's been in the family for more than 300 years and was hunted on by Squire and his brother Daniel Boone, the business opened in 2016 and is all about tradition. Numerous nods to old-fashioned ways—classic farm equipment and vehicles, including a 1915 Ford Model T—are scattered around the property.
"Our family motto is 'Don't forget where you come from,'" explains Autumn, Jeptha Creed's marketing manager.
Part of the Kentucky Bourbon Trail Craft Tour, Jeptha Creed is a craft farm distillery: Instead of using artificial flavors and additives, the family chooses homegrown produce to make their spirits. For example, the Netherys grow and process a heritage variety of corn, bright red Bloody Butcher, that is used in all of its bourbon, moonshine and vodkas.
Tours include learning the distilling process, taking a gander at gorgeous copper stills, and sipping tastings that include delicious slushies in the summertime. Take a cocktail-making class and check their website for who's playing at the Jammin' at Jeptha concert series.
Rentable spaces include a clubhouse with an enormous fireplace for chilly fall nights, a bar (after hours) and a wide outdoor patio.
So with bourbon as the first half of Shelbyville's daily double, horses make the ticket a winner. Here you can explore behind the scenes at some of the county's 90-plus working Saddlebred farms plus a few farms that feature other breeds—Thoroughbreds, American Quarter horses, Hackney ponies and Icelandic horses.
Kismet Farm in nearby Simpsonville is a full-service Saddlebred show horse and training facility and offers riding lessons for all levels of experience. Private farm tours for individuals and groups are by appointment. You can also mount up and trail ride or take lessons at Red Fern Riding Center and Shelby Trails Park.
Primarily a Thoroughbred establishment, West Meadow farm in Eminence connects people with animals and nature for families and groups through tours, corporate and social events, and educational classes. Internationally recognized Lettleiki Icelandics also offers tours to meet their Icelandic horses. Some of the largest breed events in the country take place here. Private and group lessons are also offered.
For a real thrill, come the first week of August for the Shelbyville Horse Show, where top-tier horses compete for championship honors.
Though "something for everyone" is no doubt a cliché, the term actually applies in Shelbyville.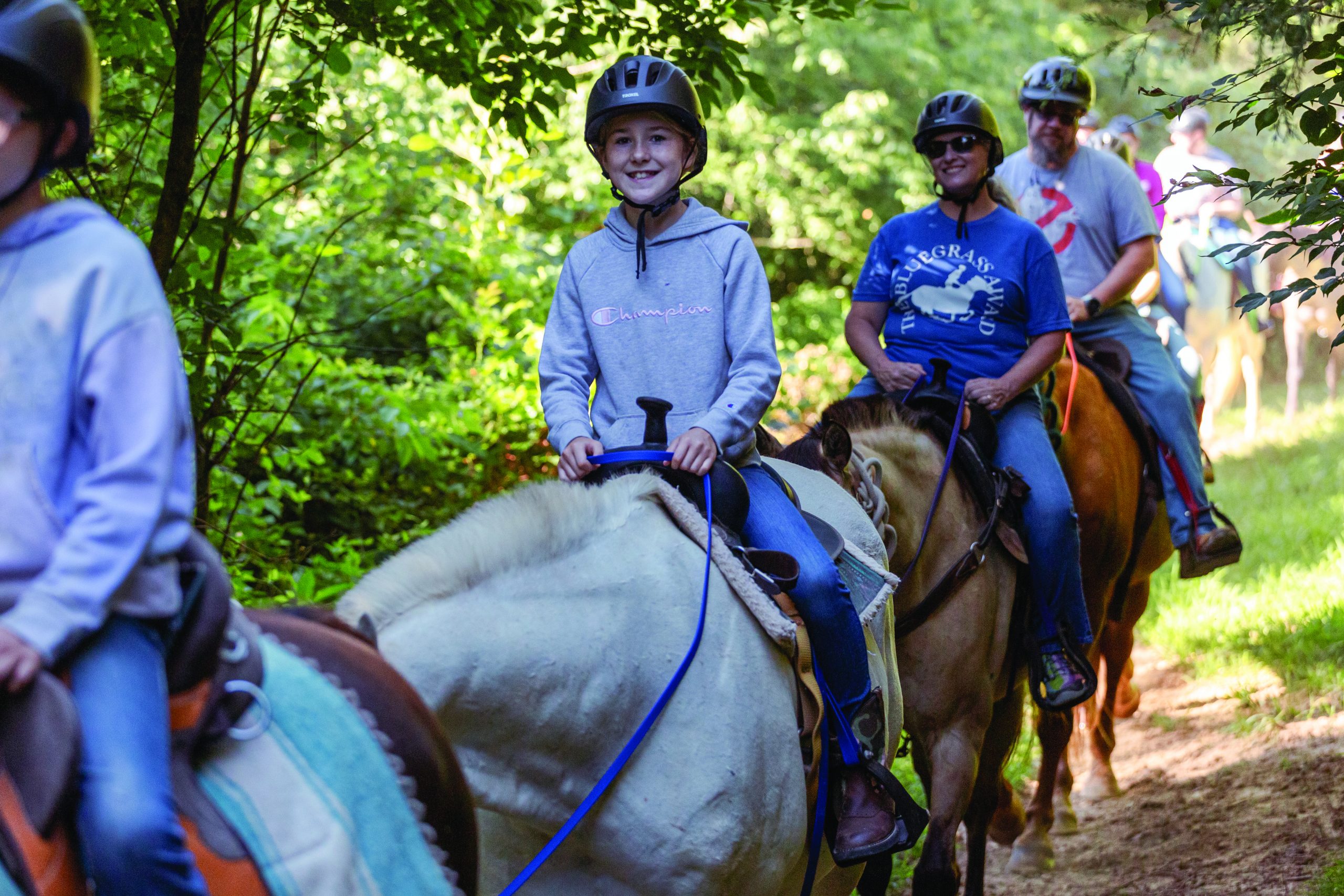 You can BYO picnic, lawn chairs or blanket and sip on a glass of wine at Talon Winery, where tastings and live music hold sway. Perfect for weddings, its beautiful event barn sports an outdoor patio overlooking a quiet pond and the winery's five-acre vineyard. At 25-year-old Smith-Berry Winery in nearby Eminence, tastings are served in wine flights while live music fills the evening air.
Bring your clubs and hit the links on one of four golf courses. If you fancy antiques, be sure to stop in Wakefield-Scearce Galleries to admire its world-famous English antiques and silver. Your nose will delight at Little Mount Lavender Co., where you can browse through all things lavender and munch on lavender-centric baked goods, eat a scrumptious lunch, or enjoy a charcuterie board with a lavender-based cocktail.
The 80-plus stores at the Outlet Shoppes of the Bluegrass await avid shoppers. Pop in the Shelby County History Museum or take in a play at the Community Theatre.
In springtime, head down Shelbyville's main thoroughfare, Washington Street, which boasts blocks and blocks of vibrant pink and white dogwood blossoms.
Come dinner time, Shelbyville boasts a diverse selection of eateries. The Bell House Restaurant on Main Street serves Italian-inspired, homemade dishes and afternoon tea. Find real stick-to-your ribs country cookin' at Claudia Sanders Dinner House, the restaurant Colonel Sanders built for his lady. Or in season, drop by Gallrein Farms for farm-fresh dining where most of the fare was grown.
Rest your tired tootsies for the night at the 1860 Cerulean Farm Bed and Breakfast homestead and working horse farm, which offers four horse-themed rooms, all with views of the equine residents. Chill on an all-season, wrap-around porch in comfy rockers with nothing but nature in sight. Top off your day with s'mores and hot chocolate over a fire pit. Your horse is welcome also!
To learn more about this high-steppin', bourbon sippin' town, go to visitshelbyKY.com or call (502) 633-6388.